Feb 08, 2021
Associate Professor Furui of the College of Arts wins American Literature Society of Japan award for his book
Keyword:RESEARCH
OBJECTIVE.
Associate Professor Yoshiaki Furui of the College of Arts won the fifth ALSJ Book Prize of the American Literature Society of Japan for his book Modernizing Solitude: The Networked Individual in Nineteenth-Century American Literature (University of Alabama Press, 2019). The achievement followed his recent winning of the 25th Shimizu Hiroshi Award of the Japanese Association of American Studies with the same publication.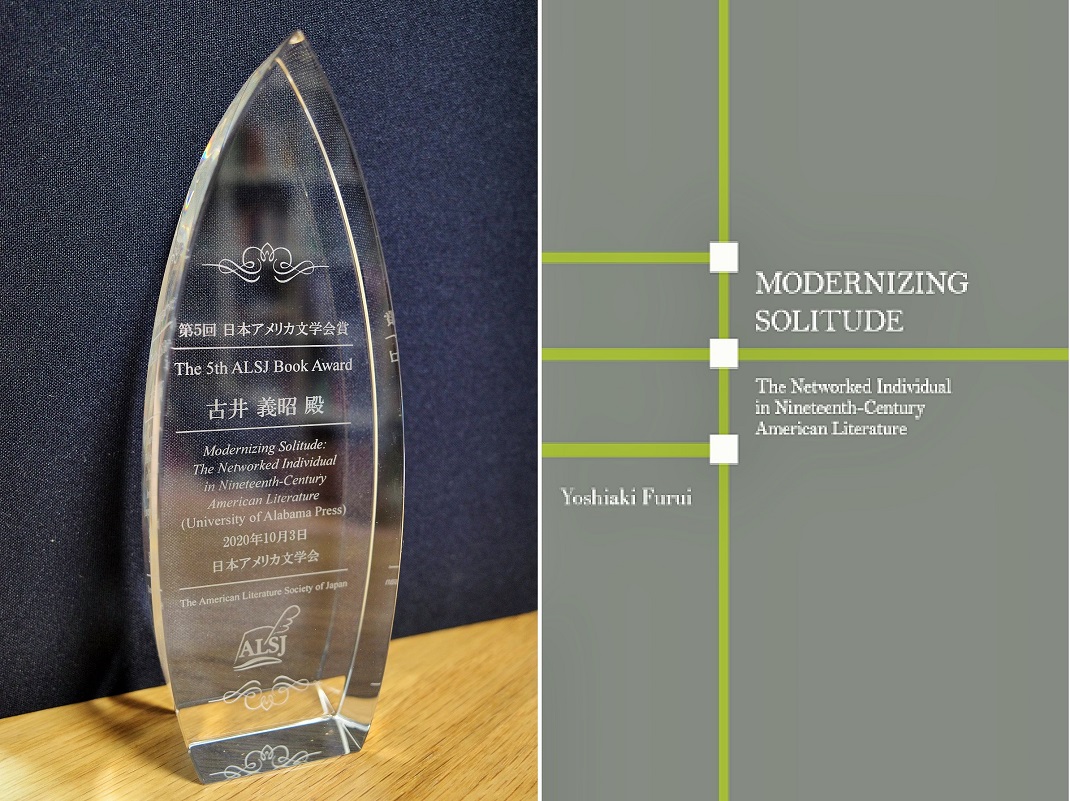 ALSJ Book Prize trophy and Furui's book
The American Literature Society of Japan was formed for promoting studies of American Literature and aims at expanding exchanges among academic societies at home and abroad through the release of research results and other information.

The ALSJ Book Prize targets the first single works of scholars who are members of the association. The award is designed to encourage and honor studies by people at various career stages, young and veterans alike.

In his examination of the concept of solitude in nineteenth-century American literature, Furui shows how such writers experienced a kind of "networked solitude," meaning that at times when they were physically isolated they nonetheless remained connected in imagination to the external world through various media.

An award ceremony was originally scheduled to be held during the 59th ALSJ National Conference on October 3, 2020, but the national convention, including the ceremony, was cancelled due to the COVID-19 pandemic, as the event was to be conducted mostly through face-to-face meetings.

Furui teaches the Course in English and American Literature, Department of Letters.
Comment
Associate Professor, Course in English and American Literature, Department of Letters, College of Arts
Yoshiaki Furui
Although the book was published in the United States, I tried to build a bridge over two things: methodology on researching literature I acquired while studying in America and intensive and careful reading of literature I nurtured in Japan. It gives me great pleasure to win such an honorable award of the Japanese academic society, as I put in various factors of Japan origin. I would like to express sincere gratitude to staff and faculty of the university for their great and continual support of my research.