Jul 23, 2018PRESS RELEASE
College of Science Professor Mao Minoura and colleagues successfully develop novel primary alkyl steric protection group and synthesize tetraalkyldisilene
Keyword:RESEARCH
OBJECTIVE.
College of Science Professor Mao Minoura and Graduate School of Science Ph.D. course student Mariko Yukimoto (now an assistant professor at the Kyoto University Institute for Chemical Research) succeeded in developing a novel primary alkyl steric protection group and synthesizing tetraalkyldisilene. Their results appeared as a Selected Paper in the April 2018 edition of the Bulletin of the Chemical Society of Japan, an international English-language journal published by the Chemical Society of Japan.
Alkenes (R2C=CR2), which possess carbon-carbon double bonds and are ubiquitous in the environment, are incredibly stable compounds. In contrast, disilene (R2Si=SiR2), a double-bonded chemical species composed of silicon, which is just below carbon on the periodic table (same group, third period), is highly reactive and known to rapidly transform into corresponding polymers or oxidants in the atmosphere. The common method for synthesizing and clarifying the properties of such highly reactive compounds is through kinetic stabilization by introducing a bulky steric protection group. Many substituents have been developed to be used as steric protection groups. For disilene, there have been several reports on tetraaryl substitutions (only possessing an aromatic substituent). However, due to the difficulty of developing substituents, there have only been a few reports on tetraalkyl-substituted (only possessing an aliphatic substituent) disilene, leaving more to be done to clarify its reactivity.

In the present study, the development of a novel aliphatic substituent enabled the synthesis and isolation of a stable tetraalkyldisilene, and the structure of tetraalkyldisilene was clarified using single-crystal X-ray structure analysis at the SPring-8 large synchrotron radiation facility. The development of a versatile bulky steric protection group that can be used to synthesize highly reactive chemical species could help elucidate the properties of unknown chemical bonds and be applied in areas such as novel functional materials and materials with catalytic functions.

This study was supported by Rikkyo University Special Fund for Research (Rikkyo University SFR graduate student research); the Ministry of Education, Culture, Sports, Science and Technology's Program for Strategic Research Foundation at Private Universities; a scientific research grant from the Japan Society for the Promotion of Science; and SPring-8 Budding Researchers Support Program for Ph.D. student. It was chosen as a Selected Paper in the April 2018 edition of the Bulletin of the Chemical Society of Japan, an international English-language journal published by the Chemical Society of Japan.

* Study group
Rikkyo University
College of Science, professor Mao Minoura
Graduate School of Science, Ph.D. course student (now assistant professor at Kyoto University Institute for Chemical Research) Mariko Yukimoto
1. Background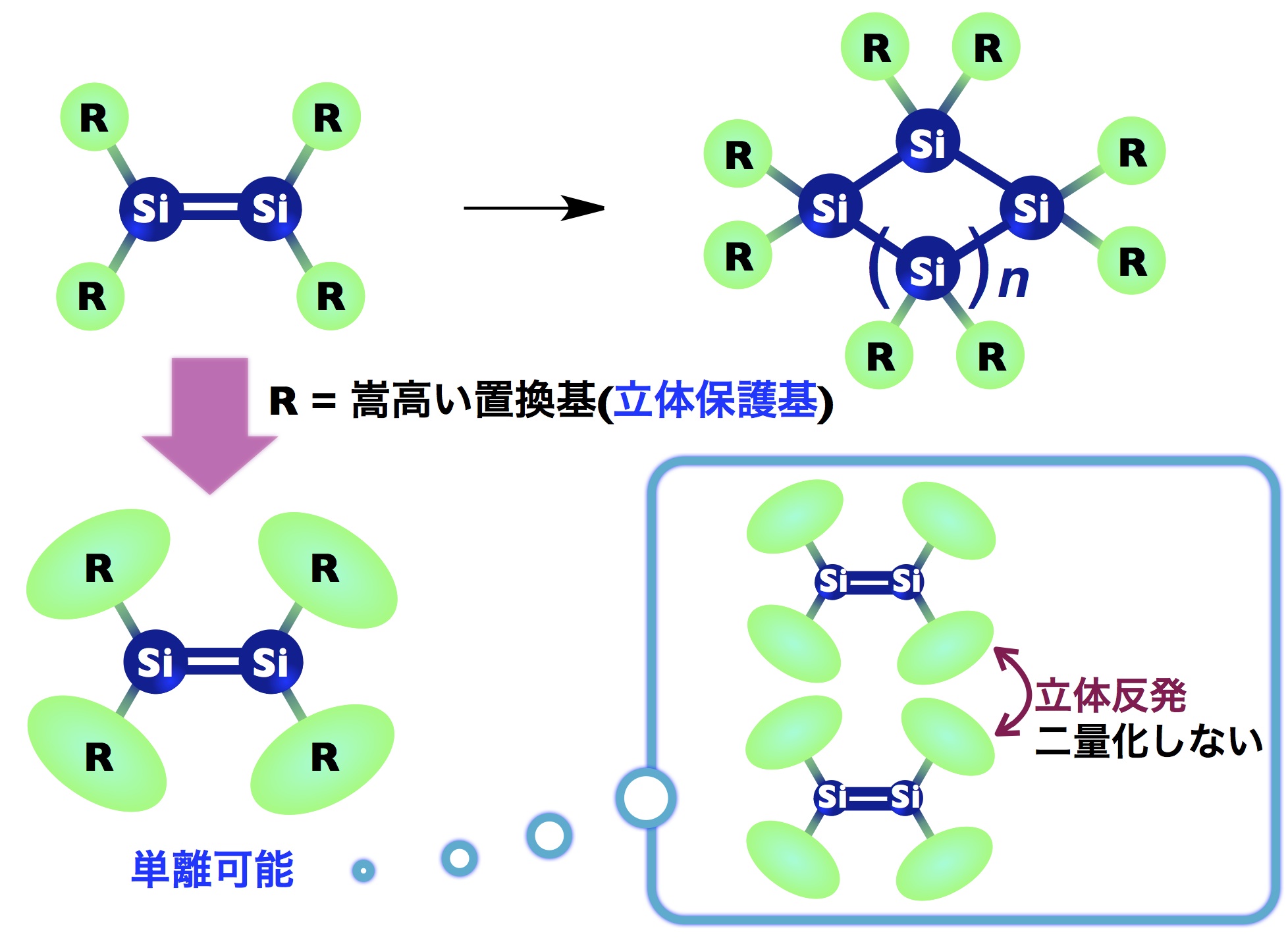 Multiple-bond chemical species that contain heavier elements rapidly break down through self-condensation reactions, oxidation, and hydrolysis, which previously was thought to make them difficult to synthesize. However, in 1981 R. West and colleagues synthesized a stable disilene, which has a silicon-silicon double bond, for the first time. This was followed by numerous reports on highly reactive multiple-bond chemical species.

Simultaneously, bulky steric protection groups were designed and developed to explore the properties of highly reactive chemical species. However, compared to aromatic substituents, which are rigid and easily undergo functional group transformation, research on aliphatic substituents lagged due to the difficulty of developing protection groups.
2. Methods and results


First, a bulky aliphatic substituent that would serve as the steric protection group was designed, then a triptycyl-methyl group was developed based on a triptycyl group with 3 aromatic rings connected like a propeller. Introducing the methyl group to the bridgehead of the triptycyl group conferred flexibility to the bulky substituent while also retaining reaction space.

In addition, a substituent with increased bulkiness was designed by amplifying the aromatic rings of the triptycyl group. Amplification of the triptycyl group's aromatic rings was achieved in 1 stage at high yield, obtaining a protection group through a simple, textbook reaction.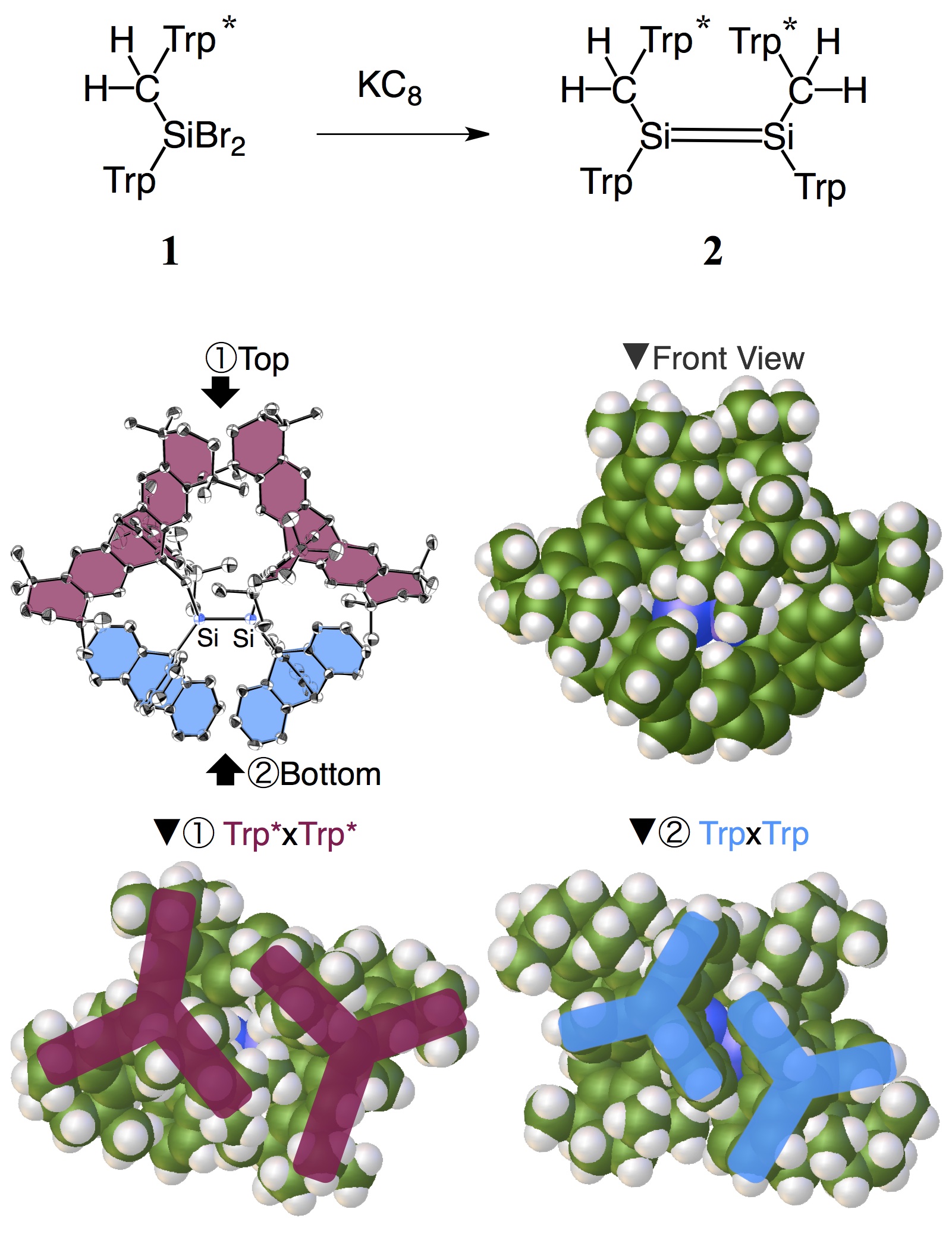 Next, this was introduced to dibromosilane [1], which was reduced using KC8 to obtain a high yield of tetraalkyldisilene [2] as a bright-yellow solid. Its structure was determined using single-crystal X-ray structure analysis at the SPring-8 large synchrotron facility, which showed that only cis forms were selectively obtained. The length of the silicon-silicon bond was 2.223(1)Å, which is within the range of regular silicon-silicon double bonds (2.14-2.26 Å).

In addition, these triptycyl frameworks were observed to fit together like gears, with this interlocking effectively protecting the CH2-Si=Si-CH2 portions. Even in solution, disilene 2 was observed as a single component and no isomerization to trans forms was observed.

Moreover, disilene 2 did not break down even when heated to more than 300 ºC, exhibiting a high degree of thermal stability. It oxidized in air, which confirms that the triptycyl-methyl framework provides both steric protection and reaction space.
3. Future prospects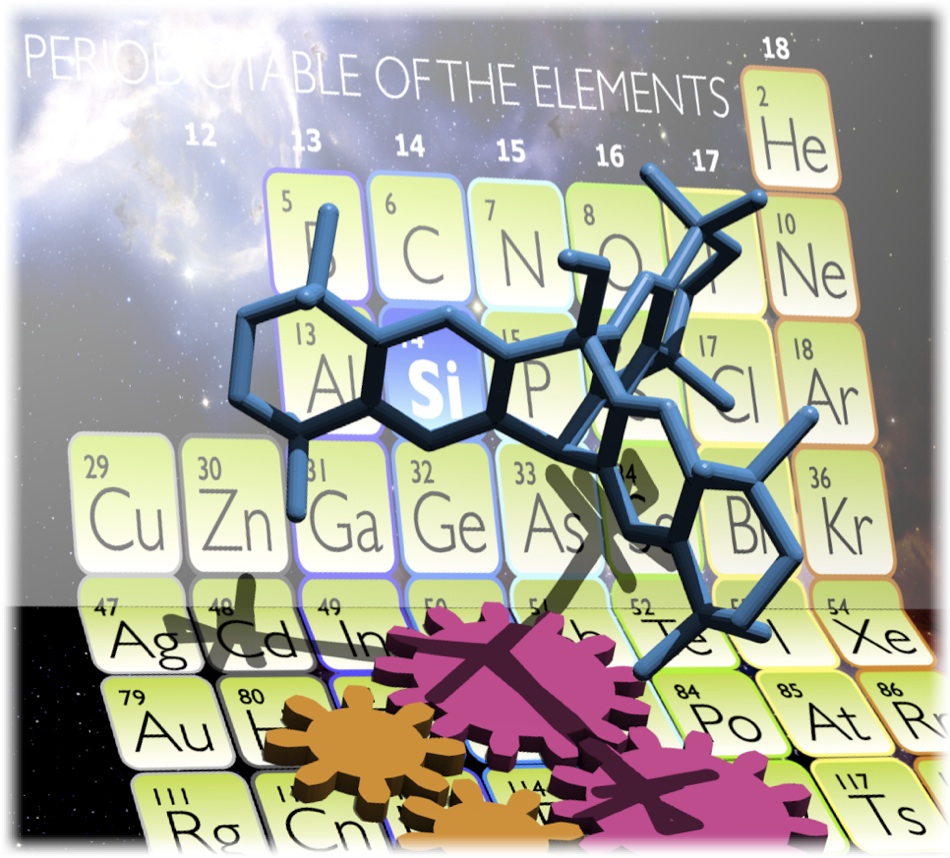 The results of this study could be applied to the design and synthesis of novel aliphatic steric protection groups with both rigidity and flexibility, and to the synthesis and isolation of highly reactive silicon chemical species

The substituent developed for this study could be used in the kinetic stabilization of unknown chemical species to explore the properties of novel chemical bonds, and could lead to the development and application of chemical species with novel catalytic functions and physical properties.
4. Article information

<Title>
The Synthesis of a Novel Bulky Primary Alkyl Group and Its Application toward the Kinetic Stabilization of a Tetraalkyldisilene
<Authors>
Mariko Yukimoto, Mao Minoura
<Journal>
Bulletin of the Chemical Society of Japan
<DOI>
10.1246/bcsj.20170422