Library Education at Rikkyo University

Certification Program
The Librarian Course at Rikkyo University has certified students as professional librarians for over 50 years. The program allows students to gain qualification as Librarians (shisho) in accordance with the Library Law of Japan or School Librarians (shisho kyoyu) in accordance with the School Library Law. Undergraduates and graduate students in any academic program on the Ikebukuro or Niiza campuses of Rikkyo can register for these programs. The Librarian Course curriculum has been designed by dedicated faculty to educate students as information specialists with an international perspective and a strong professional orientation.
Goals of the Program

The Rikkyo Librarian Course has two major goals:
Training of Information Specialists
Students in this program acquire the professional knowledge and skills needed for the acquisition, organization, evaluation, and provision of information. The curriculum is geared not only to current issues in librarianship, but also to emerging trends in the world of information in the 21st century. Support is also offered to students during the job-hunting process.
Promoting an International Perspective
Rikkyo University was chosen by Japan's Ministry of Education, Culture, Sports, Science and Technology (MEXT) to participate in its Top Global University program. Since 2014, the Rikkyo Global 24 project for internationalization has worked to transform Rikkyo education in order to develop new global leaders who can "think and act independently, and live in harmony with the world" as they engage in their fields of specialization. The Librarian Course is dedicated to the same ideals of professionalism, service, and internationalization. Students have the opportunity to think about information use in different societies and cultural contexts. They can also take advantage of programs for Rikkyo's international practicums (internships) in libraries outside Japan.
Course of Study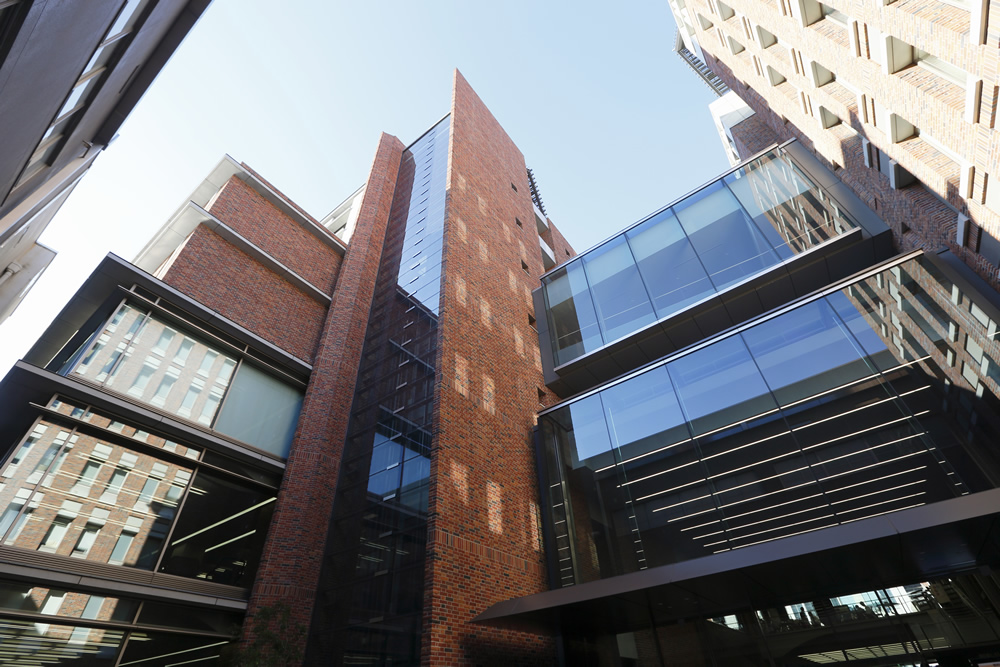 Rikkyo University Ikeburo Library
Unlike educational practices in Europe and the United States, professional qualification as a librarian in Japan is usually achieved through study at the undergraduate level. Students in the Librarian Course still study for a major in their home academic departments. In addition, through enrollment in either the Librarian or School Librarian program, they study for their professional certification. At Rikkyo, the course of study is also designed to introduce students to the academic field of library and information science.

The two tracks within the Librarian Course, Librarian and School Librarian, are described below. While the government has established the minimum number of credits required for each course of study (24 credits and 10 credits, respectively), Rikkyo is among a small group of universities requiring additional study (32 credits for the Librarian track and 16 for the School Librarian track.) The curriculum is distinguished by the availability of these opportunities for additional training. In addition, university graduates (of Rikkyo or other universities) may, on successful completion of an examination, enroll in classes on a for-credit basis.
Librarian Certification
The Library Law (1950) established the legal foundation for recognition of professional librarians in public libraries (Articles 4 and 5). The enabling legislation that same year specified the course of study for librarians. Rikkyo's Librarian Course curriculum was established on this basis. According to MEXT (2015), there are 158 4-year universities and 58 junior colleges offering this certification program (shisho katei). Close to 10,000 students receive the librarian (shisho) certification annually. At Rikkyo, between 20 to 40 students qualify as librarians every year.

Labor market trends in Japan have made it difficult in recent years for Librarian Course graduates to find professional work in libraries and library-related businesses. However, graduates are putting their education to use in a variety of other areas, such as information technology, publishing, and book-selling. Students are able to leverage the knowledge and skills acquired in the Librarian Course in their job-hunting activities and future careers. In addition, through participation in library practicums, students receive valuable experience in the workplace.
School Librarian Certification
The School Librarian track certifies students to serve as librarian instructors (shisho kyoyu) in schools at the primary and secondary levels, as well as in schools for special education. Rikkyo's program is based on the School Library Law (1953) and related regulations establishing the course of instruction for school librarians. Schools in Japan often employ personnel (gakko shisho) as library staff who do not have librarian certification. Unlike this category of staff, librarian instructors are employed as regular teachers and administer the library and related educational activities in addition to their teaching duties.

According to the School Library Law, all schools with 12 or more classes must employ a certified School Librarian. Many school districts give special consideration to applicants who have both teaching and school librarian certification, and may give them additional points on the employment examination. School Librarian classes at Rikkyo are generally small, allowing students to receive individual attention. The program aims to train professionals who can work at the highest level in the school library while also serving as instructors.
Library Practicum
Students in the Librarian Couse are required to do a library practicum to complete the requirements for the Rikkyo program. However, since the internship is not required by law for certification, students may receive their Librarian certification even though they have not fulfilled this requirement. Rikkyo is unusual in making the practicum mandatory, but considers it essential for students since they can apply theory to practice and gain experience in an actual library setting. Arrangements for the practicum are made in consultation with the students. Locations may be in the Tokyo area or farther afield, including Rikkyo-specific international practicums in Hong Kong, etc.
History of Library Education at Rikkyo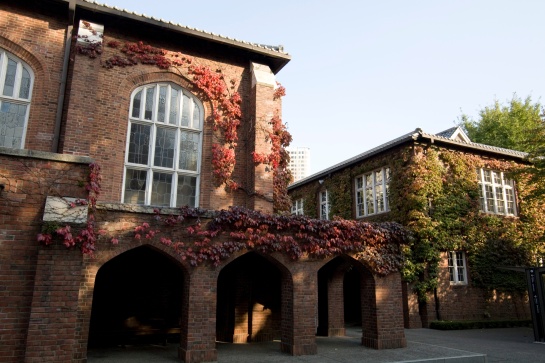 Chapel and Main Building
Education for librarianship in Japan was officially established with the founding of a Librarian Training Institute by the Ministry of Education in 1921. Later that decade, the first director of the Rikkyo University Library, Harold Charles Spackman, was an early proponent of university-level education for Japanese librarians. Spackman and his colleagues in the library devised a farsighted and detailed plan to establish such an academic department at Rikkyo and invite experts from the United States to serve as professors. While Spackman had some support from the university, the plan was ultimately unsuccessful. (Miyabe Yoriko, St. Paul's librarian, No. 22, 2007, p. 223-27.) It would be fifty years before a course for librarianship was established at Rikkyo.

After the war and the promulgation of Japan's Library Law, Rikkyo established the Library Course in 1967 under the directorship of Professor Ebisawa Arimichi, the noted historian. Library educators Shimizu Shozo and Miyabe Yoriko also joined the faculty and each went on to serve as director, in turn. Present director, Nakamura Yuriko (Ph.D. University of Tokyo), came to Rikkyo in 2011.

Under the leadership of Professor Miyabe, a second senior position, Specially Appointed Professor, was added. Chiyo Masaaki (National Diet Library Librarian, retired), Nagata Haruki (professor emeritus, Tsukuba University), and Ueda Shuichi (professor emeritus, Keio University) served successively in the position, which is now held by Ellen H. Hammond (Yale University East Asia Library director, retired).

Over the years, the Librarian Course at Rikkyo has graduated a large number of outstanding library professionals. Graduates of the program have gone on to careers in a wide range of institutions: the National Diet Library, prefectural-level libraries such as the Tokyo Metropolitan Library and Saitama Prefectural Library, and prominent public libraries such as the Yokohama City Central Library and the Urayasu City Central Library, as well as various academic and school libraries. In addition, some students from the program go on to graduate school for further training. Graduates of Rikkyo's Librarian Course are represented in the ranks of Japan's notable library leaders.
Research and Educational Accomplishments

Faculty in Rikkyo's Librarian Course are active researchers and educators. Featured below are some of the recent activities of the program and program faculty.
Librarian Course Bulletin
The program publishes an annual scholarly journal, St. Paul's Librarian. Also known as "SPL," the journal features the research of program faculty, as well as reports from students on their library practicums and news of the program's special events. Since 2011, this publication has been ingested into Rikkyo's online institutional repository,
Rikkyo Roots
, for open access.
Public Lectures and Symposiums
At least once a year, the program sponsors events that are open to the public. The themes of these lectures and symposia are chosen to bring library and information science to actual libraries, their communities, and the larger society. Below is an overview of recent events in this series:
November 2017
"Symposium on International Trends in Libraries and Archives in 2017"
Presentations by Hara Osamu (Rikkyo University Library), Nakamura Yuriko (Professor, Rikkyo University), and Koga Takashi (Professor, Tenri University)
October 2017
"The Global Transformation of Libraries, LIS Education, and LIS Professionals"
Lecture by Dr. Sandra Hirsh, Director, School of Information, San Jose State University, U.S.A.
January 2017
"La literature i les biblioteques per a nens i nenes a Espanya" ("Children's literature and services for children in Spanish libraries")
Lecture by Dr. Joan Portell Rifà, Adjunct Instructor, Autonomous University of Barcelona
[Sponsored by Shirayuri Women's University with support from Rikkyo University]
May 2016
"A 'New Museum' and a 'New Library' a Century Ago: The Career of John Cotton Dana, Radical Democrat"
Lecture by Dr. Carol Duncan, Professor Emerita, Ramapo College, U.S.A.

December 2015
"Libraries and Social Capital"
Lecture by Professor Shibanai Yasufumi, Tokyo Keizai University

July – October 2014
"Uehashi Nahoko's World"
Library Exhibit to celebrate the Rikkyo alumna Uehashi Nahoko's receipt of the Hans Christian Andersen Award for Writing in 2014.

Grants and Collaborative Projects

With the participation of Librarian Course students and graduates, the program actively seeks funding opportunities for educational activities and collaborative research projects. Current and past projects include:
Rikkyo University Special Fund for Research (SFR) Project. "Current status and opportunities for coordination of training for museums, libraries, and archives (MLA) professional staff." (2017- )
Rikkyo University Invited Visiting Scholar Program. Funding to invite Dr. Sandra Hirsh, Director, School of Information, San Jose State University, as a visiting scholar. (2017)
Japan Science and Technology Agency Research Institute of Science and Technology for Society (RISTEX) Project. "Analysis of "Philosophical Dialogue" (tetsugaku taiwa) in a public library setting: results from libraries in Iwate and Miyagi prefectures." Funding for students and faculty to investigate application of "philosophical dialogue" methods based on the theories of Rikkyo University professor Kono Tetsuya. (2016-2017)
"Analysis of curricular practices in awarding school librarian-instructor certification." Funding for a series of five symposia in collaboration with Osaka Kyoiku University. (2016)