Feb 25, 2020
DIR and Rikkyo join hands to progress with AI and data science
Keyword:INFORMATION
OBJECTIVE.
Daiwa Institute of Research Ltd.(DIR) and Rikkyo University have signed a memorandum of understanding on comprehensive educational and research cooperation to strengthen ties in artificial intelligence, data science and related fields.
The MOU became effective from Dec. 11, 2019 and will run until March 31, 2023.

The move is in line with Rikkyo's philosophy of fostering talent that brings about innovation across all industries, which is a mission of the university's Graduate School of Artificial Intelligence and Science, due to open in April 2020.

DIR has a track record of taking on challenges in keeping with Rikkyo's philosophy. The company, based in Tokyo's Koto Ward, has been a leader in the digital transformation of Japan's financial sector and has adopted state-of-the-art business-related technologies, as well as introducing them to other companies. The institute is also making efforts to implement changes so it can meet the demands of the day.

DIR and Rikkyo share a view that it is difficult to take effective measures to address complex and diverse social and business problems in the age of digitalization without data scientists who are versed in data analysis, specialized in mathematics and have practical business knowledge.

The MOU was agreed based on their common understanding that industry-academia cooperation is an effective way to develop a workforce that has knowledge of both AI and data science – whose technologies are constantly advancing – and in business practices associated with the financial sector and others.

The projects Rikkyo and DIR will promote for human resource development are:

1. Providing career support to students aspiring to become data scientists who can contribute to society.
2. Jointly developing contents for practical data science education that apply financial issues.
3. Educating working adults to become data scientists through educational programs.
4. Creating joint projects that can be applied to data science-based business solutions.

Rikkyo and DIR will study a specific scheme of cooperation to carry out the projects stated above.
Previous examples of cooperation between the two entities in developing the latest technologies and human resources
The DIR Group has promoted research and development in data science and other related fields. Past projects include an AI-based recommendation system for financial products*1, a tool for analyzing companies*2 and a business matching tool*3.

*1 Press release dated Aug. 1, 2019: AI-based recommendation system to be provided to five regional banks
*2 Press release dated Jan. 11, 2019: Regarding the use of an AI-based company analysis tool
*3 Press release dated Nov. 26, 2018: Regarding the start of AI-based business matching service

Rikkyo University, which has an enrollment of about 20,000 students, aims to develop "persons of culture with specialized knowledge." In 2016, it established the Program in Data Science as part of the Rikkyo Minor Program, in which all undergraduate students are eligible to enroll. The university will be the first educational institution in Japan to establish a graduate school specialized in AI in April 2020 when the Graduate School of Artificial Intelligence and Science opens. The university plans to provide classes on AI at undergraduate level in the future.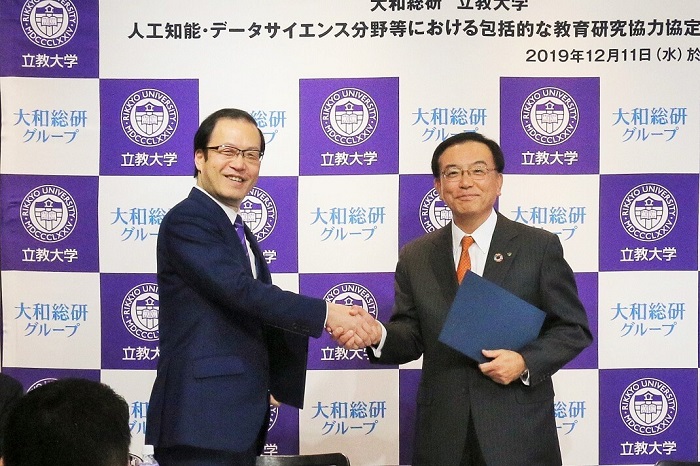 The MOU signing ceremony and press conference on Dec. 11.