Jan 30, 2020
International students at Rikkyo University's College of Intercultural Communication make Halal Map around Ikebukuro Station
Keyword:INFORMATION
OBJECTIVE.
International students at the College of Intercultural Communication of Rikkyo University made "Halal Map" on restaurants serving halal food—sanctioned by Islamic law—around the JR Ikebukuro Station near its campus.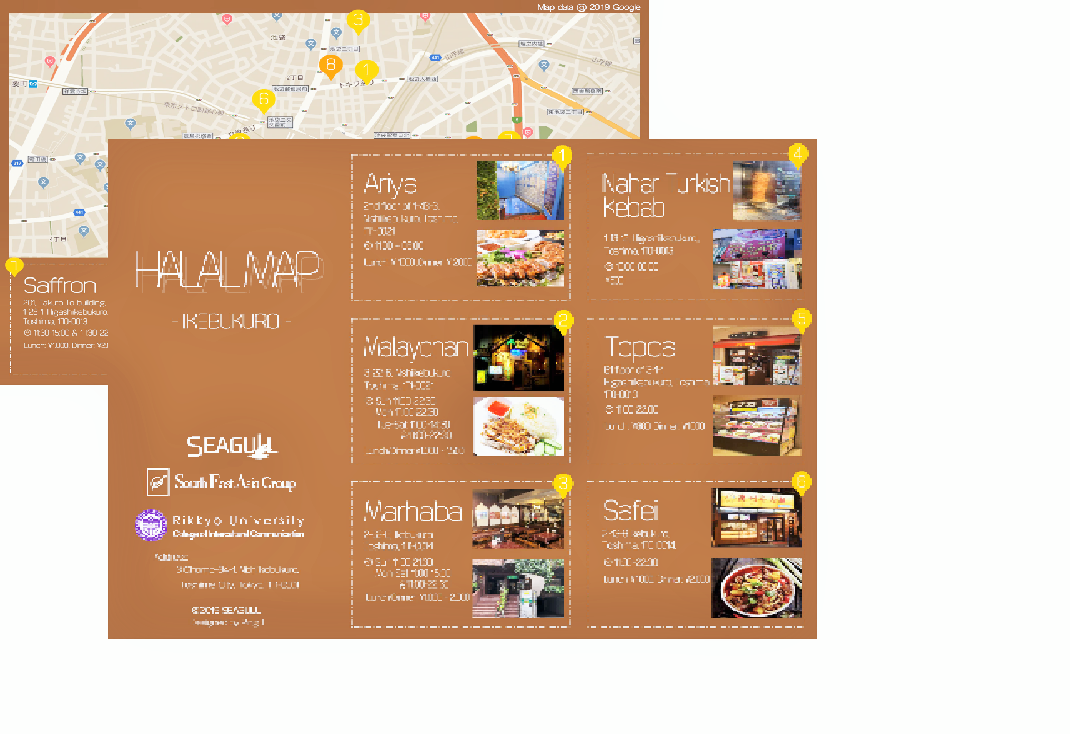 The map was created by students belonging to the Southeast Asia Group (SEA) at the college, who wanted to introduce good restaurants serving halal food for Muslims considering studying at Rikkyo University in the future.

Before putting recommended restaurants on the map, SEA members visited them and tasted their dishes themselves.

The members also received advice from faculty members of the college and well-informed persons to make sure the map becomes a reliable source of information on halal food to help Muslim students come to and study in Japan without unnecessary anxieties.
College of Intercultural Communication and activities in cooperation with the local community
Rikkyo University's College of Intercultural Communication undertakes a variety of unique activities in cooperation with the local community to cultivate human resources capable of coming up with ideas on what they can do for their community or society and putting their thoughts into action. For example, the college opened the "Rikkyo Japanese Language Class" to help local residents whose native language is not Japanese, and organized "English Camp" on the campus, in which some students invited from primary and middle schools in Toshima Ward spent time speaking only English. Moreover, in July 2019, it held the first English Camp in Rikuzentakata, Iwate Prefecture.
About the Southeast Asia Group (SEA)
The group comprises students from the College of Intercultural Communication, who implement activities to promote public understanding on halal food and a vegetarian diet. Besides making the halal restaurant map, they have participated in a panel discussion at a lecture meeting on the diversity of food organized by the college. The group is named Southeast Asia Group, as its leading members are from Singapore, Indonesia and Taiwan.
Outlines
Title:

A Halal Map made by the College of Intercultural Communication, Rikkyo University


Distribution of the halal map:

- The Singapore liaison office of the College of Intercultural Communication is distributing copies of the map to high school students considering studying in Japan.
- Copies of the map have been sent to Muslim students scheduled to come to Japan and study at Rikkyo University from the college's partner universities.
- The map is available at the university's International Office for international students currently studying in Japan.

Halal Map made by the College of Intercultural Communication, Rikkyo University