Feb 15, 2019
Rikkyo University partnered with professional climber Miho Nonaka and Toshima Ward to install a speed climbing wall at its Ikebukuro Campus.
Keyword:INFORMATION
OBJECTIVE.
Rikkyo University partnered with professional climber Miho Nonaka and Toshima Ward to install a speed climbing wall at its Ikebukuro Campus. Nonaka, who was ranked No. 1 in the World Cup in bouldering in 2018, visited Rikkyo on December 17 for a press conference on the wall – the first in Tokyo's 23 wards.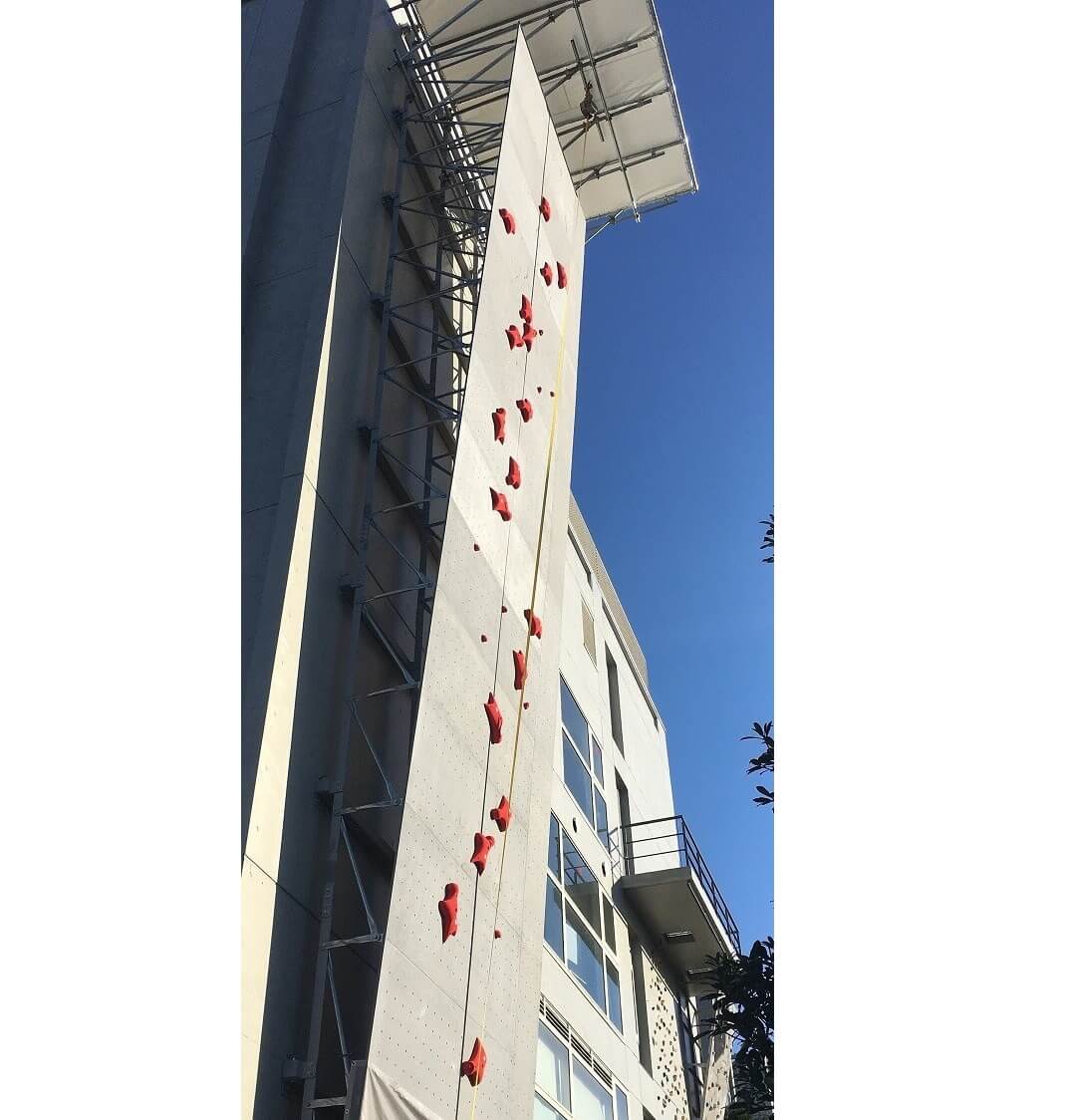 Sport climbing will be a new event at the 2020 Tokyo Olympics and Paralympics. Statistics show the popularity of the sport is on the rise, as there has been a four-fold increase in the number of climbing facilities over the last decade and there are now 650,000 sport climbers in Japan. Japanese climbers are some of the top competitors in the world. Five men and three women from Japan ranked in the top 10 in bouldering in 2018, raising hopes that Japanese climbers will medal in sport climbing at the Olympics. Nonaka, who won the annual Bouldering World Cup in 2018, is one of these Olympic medal hopefuls.

In the Tokyo Games, sport climbers will have to compete in three events – bouldering, lead, and speed climbing – with the winner decided by the best overall score. Japanese climbers excel at bouldering and lead climbing, but have room for improvement in speed climbing. Before the wall at the Ikebukuro Campus was built, there was only one speed climbing facility in Tokyo, in Akishima City.

With a need for better training environments for climbers, Rikkyo University decided to install the climbing wall on its Ikebukuro Campus in collaboration with Toshima Ward to help Nonaka, a Toshima native who is based in the area.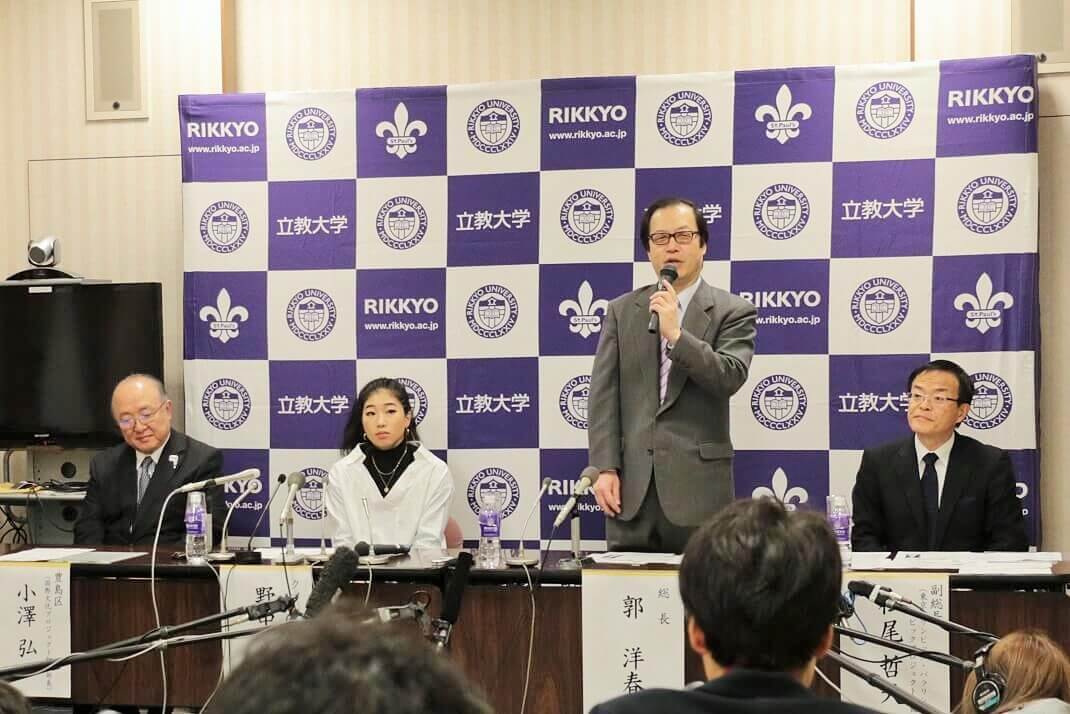 From left, Koichi Ozawa, Miho Nonaka, President Kwak and Vice President Matsuo
The December 17 press conference was attended by Nonaka; Koichi Ozawa, director of International Culture Project Promotion for Toshima Ward; and Rikkyo University President Yangchoon Kwak and Vice President Tetsuya Matsuo. Matsuo also chairs the university's Tokyo Olympic and Paralympic Project.

"Regional and social cooperation is one of the pillars of Rikkyo University's activities," Kwak said at the press conference. "Providing a training venue for Ms. Nonaka, who is expected to do well in the Tokyo Olympics, is in line with our university's philosophy. Rikkyo University students will be able to see with their own eyes Ms. Nonaka's approach to practice, and will gain much inspiration from her. We would be honored if we can play any part in helping Ms. Nonaka do well in the 2020 Tokyo Olympics, which would energize all of Japan."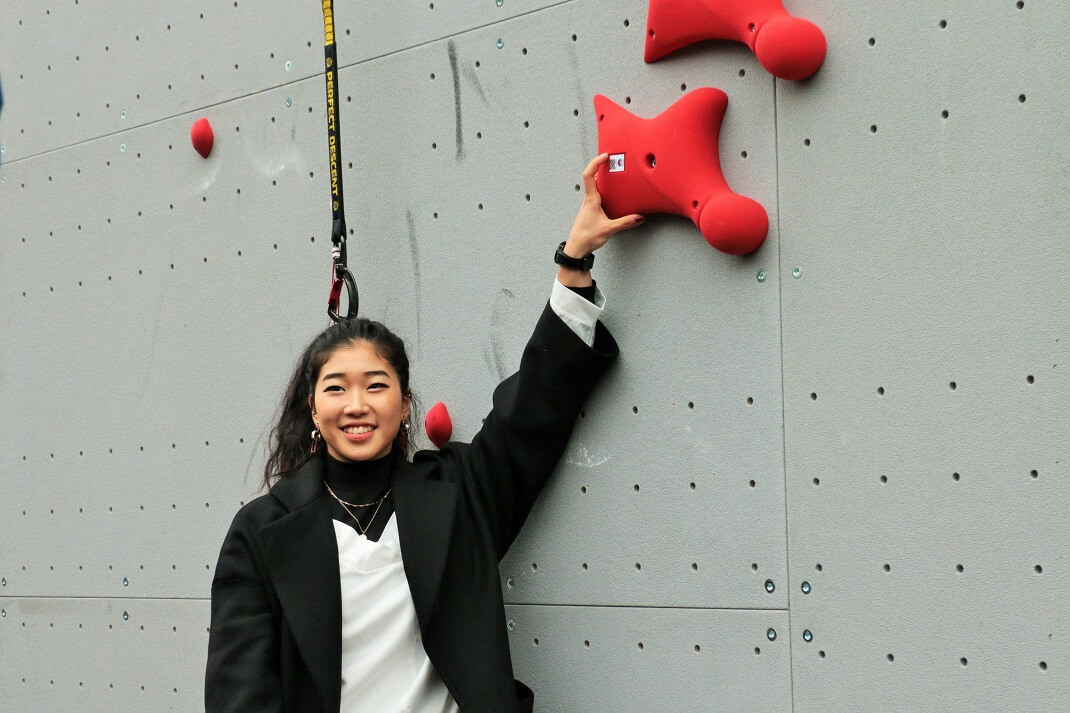 Nonaka next to the completed climbing wall
Ozawa from the Toshima ward government commented as follows: "Toshima Ward and Rikkyo University signed an agreement on cooperating on projects for the 2020 Tokyo Olympics and Paralympics in July 2017. We have collaborated on talk shows and in creating a pamphlet for a sports cheerleading squad. We hope Toshima residents will be inspired by the wall and seeing Ms. Nonaka practice on it, and that this will generate excitement for the Tokyo Olympics and promote sports in general. Our ward will do its utmost to support Ms. Nonaka's success."

Nonaka also made a speech thanking people for their support and expressing her determination to compete. "The speed climbing wall on the campus of Rikkyo University was made possible thanks to the support of many people," she said. "It showed me again how blessed I am to be in such a good environment. Now that the wall is built, I can come here to practice every day, and I will do my best in training for the 2020 Olympics."

After Tokyo won its bid to host the 2020 Games, Rikkyo University launched its Tokyo Olympic and Paralympic Project in the 2016 academic year to promote activities that will contribute to society and invigorate the university's educational and research activities through a school-wide framework that includes students, teaching staff and alumni. Rikkyo University's agreement with Toshima Ward promotes collaboration in the run up to the Olympics through the effective use of both entities' personnel, know-how and resources.