Aug 30, 2018
Media briefing held regarding Hayabusa2 telescopic camera
Keyword:RESEARCH
OBJECTIVE.
Representatives of Rikkyo University and the Japan Aerospace Exploration Agency (JAXA) briefed the media on a telescopic camera the university helped develop that the Hayabusa2 used to search for and approach an asteroid 2.8 million kilometers from Earth. The Japanese asteroid explorer reached the roughly 900-meter-long Ryugu on June 27 using the Optical Navigation Camera (ONC).

Professor Shingo Kameda of Rikkyo University's College of Science and graduate students from his laboratory attended the August 30 session, together with JAXA Associate Professor Makoto Yoshikawa, who is the mission manager of the Hayabusa2 project.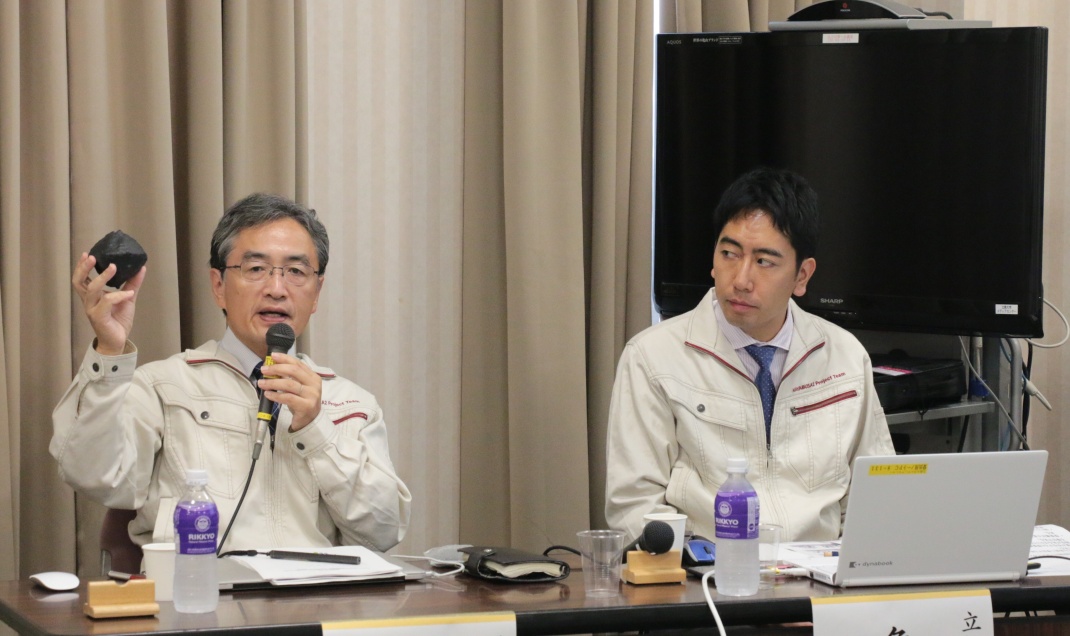 Hayabusa2 Mission Manager Makoto Yoshikawa (left) holds a model of the Ryugu asteroid while Professor Shingo Kameda of Rikkyo University's College of Science looks on.
The session focused on three points:
1) Recent progress in the Haybusa2 Project and asteroid search
2) A final report on Hayabusa2 operation for searching satellites
3) The development and operation of the ONC

Professor Kameda explained how his team got involved in the development of the ONC, a key piece of equipment in the Hayabusa2 Project, and solved a myriad of problems as it raced against time to complete the camera. The graduate students explained the laboratory's approach to the project, such as how they checked the functions of a light-shielding hood and searched for light sources.