Dec 12, 2018
Rikkyo alumni Wataru Onuki becomes first Japanese to win Recurve Men's title at the 2018 World Archery Field Championships
Keyword:INFORMATION
OBJECTIVE.
Wataru Onuki, a Rikkyo University alumni and current employee of Sagami Co., won the Recurve Men's title at the 26th World Archery Field Championships held Cortina, Italy, on September 3-9. Onuki, who graduated in 2017 from Rikkyo University's College of Economics, is the first Japanese to win the title.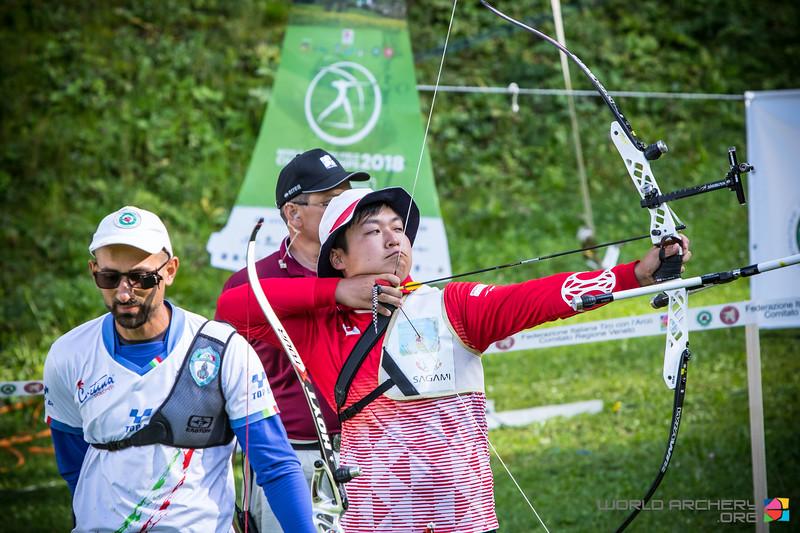 Wataru Onuki at the championships. Courtesy of All Japan Archery Federation
Field archery involves shooting at targets in a course set in natural terrain, such as forests or grasslands. International field archery uses three bow styles: recurve, compound and barebow.

Onuki made it through the first round of matches, finishing 9th. In the semifinal, he won a close match with Jean-Charles Valladont of France, who won a silver medal at the 2015 Rio de Janeiro Olympics and achieved the top score in the first round. In the final, Onuki rode this momentum to defeat Italy's Massimiliano Mandia to capture the title.

Onuki is one of the athletes supported by All Japan Archery Federation in preparation for the 2020 Tokyo Olympics. There are high hopes he will continue to do well in future tournaments.
COMMENT
(2017 graduate from the Department of Economics, College of Economics)
Wataru Onuki of Sagami Co.
I am thrilled to have won the World Archery Field Championships. I received a lot of attention at the championships because I won a bronze medal at the World Games last year. I was determined to win the championship because I had not done well in other overseas tournaments this season. The championships have the same shoot-up format as the World Games, where I won a bronze medal last year, so I was confident coming into the tournament.

In the semifinal, I faced Jean-Charles Valladont of France, who won a silver medal in the 2015 Rio de Janeiro Olympics and had the best score in the first round. He is a stronger competitor and better known than me, and has an outstanding record. But I was not intimidated and was able to perform confidently to my usual standard. In the final, I played against Massimiliano Mandia of the host nation Italy. Mandia defeated Brady Ellison of the United States in the semifinal. I was a bit nervous so I decided to shoot at a fast pace to prevent my body from tensing up. This tactic proved to be successful.

I was able to win the gold medal because of the support, cooperation and encouragement of many people. I have set my sights on the Tokyo Olympics. I will use what I gained in the championships this year to perform better in future tournaments. Thank you for your support.