Dec 04, 2018
Graduate School of Community and Human Services student Koki Ueno wins finswimming bronze medal
Keyword:INFORMATION
OBJECTIVE.
Koki Ueno, a second-year student at Rikkyo University's Graduate School of Community and Human Services, won a bronze medal in the men's 4 x 100m surface relay at the 5th Finswimming University Competition in Belgrade, Serbia, in July. Ueno also competed in the World Underwater Federation's 20th World Championship in Finswimming that was held also Belgrade just prior to the competition.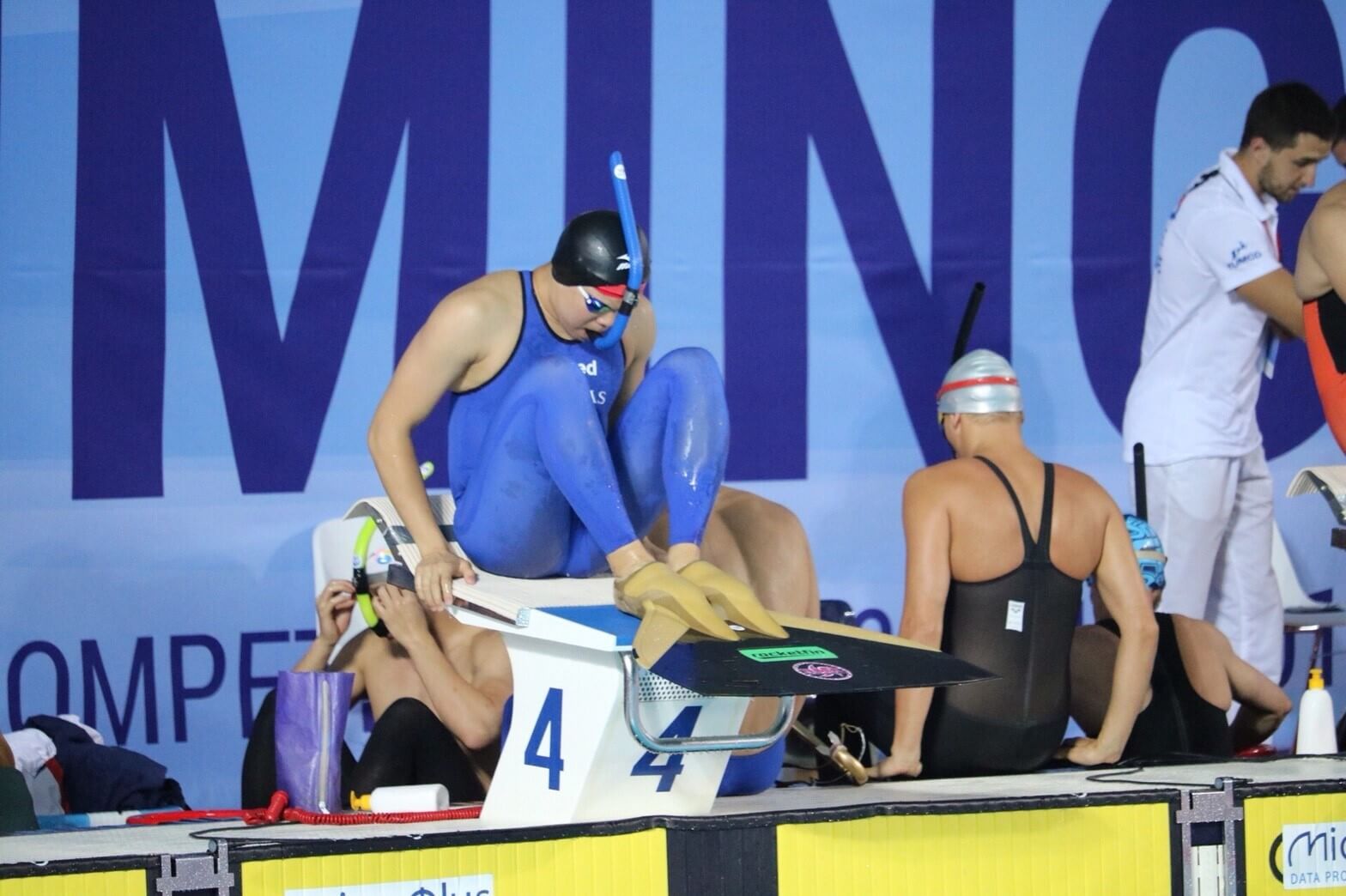 Koki Ueno waits for the race to start.
Finswimming is a race between swimmers wearing fins. The sport began in the 1970s in the Soviet Union when monofins were developed to allow efficient underwater movement. Fin-wearing swimmers soon began racing each other. Japan held its first Finswimming Championship in 1988.

Finswimming events are grouped into two types: bifin and monofin races. In the former, competitors use two fins, while in the latter they use a single large fin. There is only one bifin event, in which freestyle swimmers race on the surface using snorkels, while there are three monofin events, namely apnea (swimming underwater while holding one's breath), immersion (swimming using open-circuit scuba equipment) and surface (swimming on the surface using a snorkel).
Ueno participated in five events at the World Championships, which was held from July 14 to 20. He finished third in the men's 50m surface heats, becoming the first Japanese to advance to the final, where he finished fifth overall.

In the Finswimming University Competition held July 19-23, Ueno participated in two events. He finished fourth in men's 100m surface, just short of repeating his medal-winning performance last year, which was a first for a Japanese finswimmer. In the men's 4 x 100m surface relay, his team took the bronze medal, becoming the first Japanese team to medal in this event.

Ueno holds the Japanese records in the 50m, 100m and 200m surface events on both the short and long courses. He helped break the Japanese record in the 4 x 50m surface relay during a preliminary heat at the World Championships.

Ueno plans to participate in the Finswimming World Cup to be held in Phuket, Thailand, on September 20-25.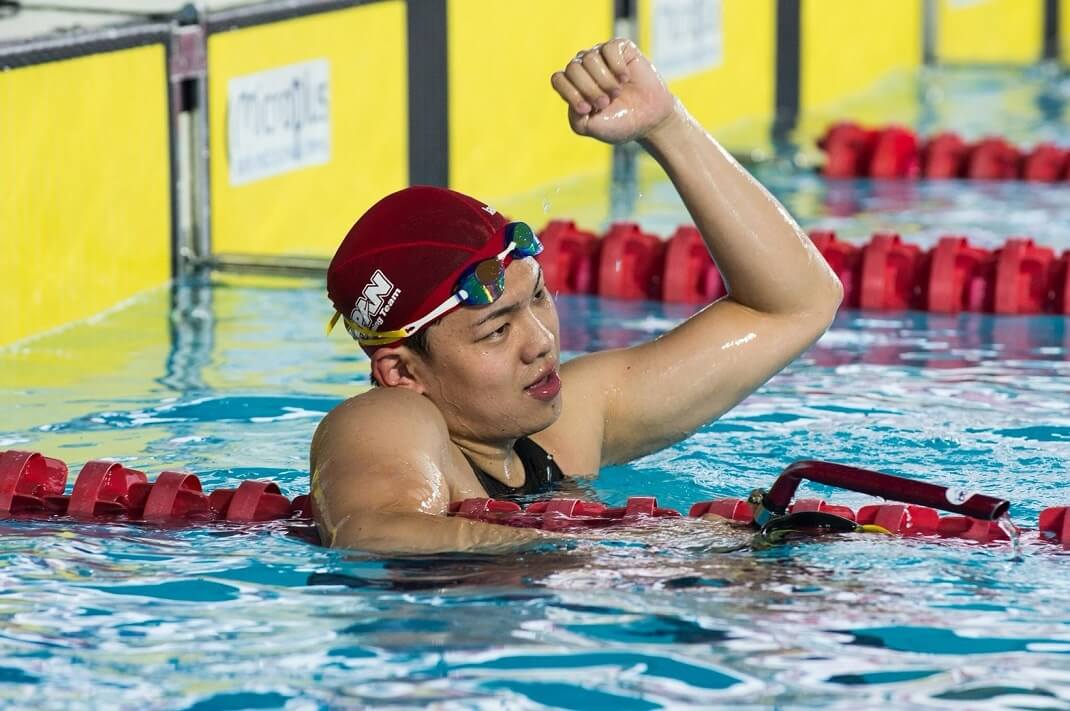 Ueno pumps his fist after securing a place in the final.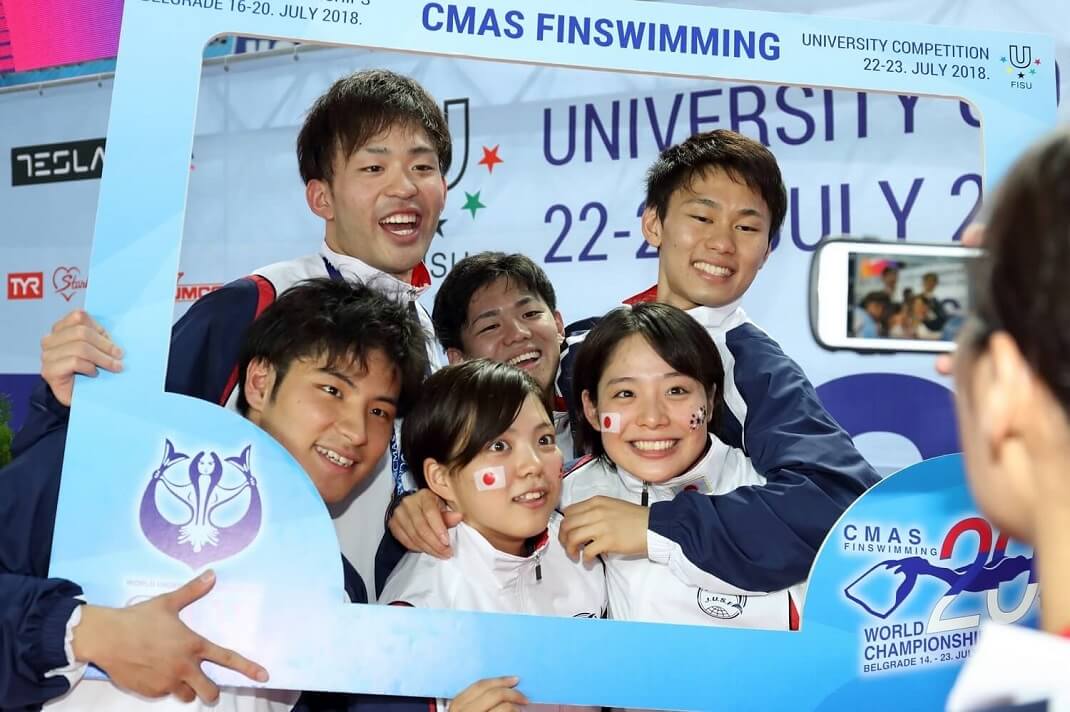 Ueno, center in back, poses for a photo with his teammates.