Nov 09, 2021
MEXT selects Rikkyo University's initiative for its fiscal 2021 "Inter-University Exchange Project (Re-Inventing Japan Project): Support for the formation of Collaborative Programs with Universities in Asia (working title)"
Keyword:INFORMATION
OBJECTIVE.
The Ministry of Education, Culture, Sports, Science, and Technology (MEXT) on November 2, 2021, announced the selection of its fiscal 2021 "Inter-University Exchange Project (Re-Inventing Japan Project): Support for the formation of Collaborative Programs with Universities in Asia (working title)." Of the proposals submitted to the ministry by other private universities., only Rikkyo University's program was adopted.
MEXT's Inter-University Exchange Project aims to further strengthen Japanese universities' global reach by building a higher-education network in strategically important countries and regions. It also aims at ensuring the world-class quality of university education to cultivate outstanding human resources who can play active roles globally. The project is attempting to build a network with higher educational institutions in countries and regions with strategic importance for Japan. It provides financial assistance, mainly to projects aimed at forming international educational collaboration and networks that promote exchanges between Japanese students with their counterparts abroad (whose quality must be guaranteed), and facilitates strategic recruitment of outstanding international students.

The Campus Asia Plus Program, a new program for which applications were solicited by MEXT, requires universities to form an intercollegiate consortium of universities connecting more than four countries or regions from among Japan, China, South Korea, and Association of Southeast Asian Nations members. Seven universities submitted applications under the program, but Rikkyo University was the only private university whose application was accepted.

Rikkyo proposed forming a consortium with Seoul National University in South Korea, Peking University in China and the National University of Singapore in Singapore – all top universities in the region.

The university considers this consortium initiative a core project succeeding one adopted in 2014 for MEXT's Top Global University Project, and will work harder to globalize its education.
Outline of the program
Rikkyo University proposes forming the Asian Consortium for Excellence in Liberal Arts and Interdisciplinary Education (ACE) with Seoul National University, Peking University and the National University of Singapore. The ACE will nurture human resources based on liberal arts education, with the aim of coming up with solutions to various contemporary problems in Asia and the rest of the world. It will do this by crossing academic fields and geographical boundaries, and by collaborating with students studying in the Asian cultural area, which is rich in both commonalities and diversity, and with people living in the region, using various platforms.
Rikkyo University
Seoul National University
Peking University
National University of Singapore

Intercollegiate consortium focusing on liberal arts education

Development of C6ubic Curriculum
Establishment of a joint international minor (ALIS)
Face-to-face online
Long-term exchange programs among the four universities
Internship (social contribution activities)
Groups of common online subjects
Intensive summer and winter programs
Issuance of common academic transcripts

Formation of collaboration among the four universities
Mutual guarantee of quality with collaborative educational programs
Visualization of learning outcome
Establishment of an ACE steering council
Planning and management of joint faculty development
Foundation for engagement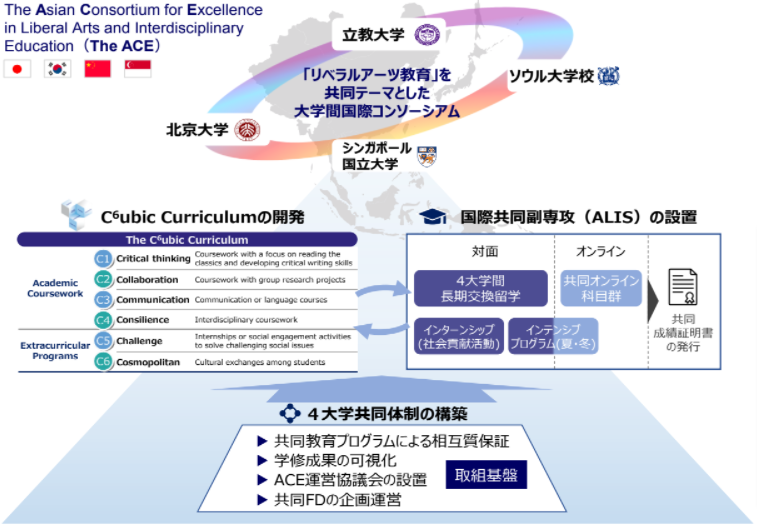 Outline of program
The flow of the program (the order of overseas study destinations is just an example)
Fall term Spring term Fall term
September January February March July August September January
International students

Study abroad (fall) Intensive programs (winter)
Beijing University Internship
Online students
Groups of common online subjects
Each university
Collaboration with students from the four countries

Study abroad (spring)
Seoul National University
Groups of common online subjects
Each university
Intensive programs (summer)
Internship
Collaboration with students from the four countries

Groups of common online subjects
National University of Singapore
Groups of common online subjects

Human resources to be cultivated to develop globally competitive talents
Global leaders from Asia who can build the future together
Six core skills
Power of thinking
Power of innovation
Power of empathy and collaboration
The whole world
East Asia, ASEAN
Liberal arts

Positioning and future vision of this initiative
Rikkyo University's educational philosophy since its foundation
Global Liberal Arts Minor
Joint international minor
Substantiation
Deployment
Top Global University Project
Inter-University Exchange Project
Establishment of the university with an international reputation