Feb 17, 2020
"Tove Jansson exhibition: the birth and development of Moomin" held at Ikebukuro Library
Keyword:EVENT
OBJECTIVE.
"Tove Jansson exhibition: the birth and development of Moomin" was held in the exhibition corner of the first basement at Ikebukuro Library on Nov. 2-8, 2019.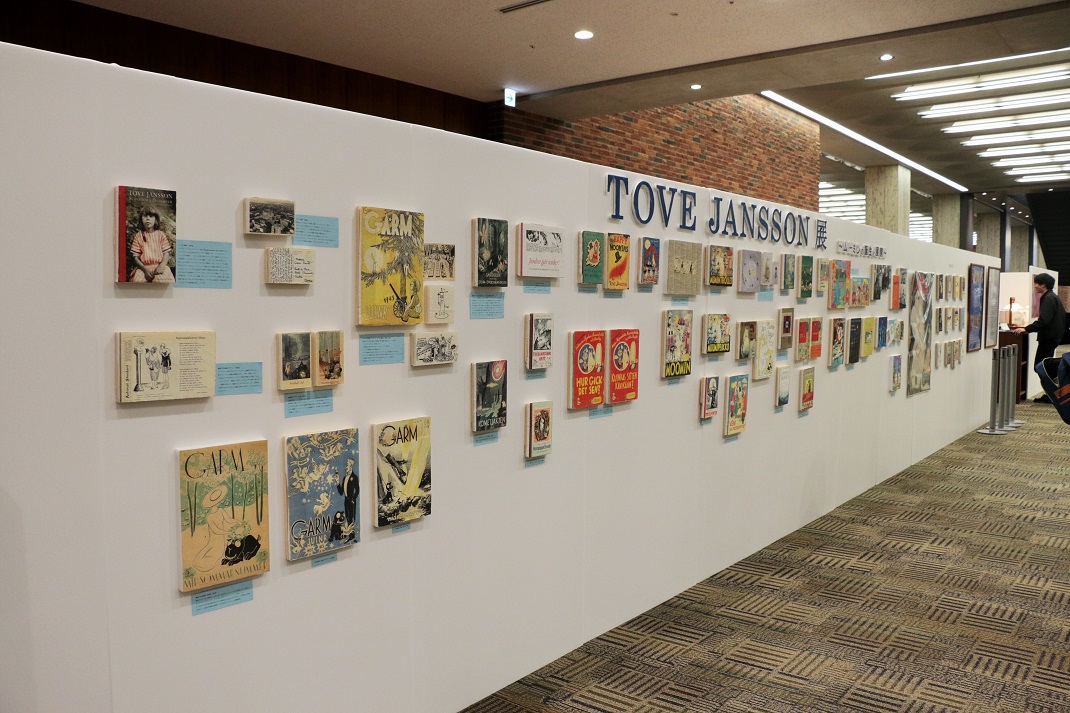 This exhibition was organized by students of the College of Tourism in Professor Hiroaki Kuzuno's seminar course. It was the extended version of the exhibition held at Niiza Library last year. Professor Kuzuno collected over 2,000 pieces of material related to Tove Jansson and Moomin for the exhibition, and the students in his seminar organized and attached captions to them. It was an exhibition put together by hand, with the students even making posters and brochures.

The exhibition was made up of 10 sections. The first was a biographical sketch of Tove Jansson on the outside wall surrounding the exhibition site, followed by nine sections inside: "People around Tove," "Tove the illustrator," "Development of Moomin stories," "Moomin books around the world (45 languages)," "Unique Moomin books from the Soviet Union/Russia," "Moomin comics," "History of Moomin goods that have attracted fans," "Japanese Moomin books" and "Japanese Moomin animation."

A variety of materials were displayed so that visitors could take them into their hands and look at them closely.

As the exhibition period coincided with the school festival, during which the library is open to the public, many people visited the site that had been transformed into the world of Moomin.
Message
Organizer: students in the seminar of Professor Hiroaki Kuzuno of the College of Tourism at Rikkyo University; co-organizer: Ikebukuro Library at Rikkyo University

* The greeting message displayed at the entrance of the exhibition site

There is still insufficient academic material and research on the Moomin works, despite their widespread popularity, and their author, Tove Jansson. Therefore, at this exhibition, we have placed the most importance on displaying as many original, related materials as possible and allowing visitors to handle them. For example, in the "Quiz corner: Can you tell what language this Moomin book uses?" section, we have gathered Moomin books from around the world in 45 languages, and have displayed them so that you can actually take each into your hands and look at them closely. As for the rest of the materials, except for those displayed inside the exhibition cases, we would like you to handle them and take a small step along various paths, which may be different for each person, into the world of Moomin. At this exhibition, we have intentionally left out detailed comments and have only attached basic information.

Many of the materials displayed here, with a few exceptions of newly published books, are old books or magazines that are difficult to obtain now. In other words, they are like the footprints of various people besides you, including those who lived or live in countries and regions far away and those who lived or live close by in Japan who have encountered the world of Moomin. Please be careful in handling the material, respecting each and every person's encounter with Moomin.

We sincerely hope that through this exhibition, you will want to read each of the Moomin works. As you read many of the works, you may be bewildered by the wonders of the unique characters and of Moominvalley where they manage to live happily together. We also accept this Moominvalley as a world that conveys the significance of "tolerance toward diversity."