Jan 14, 2020
Miki Kamada, who is part of Rikkyo Univesity's swimming team, set new Japanese records and won two gold medals at the Japan Para Swimming Championships 2019.
Keyword:INFORMATION
OBJECTIVE.
Miki Kamada of Rikkyo University's swimming team, one of the clubs in the athletic association, set new Japanese records and won gold medals in the 100-meter backstroke (S8 class) as well as the 100-meter breaststroke (SB7 class) at the 2019 Japan Para Swimming Championships held September 21–23 at Yokohama International Swimming Pool, Yokohama City, Kanagawa Prefecture. Kamada is a fourth-year student enrolled in the Department of Sport and Wellness at the College of Community and Human Services.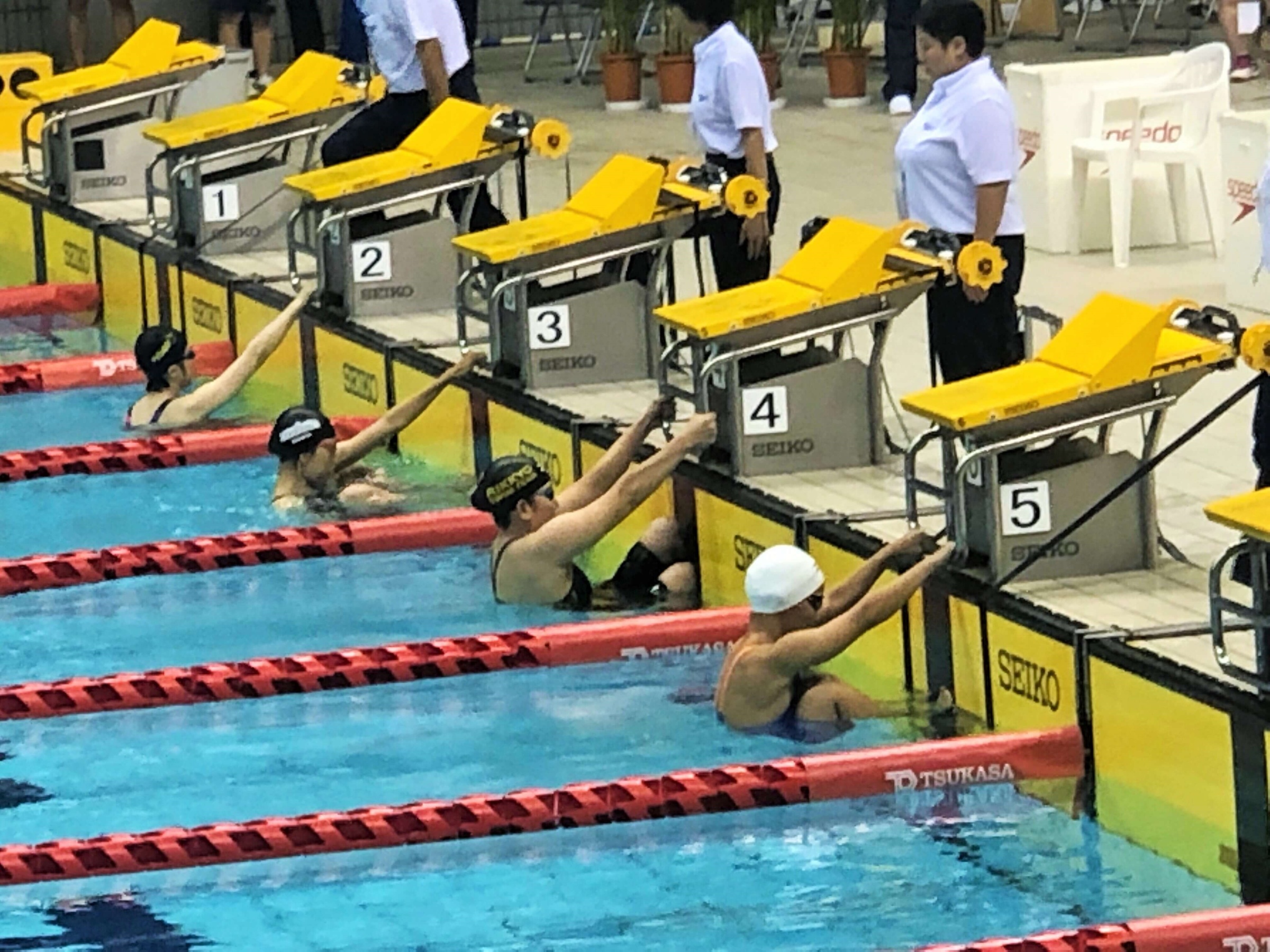 At the start of the race, Kamada was in the fourth lane.
The Japan Para Swimming Championships began in 1991 and has been held annually to date. It is grouped into different events, so that swimmers with various disabilities can take part. Further, the top swimmers in Japan as well as international swimmers participate in this competition, which gained official recognition from the International Sports Federation in 2003. Significantly, several world records have been set since then at this competition.

*Para swimming is categorized based on three impairment groups – physical, intellectual and visual – and by the participants' degree of impairment for each event.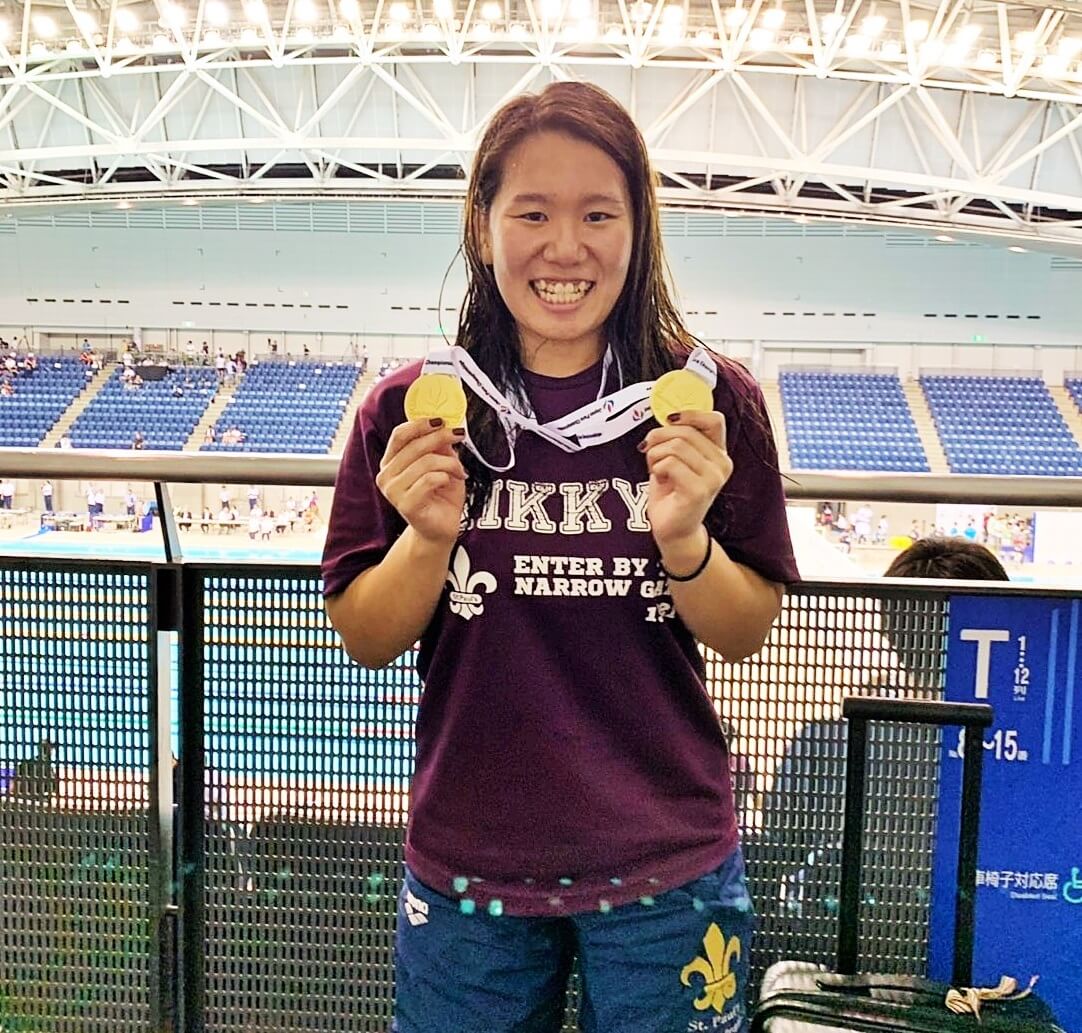 Photo of Kamada with gold medals in both hands
In the 100-meter backstroke (S8 class) final, Kamada was well ahead of the target time from the first half and outdistanced her fellow competitors from the beginning till the end. She set a new Japanese record, finishing at 1 minute 31.80 seconds, and won the gold medal. Impressively, she has won the gold medal in this event for four consecutive years since the 2016 championships.
In the 100-meter breaststroke (SB7 class) preliminary heat, she was ahead of the target time at the 50-meter turn. Building on her momentum in the second half, she finished in first place with a time of 1 minute 56.02 seconds, setting a new Japanese record. Moreover, in the final, although she was lagging behind an overseas swimmer in the first half, she overtook her in the second half and won the gold medal.
Having broken the Japanese record in both events, everybody has high expectations for further achievements from Kamada, particularly in the 2020 Tokyo Paralympic Games.
COMMENT
fourth-year student at the Department of Sport and Wellness, the College of Community and Human Services:
Miki Kamada
I am very pleased with what I have achieved in this competition, since I put in the time and effort with a goal of breaking the Japanese record in both events at this competition. Particularly with the backstroke, I was able to beat my personal best and the Japanese record for the first time in two years, so I was able to demonstrate the effort I put in at training. I received a lot of support from many people at this competition, and I was able to enjoy the races. I really appreciate all your support. I will make an increased effort to be able to break the records again, and I hope you will favorably watch over my efforts.

*Photo of Kamada (right) and Ibuki Arakawa (left), manager of the swimming team, with a second-year student of the Graduate Program in French Literature, Department of Letters, the College of Arts