Nov 12, 2019
Sergey Bubka give a special lecture titled "For 2020: Dream and legacy in sports"
Keyword:INFORMATION
OBJECTIVE.
Sergey Bubka, a legendary Ukrainian pole vaulter, gave a special lecture, which was titled "For 2020: Dream and legacy in sports" and addressed to Rikkyo University students and the general public, at the school's Ikebukuro Campus on September 17.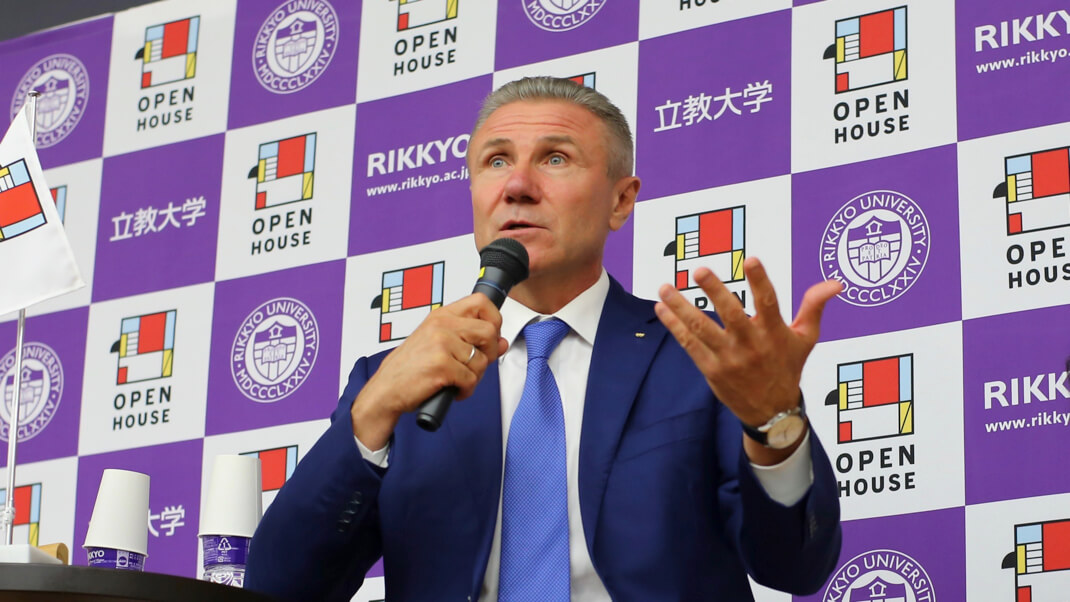 Bubka talks about his own experience.
The lecture was organized by Rikkyo University and Open House Co., Ltd. to reconfirm the power that sports yields. At the onset of the lecture meeting, Rikkyo University President Yangchoon Kwak said: "Sports teach us we can make our dreams come true. We are very honored to have Mr. Sergey Bubka, one of the greatest athletes of the 20th Century." Bubka then appeared as the audience gave him a big round of applause.

Bubka won a gold medal at the Seoul Olympic Games and is famous for breaking the world record for men's pole vault 35 times. Bubka talked about his experience, saying, "It is important to never give up and constantly have a dream: this is relevant not only to sports but everything else in life." Bubka, who serves as an International Olympic Committee (IOC) member, added, in a rather agitated tone, that he was certain that the 2020 Tokyo Olympic and Paralympic Games would be a fabulous event.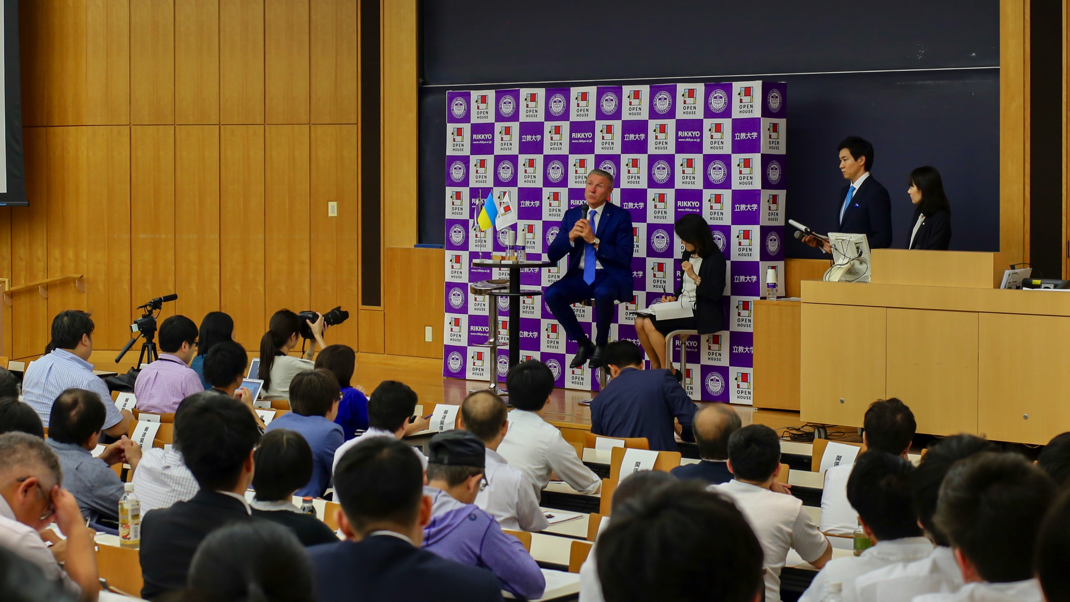 The audience listens to Bubka's lecture attentively.
Bubka holds a prosthetic leg owned by para-athlete Junta Kosuda, left.
The lecture was joined by Junta Kosuda, who is aiming to qualify for the Tokyo Paralympics in men's 100 meters and long jump, for a dialogue with Bubka. Bubka expressed admiration for Kosuda, who trains in the sports while being employed by Open House. Asked by Kosuda about what it takes to win, Bubka replied: "Believing in yourself. If you have dreams and make efforts, anybody can be a victor."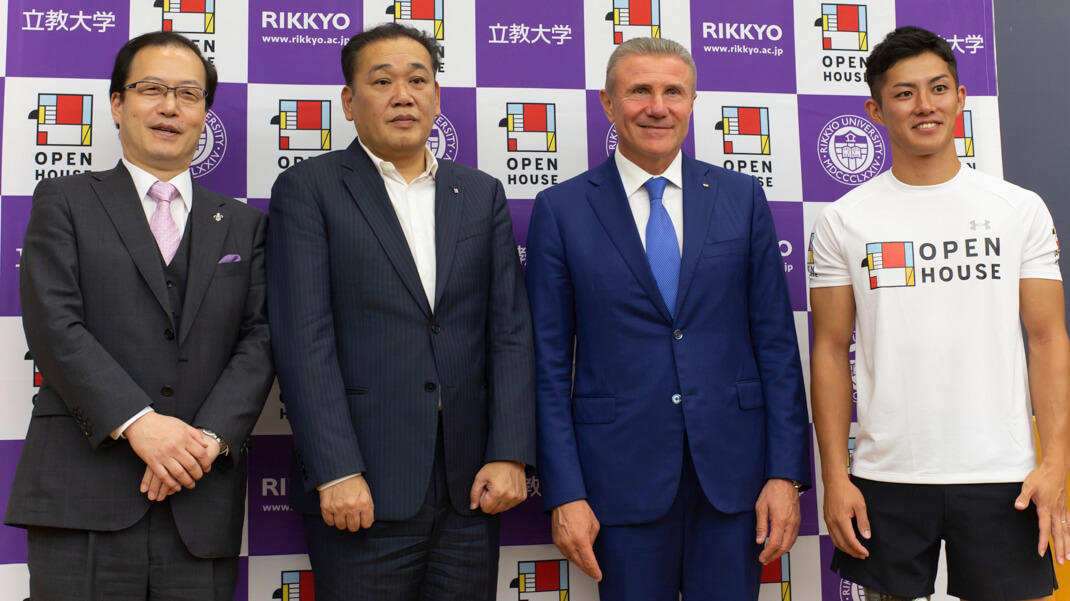 From left: Rikkyo University President Yangchoon Kwak, Open House President Masaaki Arai, Sergey Bubka and Junta Kosuda
which he regards as important – based on his own experience of getting information from coaches of various competitive sports to utilize them for his own growth as an athlete. Kosuda said he would take Bubka's advice to heart and use them for his training.

Rikkyo University is undertaking various projects in the run-up to the 2020 Tokyo Olympics and Paralympic Games. Taking the games as an opportunity, the university will carry out educational as well as research activities to promote cultural exchange, enhance students' mental and physical health, and provide an environment for them to live with vigor.
・Sergey Bubka
Born in the Soviet Union (present-day Ukraine). He won a gold medal in the pole vault at the Seoul Olympic Games and clinched six consecutive victories at IAAF World Athletics Championships. He was a legendary pole vaulter, honorably called "bird man," who renewed the world record 35 times. He serves as an IOC member, International Association of Athletics Federations Senior Vice President, and President of the National Olympic Committee of Ukraine.

・Junta Kosuda
Born in Tokorozawa City, Saitama Prefecture, he was placed second position in men's 100 meters (13.65 seconds/his best record) and long jump (5.64 meters/his best record) at the 2019 Japan Para Athletics Championships, held in commemoration of the Emperor's ascent to the throne. He aims to compete in the 2020 Tokyo Paralympics while continuing to work as an employee of Open House.