Sep 25, 2019
Law Faculty's Iwatsuki Seminar Team Wins the First Place for Best Combined Memorials at the International Law Moot Court Competition, Japan National Round
Keyword:INFORMATION
OBJECTIVE.
A team, from the seminar by Professor Naoki Iwatsuki of the Faculty of Law, won the first place for best combined memorials at Qualifyng Round in Japan for 2019 Philip Jessup International Law Moot Court Competition. The competition was held at Kyoto University on February 16 and 17, 2019 and sponsored by the Japan International Law Students Association. The team was nominated to the Hardy C. Dillard Awards for Best Combined Memorials — World & Qualifing Rounds.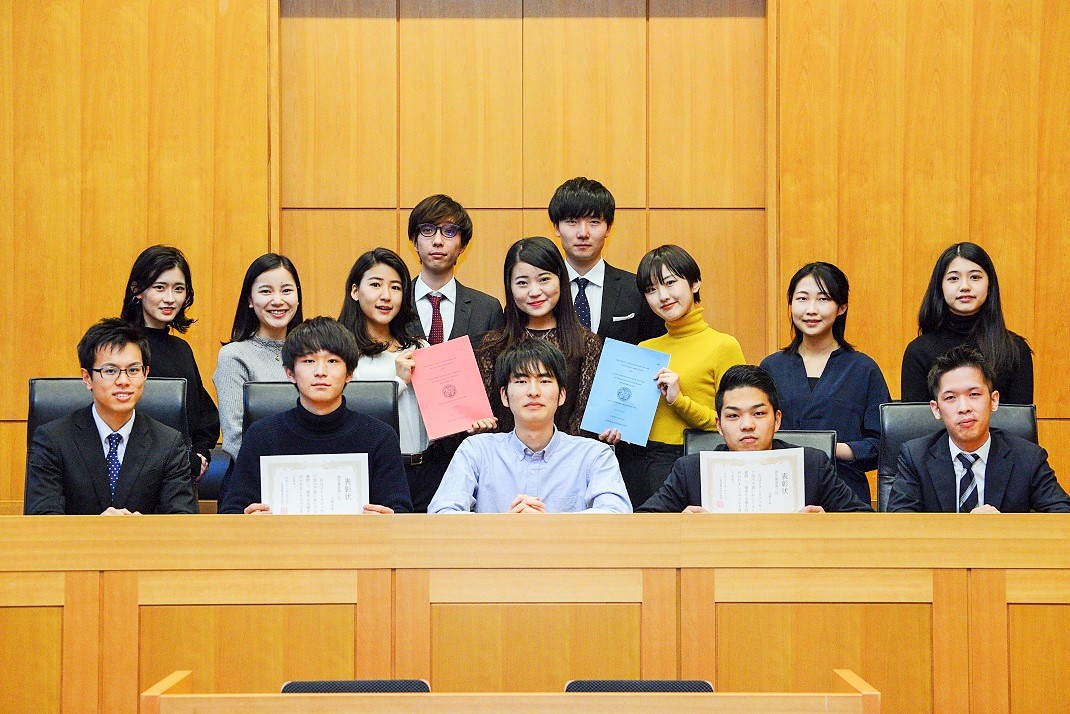 Students belonging to Professor Naoki Iwatsuki's seminar.
The Philip C. Jessup International Law Moot Court Competition is the global leader in this category. Its participants include students of over 500 law schools and universities from 80 countries. The competition held at Kyoto University is like a domestic preliminary round.

Besides Rikkyo University, nine other universities—The University of Tokyo, Kyoto University, Hokkaido University, Tohoku University, Waseda University, Sophia University, Nagoya University, Doshisha University and Osaka University—participated this year. Oral proceedings were held in a competitive format, based on the written arguments (memorials) of both the applicant and the respondent, submitted by each team in advance. The team which excelled at the memorial and oral presentation were awarded. Furthermore, participants who were exceptional oral presenters for the applicant or the respondent, in addition to the team who presented the best memorials, were also awarded.

The Iwatsuki seminar team finished third in the respondent memorial category in last year's domestic competition. This year, it outperformed that result, as the runner-up for the applicant memorial and winner of the best respondent memorial. They won the first place in the overall memorial category.

The results of the memorials are:
・Applicant Memorial: Winner—Kyoto University / Runner-up—Rikkyo University / Third place—Tohoku University.
・Respondent Memorial: Winner—Rikkyo University / Runner-up—Waseda University / Third place—Kyoto University
The Iwatsuki seminar team will represent Japan in the memorial category at the international round of the Hardy C. Dillard Award to be held in April.