Feb 01, 2019
Paralympic gold medal-winning swimmers Daniel Dias and Ellie Cole visit Rikkyo University and mingle with students
Keyword:INFORMATION
OBJECTIVE.
Paralympic gold medal-winning swimmers Daniel Dias and Ellie Cole visited Rikkyo University's Niiza Campus on November 21, 2018, to participate in special lectures and mingle with students.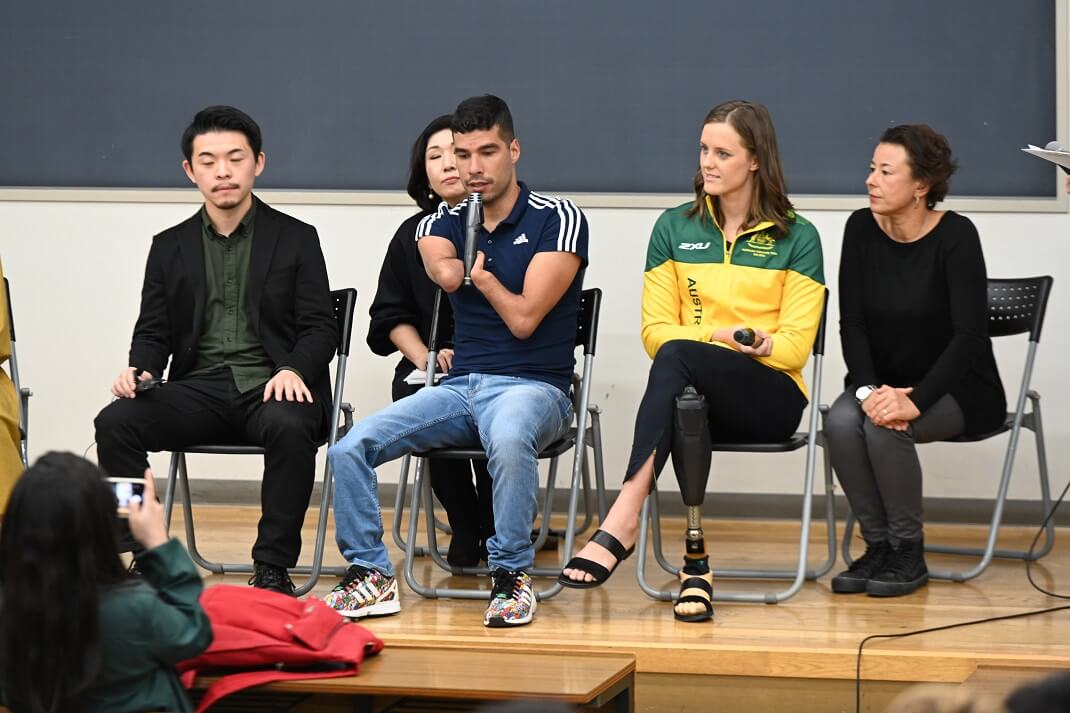 From left, Hosoi, Dias and Cole
The event was organized as part of a WOWOW documentary program, called "Who I Am," which features Dias and Cole. The two Paralympians were accompanied by the program's director, Yosuke Hosoi.

In the morning, Dias and Cole were guest speakers in a one-hour special lecture of the course "Introduction to Sports Science" offered by the Department of Sports and Wellness, College of Community and Human Services.

Cole, who was visiting Japan for the fifth time, started her speech with a greeting in Japanese. She praised Japan's efforts to embrace universal design, saying improvements are being made for taxis and barrier-free access in addition to the construction of well thought-out event venues ahead of the 2020 Tokyo Olympics and Paralympics. Dias, who visited Japan for the first time, said he was excited to be in Japan before the Games.
A photo taken after the lecture.
The two swimmers reflected on their performances at the 2016 Rio de Janeiro Paralympics. Cole said she was under tremendous pressure because she was a defending champion participating in the Paralympics for the third time and because she had not won any events before her final individual race, the 100m backstroke. For Dias, the Paralympics held in his home country was his fourth Games. Dias said the Paralympics become a turning point for a nation because the disabled athletes can show their abilities to a wide audience, adding he wants Rikkyo students to receive this message as the Tokyo Games approach. Their speeches were followed by question-and-answer and photo sessions.

In the afternoon, Dias and Cole gave a special lecture at St. Paul's Aquatic Center, an indoor pool on the Niiza Campus, for the "Sports Sociology" course offered by the Department of Sports and Wellness.

Para-swimmer Miki Kamada, a member of the Rikkyo University's swimming team and a student of the department, joined Cole and Dias in telling the audience how to enjoy para-swimming, which they said was exciting for many reasons. This was followed by a relay race with swimmers from the swimming team and other exchange events.
PROFILE
Daniel Dias
Born May 24, 1988, in Brazil
Para-swimmer representing Brazil
Dias has congenital limb malformations. Known as a "gold medal collector" who wins every event he participates in. He won a total of 15 medals in the Paralymic Games in Beijing and London. He is a superstar of para-sports.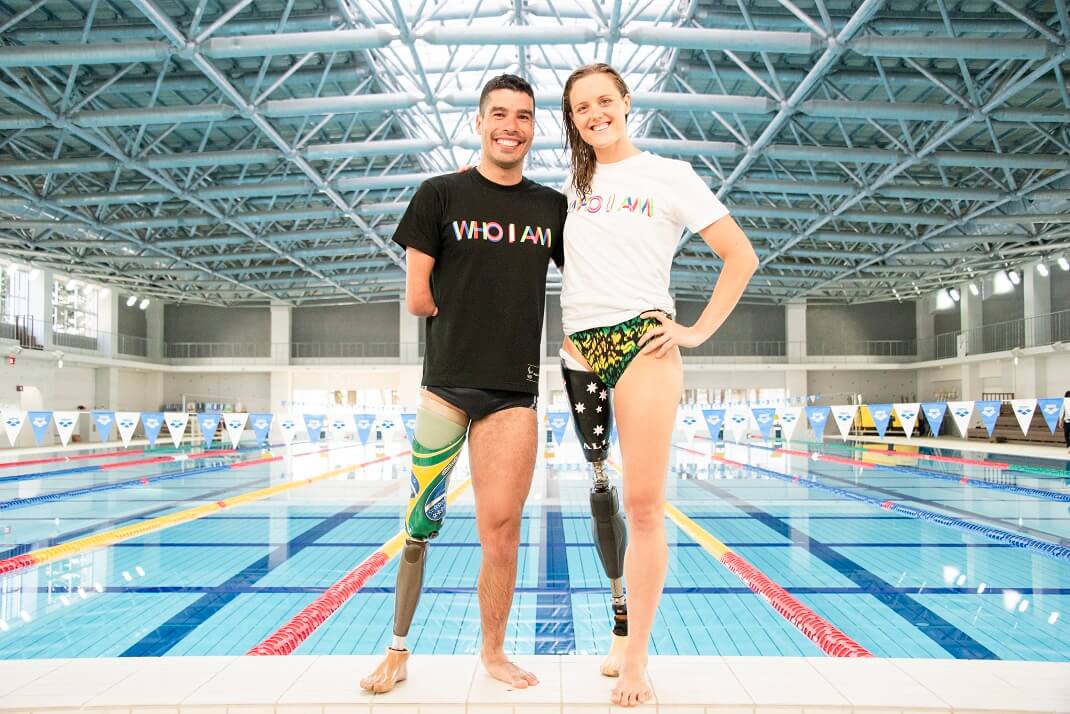 Ellie Cole
Born December 12, 1991, in Australia
Para-swimmer representing Australia
Cole had her right leg amputated above the knee at age 3. She won six medals, including four golds, at the London Games. At Rio de Janeiro, she won gold in the 100m backstroke. Pleasant and intelligent, she is an ace swimmer from the swimming powerhouse.