Feb 08, 2019
Ryu Watanabe wins gold in men's 500m, 1,000m at Japan Collegiate Skating and Ice Hockey Tournament
Keyword:INFORMATION
OBJECTIVE.
Ryu Watanabe, a member of Rikkyo University's skating team, won gold medals in the men's 500m and 1,000m short-track speed skating at the 91st Japan Collegiate Skating and Ice Hockey Tournament held at Teisan Ice Skate Training Center in Minami-Saku-gun, Nagano Prefecture, on October 13-14. Watanabe is a fourth-year student at the Department of Economics, College of Economics.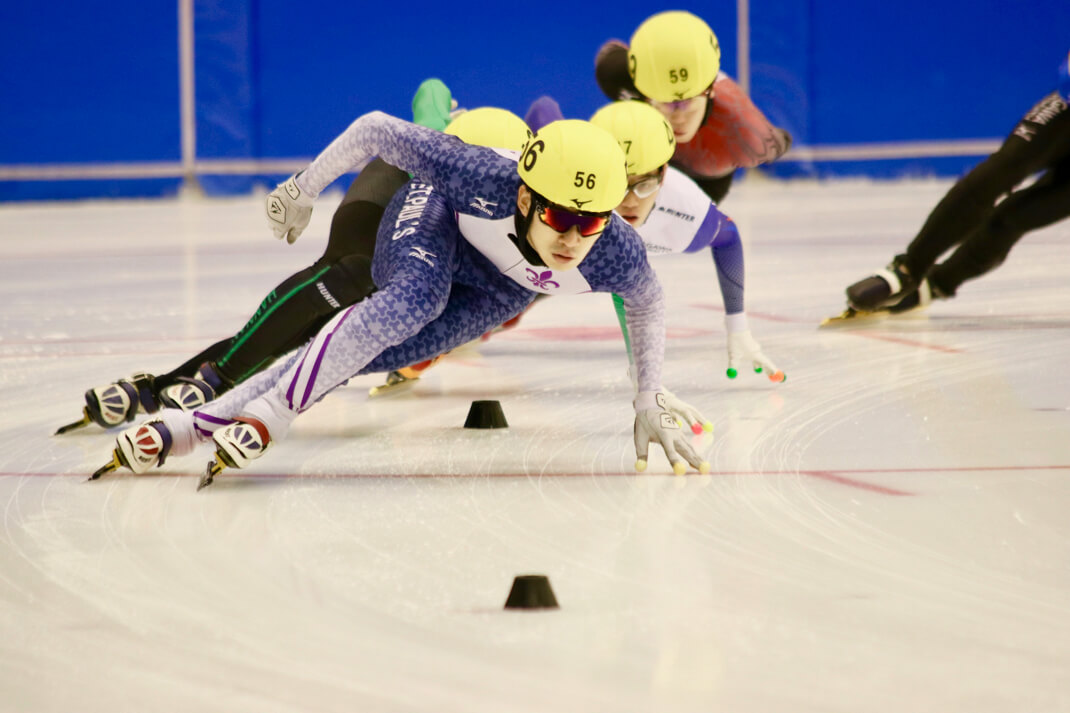 Watanabe during a race (©Rikkyo Sports Editorial Department).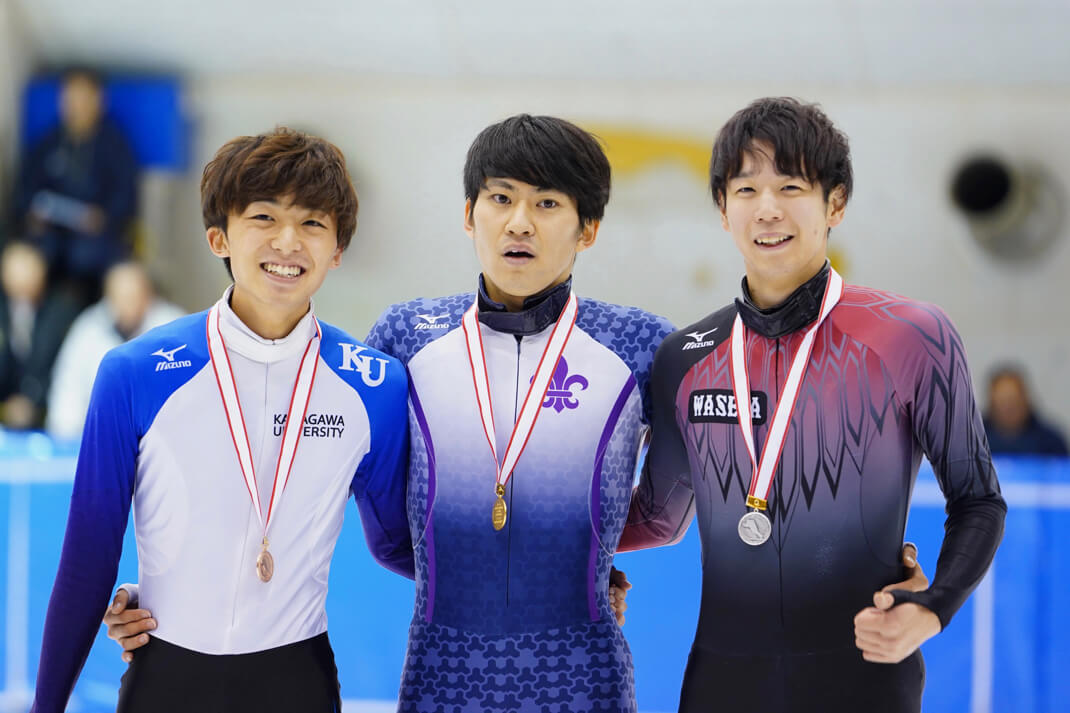 From left, Ryouta Abe (second-year student at Kanagawa University), Watanabe and Tatsuro Kawai(fourth-year student at Waseda University).
A total of 131 students from 21 universities participated in the tournament, including 96 who competed in men's short-track speed skating events. Watanabe won the 500m race by clocking 42.437 seconds on October 13, and won the 1,000m race in a time of 1:28.572. He dominated both races and recorded the fastest times in the heats and finals. He won the 500m title despite competing in this event for the first time and won the 1,000m for the fourth consecutive year.

Watanabe also won the 1,000m title at the All Japan Invitational Short Track Speed Skating Championships held on November 24-25 in Edogawa Ward, Tokyo. This win secured his berth in the All Japan Short Track Speed Skating Championship in January 2019.

Watanabe trained in South Korea in 2018 to practice with world-class skaters. Expectations are high for Watanabe in the run-up to the 2022 Beijing Winter Olympics.
COMMENT
Fourth-year student at the Department of Economics, College of Economics
Ryu Watanabe
I concentrated on these races more than ever because this was my last intercollegiate tournament and an unprecedented fourth consecutive win in the 1,000m was at stake. I won both races I entered and secured my fourth straight victory in the 1,000m. I finished my intercollegiate skating career in the best possible fashion and won seven of the eight events I entered during my four years at university.
This achievement was possible only because of the constant support from my family; those cheering for me; friends who helped me as I struggled to balance studying and training; and Rikkyo University, which provided an environment in which I could focus on my skating activities. I will keep training diligently without forgetting all the people who help me chase my skating dream. I truly thank you for your support.