Jan 25, 2019
Miki Kamada breaks Japan record in 100m breaststroke and wins gold in 100m backstroke at Japan Para Swimming Championships
Keyword:INFORMATION
OBJECTIVE.
Miki Kamada of Rikkyo University's swimming team broke a Japan record and won a silver medal in the women's 100m breaststroke at the 2018 Japan Para Championships held at Yokohama International Swimming Pool in Yokohama, Kanagawa Prefecture, on September 22-24. Kamada also won the 100m backstroke for the third consecutive year. Kamada is a third-year student at the Department of Sport and Wellness, College of Community and Human Services.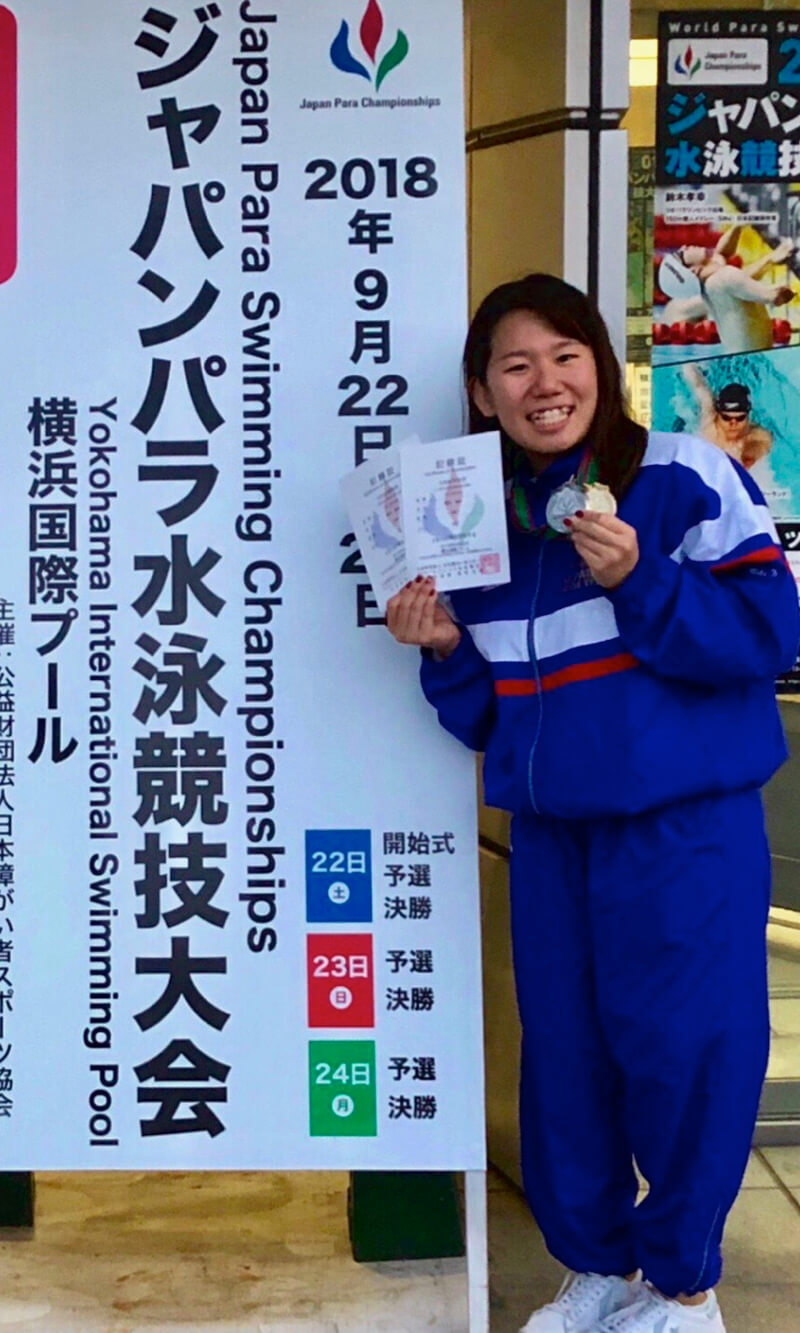 Kamada holds her gold and silver medals.
The Japan Para Championships, an international event cosponsored by the Japanese Para-Sports Association and athletic organizations, is the biggest such event held in the nation. The 2018 event attracted about 400 athletes from around the globe.

Kamada broke the Japan record in the 100m breaststroke (SB7 Class*) in a time of 1:58.15 and won the silver medal on September 22. The following day, she won the 100m backstroke (S8 Class) in a time of 1:35.50, capturing the gold medal for the third straight year.

Expectations are rising for Kamada's swimming career, including her possible qualification for the 2020 Tokyo Paralympics.

*Swimmers with various visual, intellectual and other disabilities participate in para-swimming events. They are grouped into classes depending on their degree of disability when competing in the same event.
COMMENT
Department of Sports and Wellness, College of Community and Human Services
Miki Kamada
Setting a new personal best time and a Japan record at the championships was my motivation for training hard. On Day 1, I was delighted that I set a personal best in my heat and broke it again in the final. I finished ahead of swimmers from abroad, which filled me with confidence. On Day 2, I was more tense than usual from the 100m backstroke heat so my swimming form was not smooth. I improved my time in the final, but it was frustrating that I could not set a new best time. I will not forget this disappointment and I'm determined to set a PB at the Japan Para-Swimming Championships in December. During this event, many people cheered me on, which really helped me swim faster. I sincerely thank you all. I will train every day so that I can achieve more good results in the future. I hope you will continue to support me.

※Kamada, left, with Ryo Takahashi, manager of the swimming team and a second-year student in the Department of Social Work, College of Community and Human Services.