Apr 17, 2019
College of Tourism signs long-term internship memorandum with Taiwanese luxury hotel
Keyword:INFORMATION
OBJECTIVE.
Rikkyo University's College of Tourism and the Regent Taipei have signed a memorandum under which the luxury hotel will accept Rikkyo students for a six-month internship program. This is the first long-term internship program Rikkyo University has concluded with an overseas hotel with the aim of educating students about the tourism industry.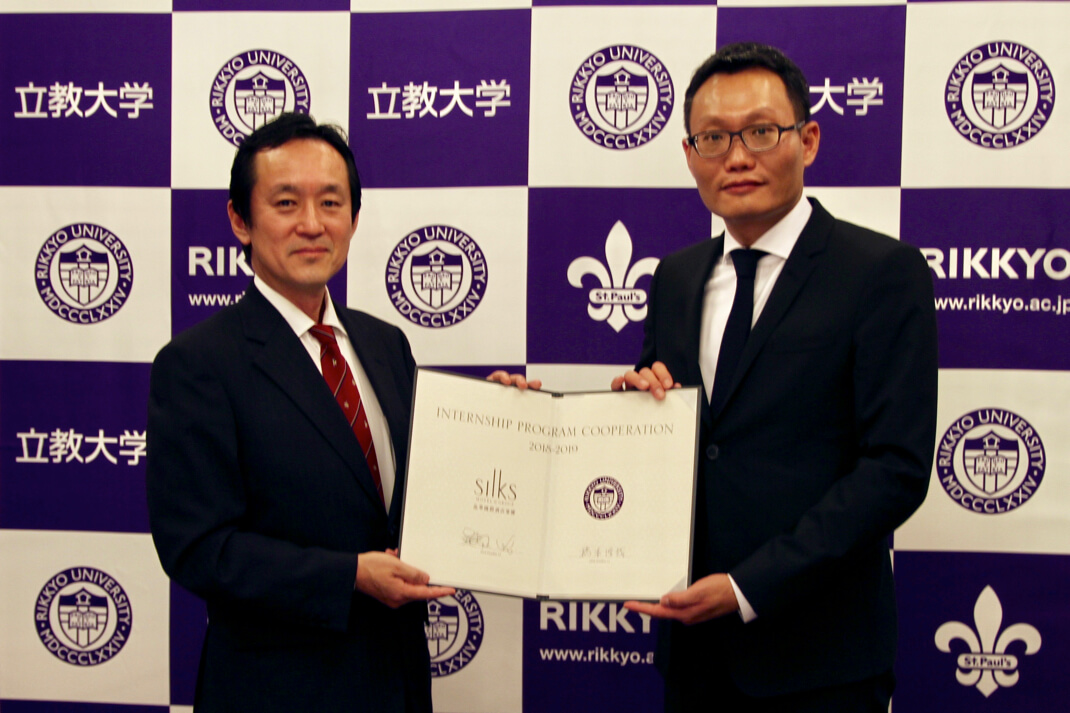 Dean Toshiya Hashimoto, left, and Mr. Simon Wu
The College of Tourism received a subsidy from the Ministry of Economy, Trade and Industry under the 2018 Industry-Academia Collaboration Project for Fostering Management Human Resources for the Service Industry for the purpose "fostering management specialists in the accommodation industry by complementary industry-university collaboration." The college has been developing educational programs that incorporate a long-term internship in Japan or abroad. Such programs are partly aimed at exploring how a higher educational institution should provide vocational training in the years ahead.

The college's first attempt at developing highly trained human resources in the tourism field through this collaboration will begin by dispatching students to the Regent Taipei. These students will share a room at the hotel, allowing them to live there while studying how the hotel is operated and managed.
"Fostering management human resources in the Asian tourism industry is an urgent task," Toshiya Hashimoto, dean of the college, said at the memorandum signing ceremony on October 12, 2018. "The student internship program will be mutually worthwhile if it is stimulating not only for students but also for young hotel employees." Regent Taipei Managing Director Simon Wu, who visited Rikkyo University for the ceremony, expressed his determination to make the internship program a success by saying: "We'd like to provide opportunities for students through the program. We'd like them to also share their experience with other people at the university."
Regent Taipei
The Regent Taipei, one of the finest luxury hotels in Taiwan, belongs to Silks Hotel Group, which is one of Asia's most profitable hotel groups. The 20-story hotel with 538 rooms is in central Taipei. In 2018, Forbes Travel Guide, one of the world's leading travel guides, gave the hotel four stars.
Rikkyo University's tourism education
Rikkyo University has supported Japan's tourism industry and its traditions for more than 70 years. The university launched its "Hotel Course" (now the Hospitality Management Course) in 1946 and set up Rikkyo Tourism Club, which now has about 3,000 members, in 1961. Rikkyo University became the first Japanese four-year higher educational institution to have a tourism department in 1967. It became Japan's first university to have a College of Tourism and a Graduate School of Tourism in 1998. The college and graduate school in Niiza City, Saitama Prefecture, actively promote exchanges with overseas institutions.