Mar 01, 2018
Rikkyo University holds short-term program on Japanese tourism for Chinese students
Keyword:INFORMATION
OBJECTIVE.
Rikkyo University held a short-term program titled "Program for Development & Planning of Tourism in Japan" from January 28 to February 3, in which 33 students from nine Chinese universities participated.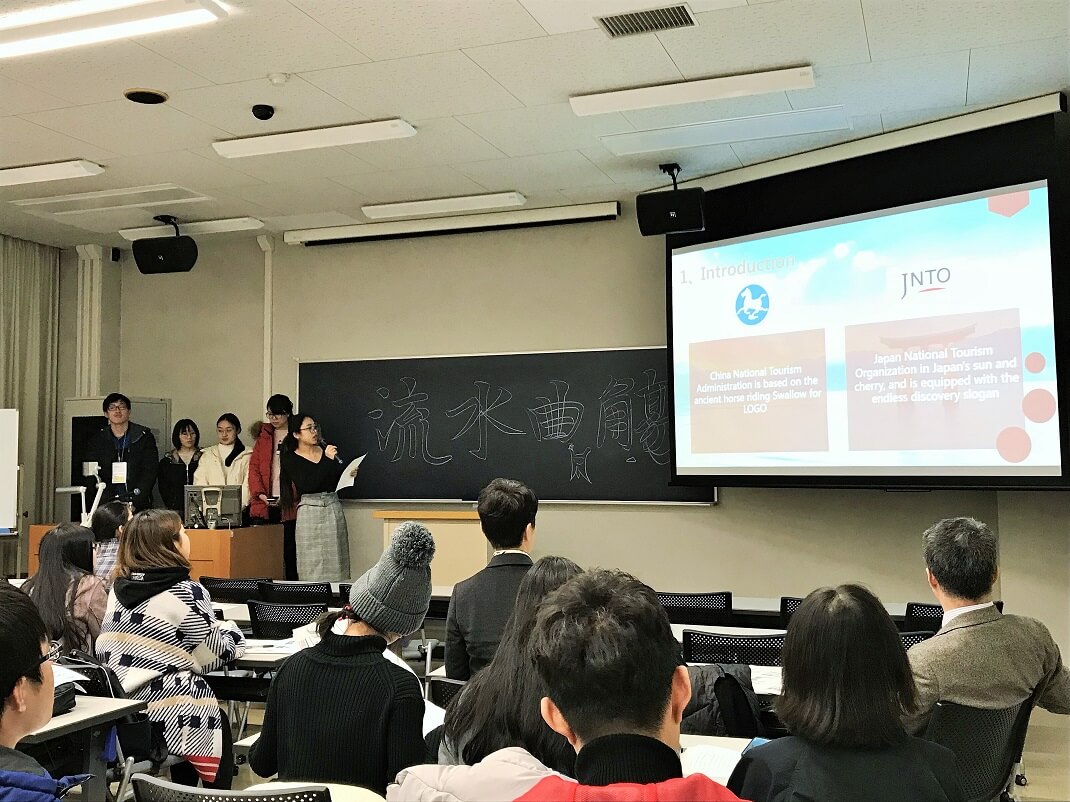 Final presentation
The nine Chinese universities are Fudan University, East China Normal University, Shenzhen University, Nanjing Agricultural University, Beijing Forestry University, Lanzhou University, Northwest University, Zhengzhou University and Jinan University.

This was the first such program Rikkyo University has offered. Seven faculty members from the College of Tourism gave lectures or guided fieldwork on various topics in English or Chinese. Japanese students from the college participated in some classes and conducted group discussions with the Chinese students in English. The participants actively engaged in classes designed to deepen their knowledge about how Japanese tourism has developed. In the final class, participants were divided into several groups, each of which gave a presentation in English about what they had learned in the program. Several groups compared tourism in Japan and China.

Participants had many opportunities to interact with Rikkyo students during the weeklong program. At an exchange meeting, the students participated in a quiz on Japan and China and experienced Japanese pastimes such as karuta playing cards and a kendama cup-and- ball game. About 25 Japanese students who have studied at Chinese universities with which Rikkyo University has tie-ups, or plan to go to China for language training from late February also took part. They chatted with the Chinese students in Chinese. The exchange meeting was organized mainly by a group of Chinese students enrolled at Rikkyo University, who used their experiences in Japan to serve as a bridge between the Chinese and Japanese students.

Rikkyo University has 425 students from China, and this number is increasing every year. Chinese students accounted for 50 percent of Rikkyo's international students as of the fall semester in 2017. Many Japanese students are interested in China. They plan to deepen exchanges with Chinese universities, providing opportunities where Japanese and Chinese students can learn from each other and promoting international exchanges on campus.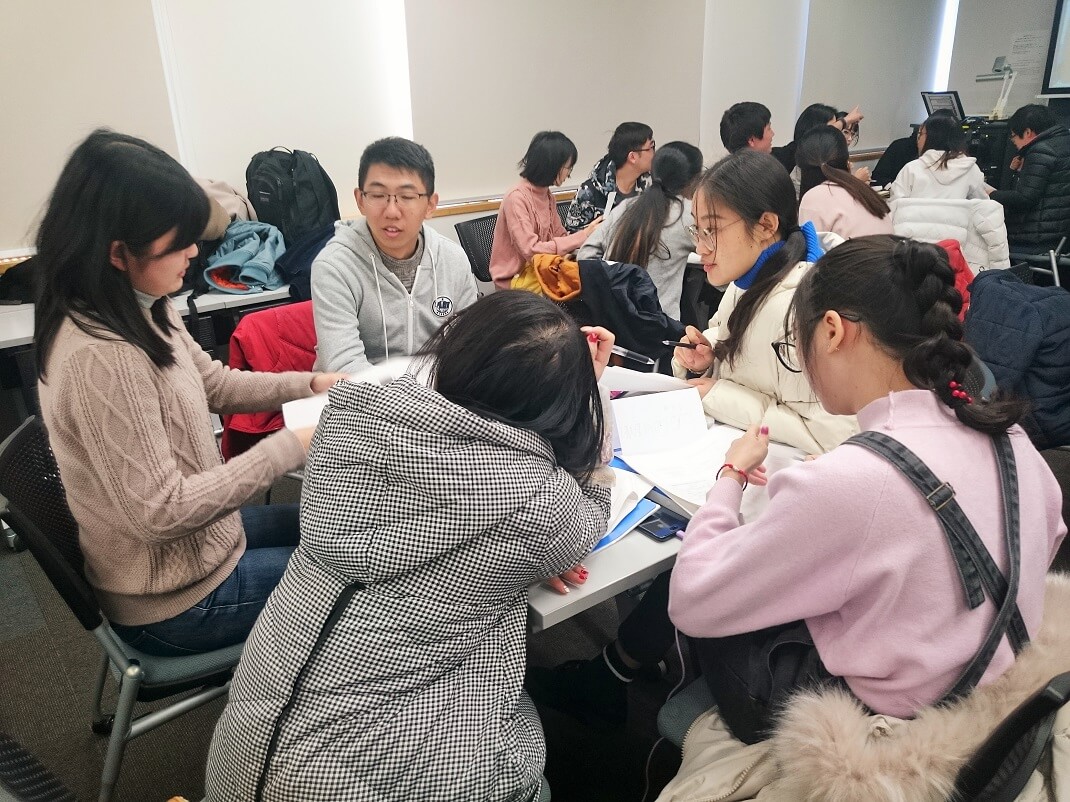 A discussion with Rikkyo students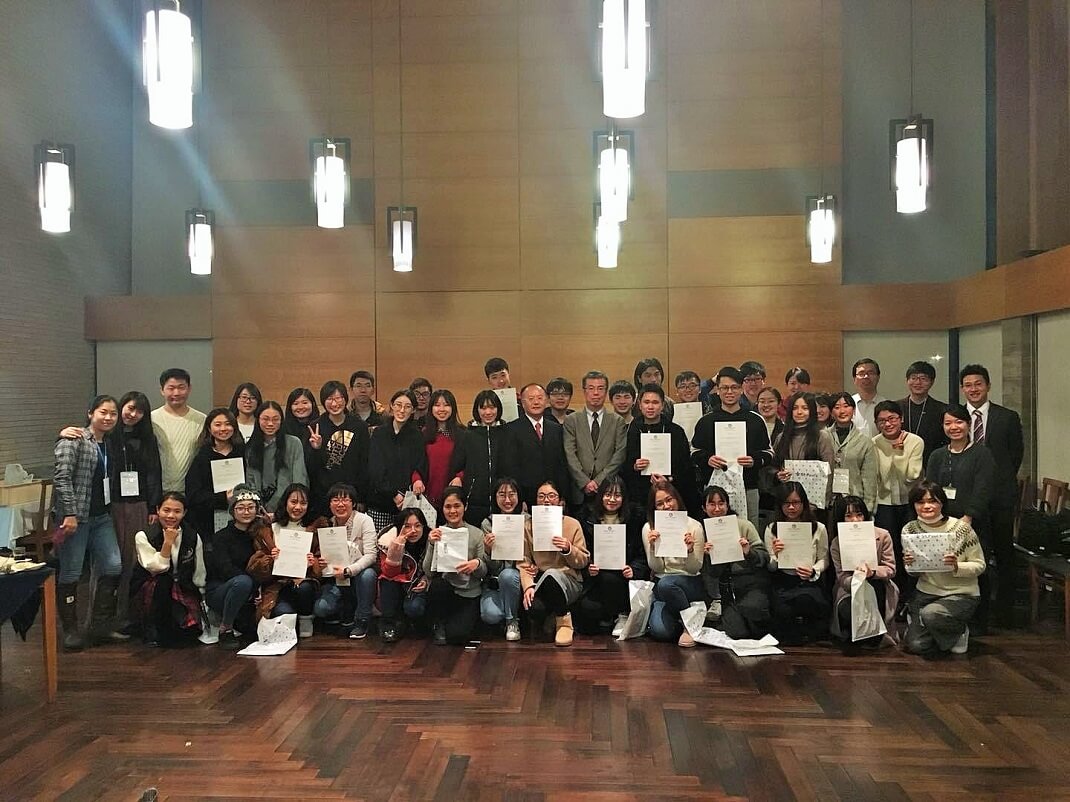 Closing ceremony
Program outline
Date: January 28 – February 3
Venue: Niiza Campus of Rikkyo University (some classes were conducted elsewhere)
Participants: Thirty-three students from nine Chinese universities (Fudan University, East China
Normal University, Shenzhen University, Nanjing Agricultural University, Beijing Forestry
University, Lanzhou University, Northwest University, Zhengzhou University and Jinan
University)
Sponsors: College of Tourism and Organization for Global Initiatives
Supported by: Chinese office of Rikkyo University
Main events
January 29: Lectures, campus tour, reception party
January 30: Lectures, group discussions, company visit
January 31: Lectures, visit to Japan National Tourism Organization
February 1: Lectures, fieldwork in Kawagoe City, exchange meeting
February 2: Lectures, group discussions, presentations, program closing ceremony