Oct 31, 2017
Rikkyo Gakuin signs cooperation accord with two swimming federations for the handicapped
Keyword:INFORMATION
OBJECTIVE.
Rikkyo Gakuin, an incorporated educational institution that operates Rikkyo schools, the Japanese Para-Swimming Federation and the Japan Swimming Federation for Persons with an Intellectual Disability signed a framework agreement to expand their cooperation on August 4.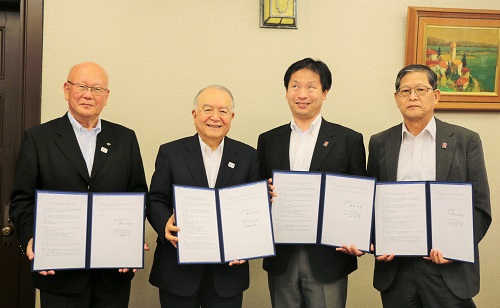 From left: Kazuo Sano, chairman of Japan Swimming Federation for Persons with an Intellectual Disability; Akio Kamiya, chairperson of the board at Rikkyo Gakuin; Junichi Kawai, chairman of Japanese Para-Swimming Federation (JPSF); and Yukihiro Wada, JPSF director.
The agreement aims to promote cooperation between Rikkyo Gakuin and the two federations mainly in fields such as education, research activities, personnel exchange, and regional and social contribution, and to help realize an inclusive and dynamic Japanese society.

In July 2014, Rikkyo Gakuin exchanged a memorandum with the Japanese Para-Swimming Federation on the use of facilities. Rikkyo Gakuin offered the Paul Rusch Athletics Center heated indoor pool (PRAC pool) and St. Paul's Aquatics Center heated indoor pool as training facilities, and several swimmers who trained at these pools won medals at the 2016 Summer Paralympics in Rio de Janeiro.

The "Tokyo Olympic and Paralympic Games Project" launched in November 2016 as part of Rikkyo University's "Rikkyo Vision 2024" action plan set the goal of promoting education and research that provide an environment and opportunities for wellness enhancement and cultural exchange among diverse peoples. In March 2017, the PRAC pool was designated as an "Event-Specific Affiliated National Training Center Facility" for Paralympic swimming. In July, recruitment began for the "Rikkyo Olympic and Paralympic Games cheering squad," to encourage Rikkyo students to get involved in the Tokyo 2020 Olympic and Paralympic Games by taking part in associated events and volunteer activities.

The framework agreement will strengthen and promote these efforts. Rikkyo Gakuin intends to use this opportunity to boost cooperation with the two federations and create a new, unparalleled collaborative relationship.