Jul 03, 2015
Mrs. Deepa Gopalan Wadhwa, Ambassador of India to Japan, visited Rikkyo University
Keyword:INFORMATION
OBJECTIVE.
In June 25, Mrs. Deepa Gopalan Wadhwa, Ambassador of India to Japan, presented a lecture on the "Great potential of Japan-India relations in 21st century".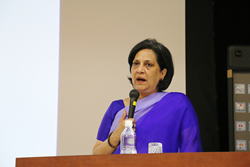 Amicable relations established over the years between Japan and India has been increasingly enhanced recently to the extent that Prime Minister Modi visited Japan as the first major country for a state visit.

In the lecture, Ambassador Wadhwa described about multifaceted collaborative relationships between the two countries including political and economic topics and security. Among others, she pointed out that technical assistance and positive investment from Japan are indispensable for mutual development of both Japan and India. She also emphasized the importance of mutual exchange -enhancement of academic exchange and cultural understanding-at a general public level in addition to political and economic aspects.

Finally, she sent hearty cheers to students that participation of young people are required to further strengthen the relationship between Japan and India in the future.