Special Lecture on "Food Diversity" held by LINK CIC, Rikkyo's College of Intercultural Communication
Dec 23, 2019
OVERVIEW
On June 26, 2019, the College of Intercultural Communication's student group, LINK CIC, hosted a special lecture titled "Intercultural Communication × Food Diversity." Second-year student Yusuke Suzuki, a representative member of LINK CIC, provided the following report summarizing the lecture:
Every June, members of LINK CIC organize a special lecture designed to explore topics of interest in the field of intercultural communication. This year, we invited the CEO of Food Diversity Inc., Akihiro Shugo, to participate as a guest speaker.
The lecture was divided into two sessions. During the first session, Mr. Shugo presented a speech on the topic of food diversity. The second session was a panel discussion that consisted of the following five members:
- Akihiro Shugo from Japan (CEO of Food Diversity Inc.)
- Nurul Syafeqah Binti Hisham from Malaysia (representative from Food Diversity Inc.)
- Steffaine Adriana Alida Vreeburg from the Netherlands (third-year exchange student and member of LINK CIC)
- Chiu Wan Ding from Indonesia (second-year student)
- Yusuke Suzuki from Japan (LINK CIC Project Representative)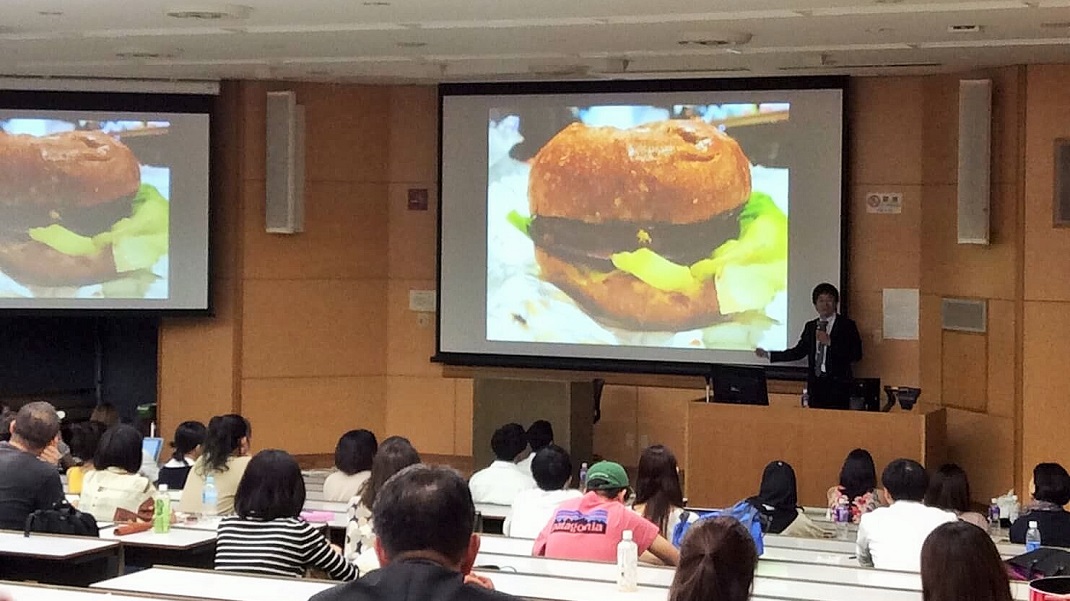 Mr. Shugo's lecture on food diversity
The first session began with a discussion of the dietary taboos that exist in many cultures worldwide. Mr. Shugo explained that the majority of countries are home to prominent ethnic, cultural or religious groups that abstain from eating certain types of food. He proceeded to provide a detailed explanation of the differences between several common dietary practices like veganism, vegetarianism and halal food. We learned that countries like Japan, where dietary restrictions are uncommon, are in the minority.
The part of Mr. Shugo's speech that stood out to me the most was his emphasis on the importance of experiencing what it is like to be a cultural outsider, and the importance of helping people who are currently in that position. It is crucial to remember that ideas that seem like common sense to us as Japanese people are not necessarily viewed as common sense abroad, and vice versa. When Japanese people fail to take these cultural differences into consideration, we end up treating people from other cultures as outsiders and isolating them. It is often only after we have experienced first-hand what is like to be treated as a cultural outsider that we truly begin to grasp the importance of considering foreign viewpoints. That point in particular really struck a chord with me.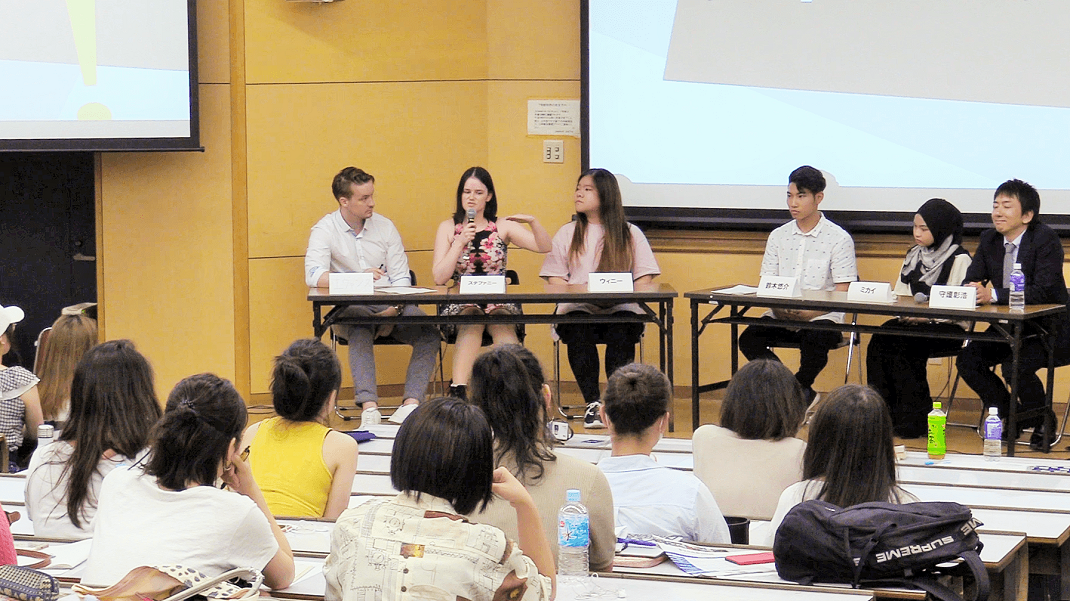 The panel discussion
After Mr. Shugo's lecture, we conducted a panel discussion on the meaning of "diversity." Each panelist presented their personal definitions of diversity, and subsequently the panel discussed the areas in which Japan is currently lacking in regards to its process of diversification. Mr. Shugo stated that he felt embarrassed on behalf of Japan that his country had to rely on exchange students to identify solutions to these issues.
The current Japanese schooling system is lacking and must be reformed to educate students more about the notion of diversity. It might take a considerable amount of time to change the Japanese education system, but if we manage to change it little by little, I believe that the number of Japanese people who understand the concept of diversity will increase, fostering a society that respects cultures that are different from our own.
S&B Foods Inc. and Global Corporation provided lecture attendees with alcohol-free vegan ramen and curry samples, which participants scarfed down quickly. The food received glowing reception from attendees, with several admitting that the meals tasted even better than the food they usually eat. Many participants said that they wished that dishes like this were available at the university cafeteria.
I would like to end this report by thanking all of the people who worked together to organize this lecture. We would be very pleased if we have managed to get the participants interested in diversity.