Students from Stanford, Hong Kong, Rikkyo universities create content showcasing charms of disaster-hit city
Yuri Kuriyama(First-year student at the Department of Economic Policy Studies)
Feb 21, 2019
OVERVIEW
The Rikuzentakata Project aims to help rebuild Rikuzentakata, a city in Iwate Prefecture devastated by the March 2011 Great East Japan Earthquake and ensuing tsunami. The following activities were conducted in September 2018.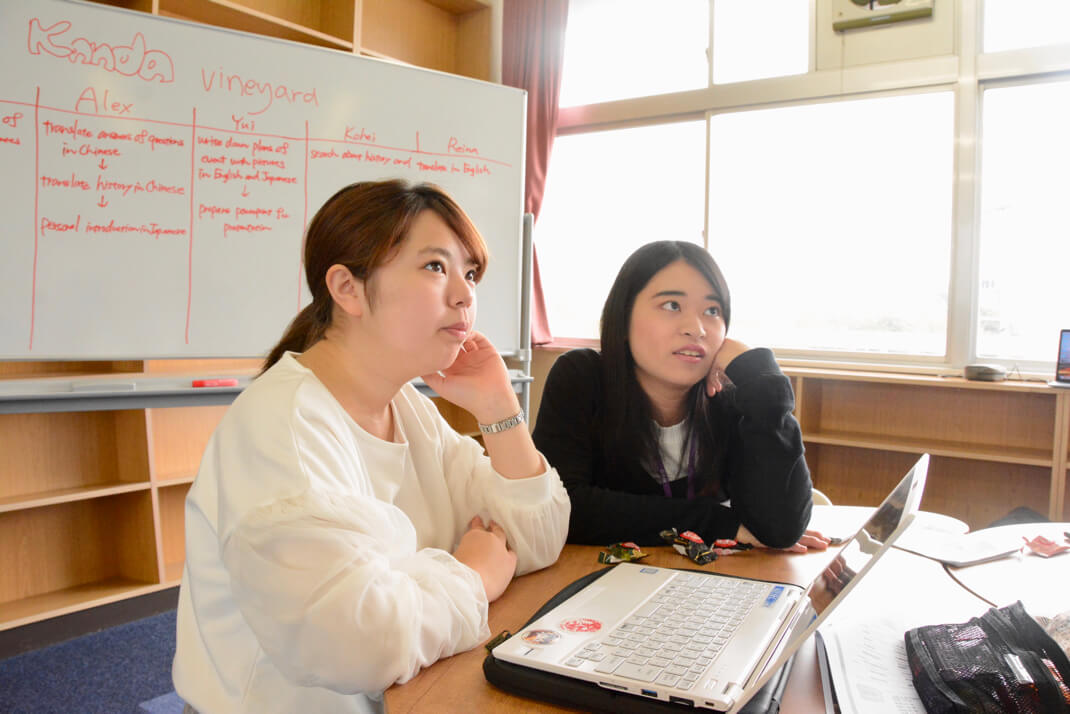 Yuri Kuriyama, left, attends a fieldwork session.
The Rikuzentakata Project, which started in 2013 on a pilot-basis, is a project-based learning program in which students attend a five-day field trip in Rikuzentakata, a city hit hard by the Great East Japan Earthquake. They study Rikuzentakata's current situation before tackling tasks that contribute to the city's rebuilding efforts. In the 2018 academic year, 14 Rikkyo University students were joined by six students from Stanford University, which has participated in the project since the 2015 academic year, and two students from the University of Hong Kong, which joined the program this year. The University of Hong Kong has deepened ties with Rikkyo University through internship programs offered by the Japanese university and student exchange programs.

This year, the project's theme was to "produce and publicize content showcasing attractions of Rikuzentakata City" through Marugoto Rikuzentakata, a general incorporated association entrusted by the Rikuzentakata municipal government to carry out and manage various projects. The students were divided into four mixed groups. One team planned and held an exchange meeting with Rikuzentakata residents, while three were tasked with making proposals, after undergoing on-site learning and experiences, to improve programs offered by Marugoto Rikuzentakata for foreigners, and making articles, videos and other content to publicize the city's charms. Two of the three groups took part in the "Furusato Visit" program, in which they stayed in private homes near the coast or in the mountains for several hours during daytime. The remaining group visited Kanda Vineyard. They also stayed overnight at private homes and posted Instagram messages about what impressed them.

Near the end of the September 7-11 fieldwork, the students reported their ideas to the Rikuzentakata mayor and residents at a meeting. At the final presentation at Rikkyo University on September 12, the students explained their findings in front of Marugoto Rikuzentakata staff members.

The following is a gist of an interview with Yui Kuriyama, a first-year Rikkyo University student at the Department of Economic Policy Studies, College of Economics. She participated in the team that proposed improvements to the hands-on learning program at Kanda Vineyard and publicized charms of the city.
Please outline your activities and any episodes that made an impression on you.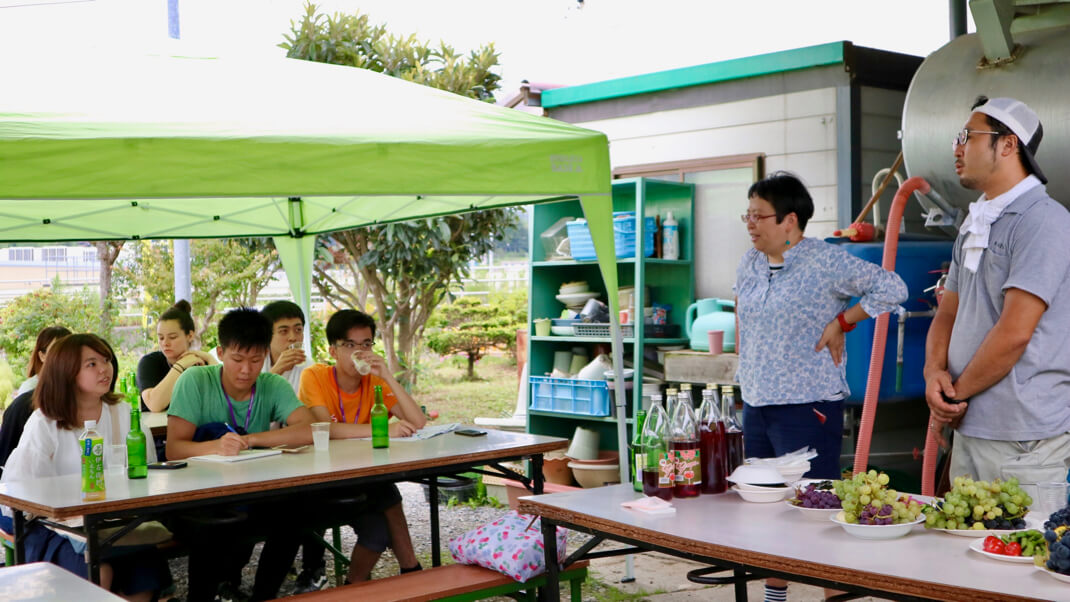 A fieldwork session at Kanda Vineyard.
This project consisted of a pre-fieldwork program, fieldwork and post-fieldwork program. First, the Rikkyo University students prepared for the Rikuzentakata trip, after which students from Stanford University and the University of Hong Kong joined us for the pre-fieldwork program. During the five days of fieldwork, we were divided into four groups – Furusato Visit (coast), Furusato Visit (mountains), vineyard and event organization. Each group experienced various things through visits in the first half of the fieldwork period, and held discussions based on these experiences to devise new ideas (for publicizing Rikuzentakata's attractions). At our interim presentation, Rikuzentakata residents, including the city's mayor, gave us feedback that we used to improve our reports for the final presentation.

My most memorable moment came during my stay in a private home on the first day. When I asked the family why they warmly accepted us even though we were not from the city, one of them told me, "We want to be volunteers helping the volunteers." They talked about how the disaster affected them and thoroughly answered our questions. It is important to actually visit places that were hit by the disaster. Directly hearing the residents' experiences in person was a precious experience.
What did you feel and learn from this program?
Actually, the language barrier was a problem for me because I have not studied abroad much. Watching foreign students actively participating in this program and making efforts to ask local residents to tell their stories often encouraged me to try harder. Also, while I was interacting with Rikuzentakata residents, I felt they deeply love their hometown and that connections between people are one factor binding the community closer together.
How will you use this experience in the future?
I will prize listening and talking directly to people about information I have seen or heard, whether it is a domestic or overseas issue. There is a phrase, "Seeing is believing." It is necessary to reach out and talk face-to-face with people to find out what they really think deep down, which often is not obvious from outside. Any of us could be struck by a natural disaster, so I now think it is important to always be aware of this and to provide disaster-related information.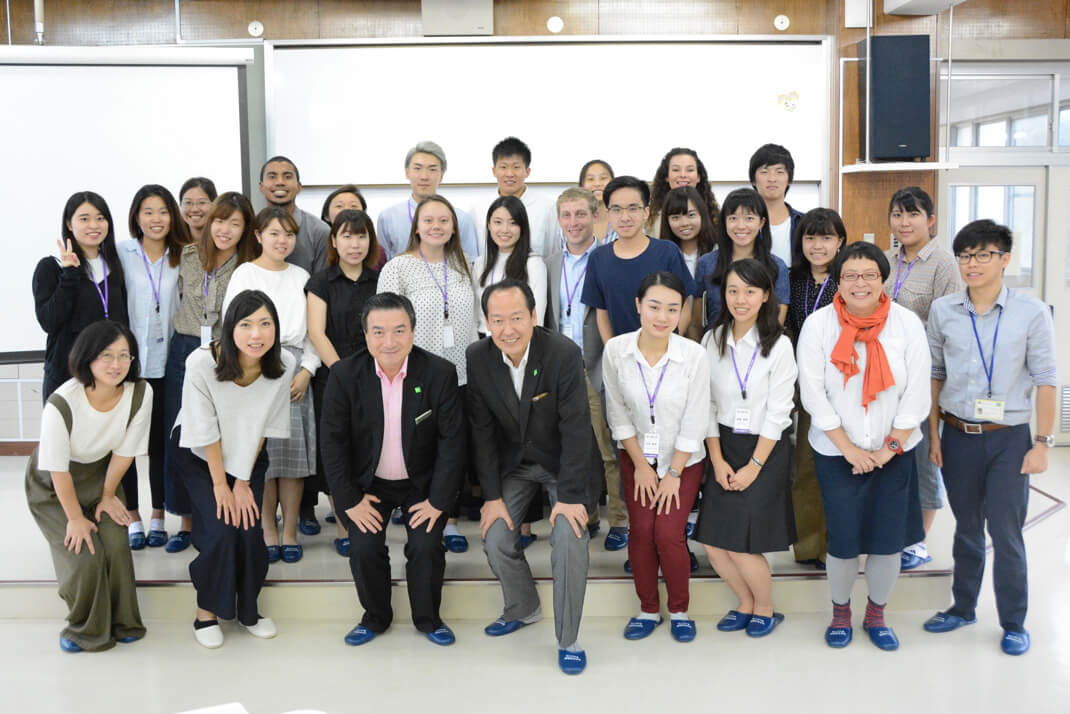 Students pose for a photo with Rikuzentakata Mayor Futoshi Toba (center, front row) in Monty Dickson Hall at Rikuzentakata Global Campus.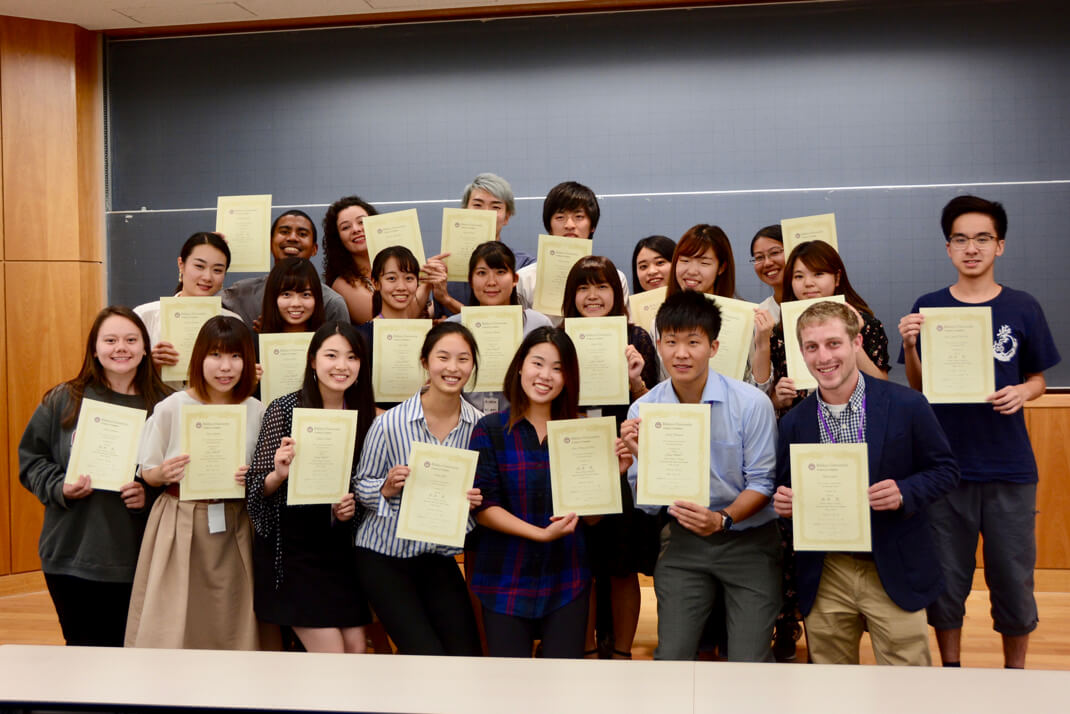 Students hold certificates after completing the program.
*This course was launched in the 2013 academic year as a pilot program of Rikkyo Global 24, an international strategy aimed at providing Rikkyo students from Japan and abroad with opportunities to learn about conditions in areas affected by the March 2011 earthquake and to assist in the recovery effort by discussing issues that need to be solved. Inspired by the project's objectives, Stanford University approached Rikkyo to request its students be allowed to take part. Since the 2015 academic year, Stanford University students have participated every year through Volunteers in Asia, a nongovernmental organization based at Stanford.

*The completed work and reports are available on the Center for Global Human Resource Development website.