Standing out from other foreign students by focusing on an unusual topic in job interviews
Siu Pui Yan(Scheduled to be employed by an entertainment-related company)
Feb 22, 2019
OVERVIEW
The following story describes the job-hunting experience of Siu Pui Yan, a student in the Department of Intercultural Communication, College of Intercultural Communication, who has received a job offer from an entertainment-related company.
Tell us why you decided to participate in the program.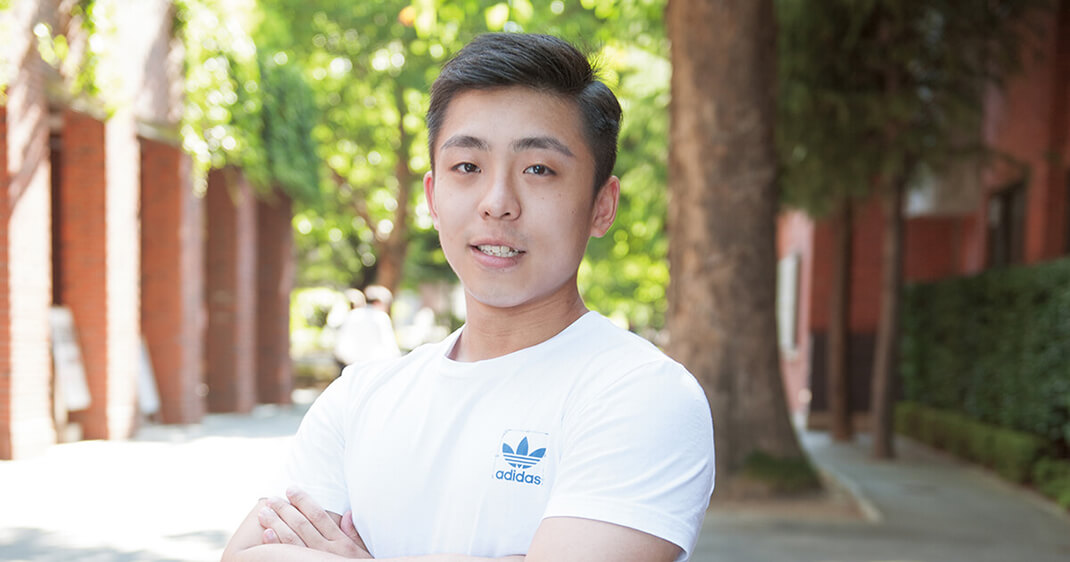 Industry he wanted to enter: Amusement
Number of companies to which he submitted a job application: 15
Number of companies he visited for employment briefings: 5
Number of Rikkyo University alumni he visited: 1
Number of companies at which he had a job interview: 2
At one point, I was troubled by Japanese-style job hunting
I came to Japan because my father was working here. I am considering working overseas in the future, so I decided to enter Rikkyo University because it offers students chances to go abroad to acquire language skills.

Initially, I thought finding a job in Japan was difficult. I felt my personality – I act honestly and openly to myself and other people – did not always match with the Japanese culture. For example, Japanese people often separate their "true thoughts" and "publicly displayed stance." I speak my real feelings candidly, so I wondered if I should reveal the "real me" in written job applications and interviews, or if I should use flowery phrases and comments that appeal to interviewers so I might pass the screening. In the end, I decided to stay true to myself during the job-hunting process. I started by seeking companies at which I would likely be able to use my strengths, nurtured over many years, without narrowing down the business fields I aspired to work in.
I answered job interview questions by mainly talking about one of my strengths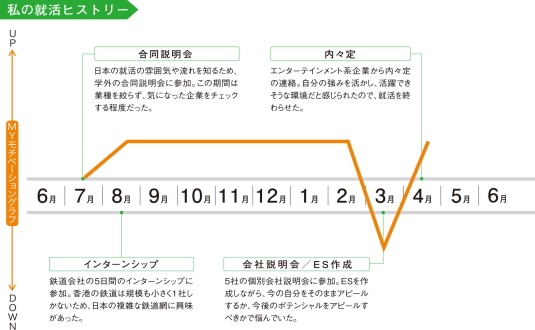 In August of my third year at university, I participated in an internship at a railway company, in which I had been interested for a while. I realized through group discussions and other occasions that Japanese students hunting jobs have excellent communication skills. I also learned that it is necessary to proactively talk to people and take action without being passive. Although I wrote about my time studying in Germany and my language skills in my application, I did not mention them unless asked. Instead, I emphasized my strong point, which is weight training, to catch the attention of interviewers and stand out from other foreign students. I honestly answered questions about what I can do and what I experienced. Talking about weight training enabled interviewers to understand my personality traits included being "willing to make steady efforts" and "perseverance."
My item useful for job hunting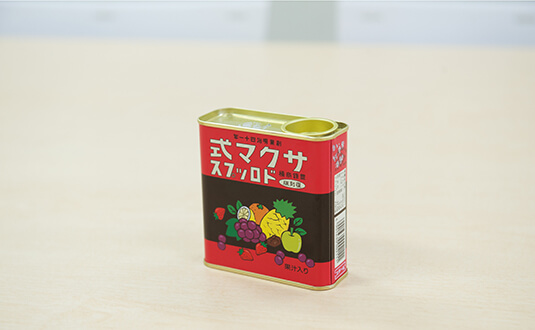 I carried a can of hard candy, which I have liked since my days living in Hong Kong. I sucked on a candy to relax when I was tense before going for a job interview.
Effective points in my job application form
How should I portray myself to a company when writing an application form? At one point, I was troubled by differences in approaches to job interviews in Japan and Hong Kong. But in the end, I filled out the form with a focus on weight training, which epitomizes my willingness to make steady efforts, and mentioned my physical abilities and character strengths, such as perseverance and mental fortitude. I also wrote that I want to work abroad in the future, which stems from my experience studying in Germany and working part-time at a tourist information office.
Piquing the interest of personnel department officials by telling unusual stories
I thought stories about my weight training would leave a stronger impression than my strengths in language or intercultural communication. I differentiated myself from other foreign students by telling some weight training stories.
Success! Detailing how weight training helps me grow as a person was music to interviewers' ears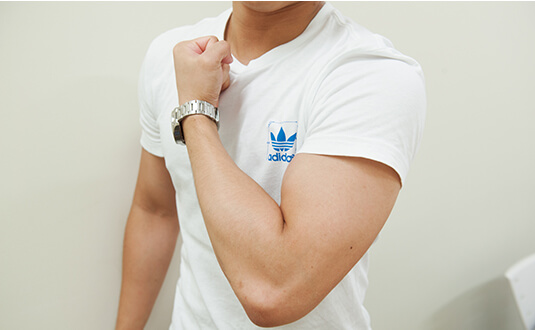 Doing weight training every day is crucial for attaining my pre-set goals. I made a good impression by showing interviewers that overcoming hardship made me grow as a person.
Message to students who will begin job hunting: Honestly express your feelings and thoughts in your own words
What are your strengths? Can your strengths make you stand out? If you focus on these strong points, you can leave a different impression from other students looking for a job. Expressing your feelings and thoughts in your own words is important. I think personnel department officials and interviewers will see flowery words for what they are.
*Information in this article was accurate when the interview was conducted.