International students enjoy Noh theater
Rikkyo University
Jul 25, 2017
OVERVIEW
The International Office and Volunteer Center worked together to hold the "Noh Theater Workshop for International Students," a Japanese culture workshop that took place on July 8 (Sat). 26 international students attended, 18 students served as volunteers, and four graduate students served as interpreters.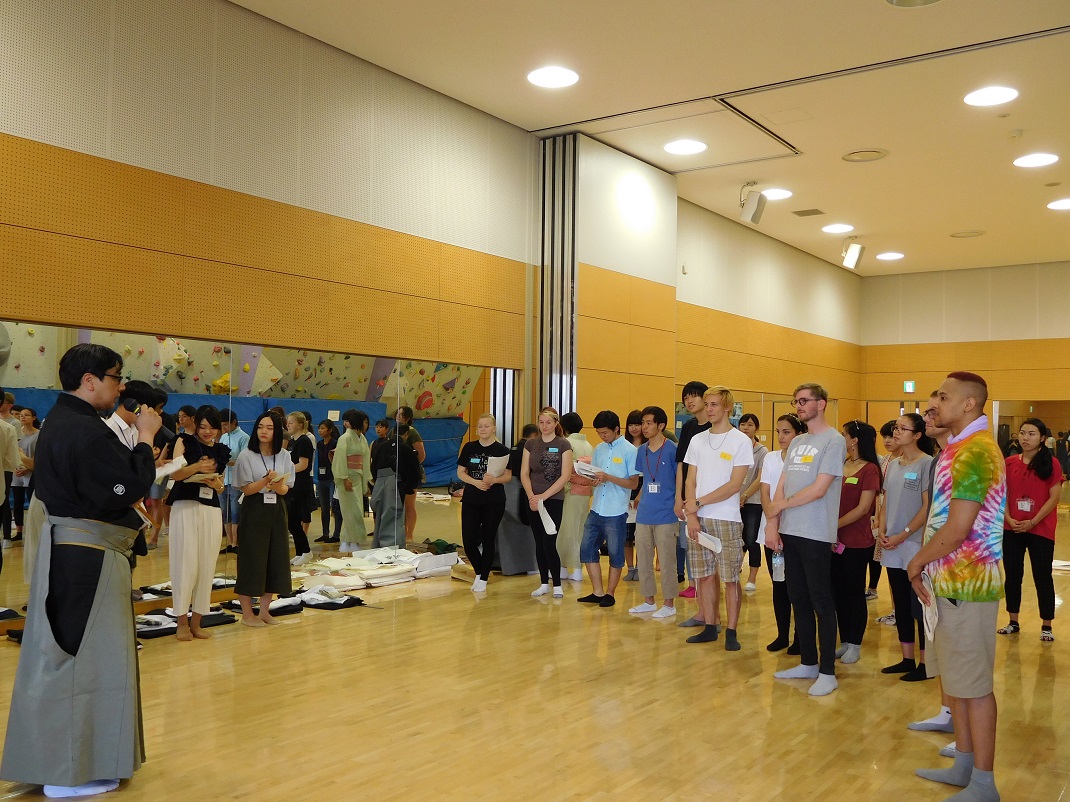 At the Noh Theater Workshop for International Students, we had international students studying at Rikkyo experience the classical tradition of Noh theater (a UNESCO intangible cultural heritage), with the aim of furthering their interest in and understanding of Japanese culture. The program also targeted students who wanted to convey the charm of Japanese culture and take on the responsibility of international exchange, by having them study Japan's classical culture and learn skills to pass it on while getting involved as volunteers.
26 international students studying at Rikkyo from 13 countries (including students on the short-term program) and 18 volunteer students took part in the program, with interpreting handled by four graduate students from the Graduate School of Intercultural Communication who are participating in the Rikkyo Community Language Service (RiCoLaS) program.
On the day, Mr. Yoshiki Honda, a shitekata (main actor) of the Konparu school of Noh theater, gave an explanation of Noh, followed by a demonstration in the hagoromo Noh costume actors wear on a real stage. The international students gazed at the real Noh costume in wonder.
After this, the international students each learned how to put on the traditional costumes themselves with the help of Mr. Honda, members of the Komparu School Shurei-kai Association, and volunteer students, with the male students wearing montsuki-hakama, and the female students wearing kimono. Next, Mr. Honda led the students in practicing Noh dancing and chanting. The expressions of the international students performing Noh dance were absolutely serious. Though they were unused to the particular way in which Noh theater is performed, in the end, they all learned the dance.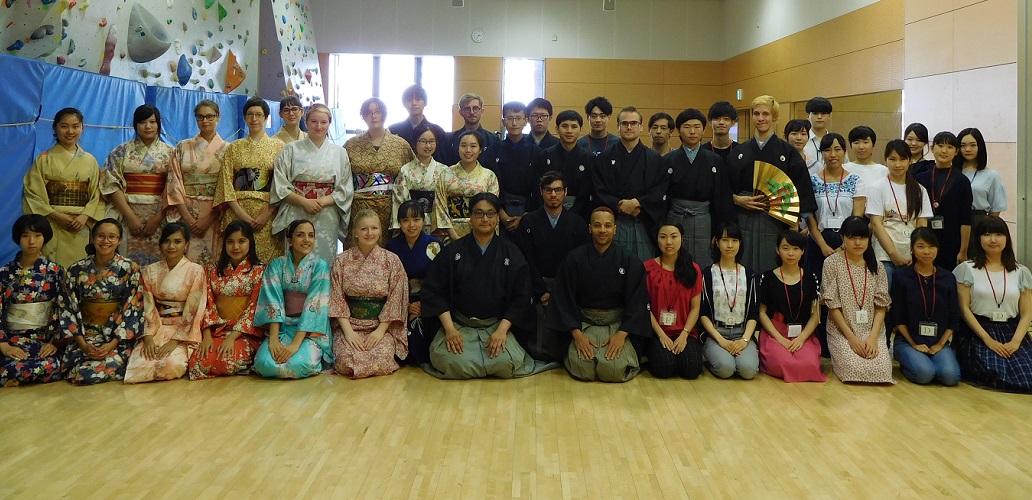 The workshop was a precious experience of discovering real Japanese culture, and it will surely become a wonderful memory of their studies in Japan.
The volunteer students also learned about performing Noh dance and wearing the costumes in an advance session, and by supporting international students on the day of the workshop, they had a great opportunity to rediscover the wonders of Japanese culture and enjoy the fun of international exchange.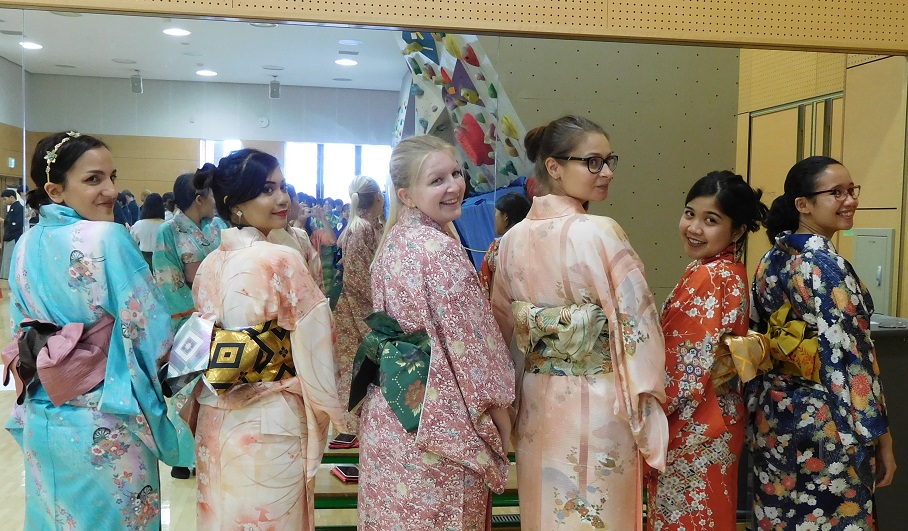 Message
Tina Sarhan(Graduate School of Arts)
On July 8th, I participated in Rikkyo's Noh Workshop. After everybody arrived, we were divided into groups. At first, we were taught how the Kimono for the real Noh performance is put on. A German student volunteered to model get dressed in this authentic and traditional piece of clothing. Every step and every layer of clothing were explained in great detail and we learned a lot more about Japanese culture. It was an interesting sight, especially when the mask was put on, since it looked so surreal.

After that, we had the unique chance of trying on Kimonos for free! Each group had volunteers that helped us putting them on correctly. Everybody looked stunning! We even had time to take lots of cute pictures together, before we went on to learn the Noh performance.
Lastly, we learned how to do the traditional Noh dance. Everyone got a fan and we were divided into two big groups of male and female dancers. The Noh artist taught us every step we had to take, how to hold the fan and where we should walk to. We also had to sing a traditional song while dancing. During the workshop I thought we all looked elegant and graceful, even though we were just beginners and trying it out for the first time. Thanks to the teacher's instructions, we learned how to move slowly and control our movements to act like real Noh performers.
It was a really great day and I'm happy Rikkyo University gave me the opportunity to not only learn about but also take part in traditional Japanese culture.