Changing the world of tomorrow with user-focused ideas
Tomoyoshi Shiraishi, Google Japan Inc.
Jan 01, 2015
OVERVIEW
We heard a few words from Tomoyoshi Shiraishi, a department head at Google who launched a new team to innovate in the field of real estate information.
I want Rikkyo to cultivate people who can think on their own and communicate in their own words.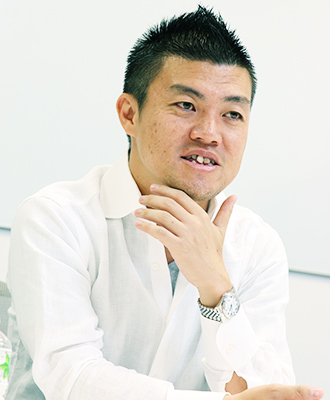 I was born and raised in Tokyo, and my first surprise when I entered Rikkyo was at how students from all over the country had gathered there. And by coming into contact with students from all kinds of places, I learned about the differences in the environments they were raised in, and their diverse value systems, and this taught me a lot about what role I can play.

My experience in university was of searching for myself within the group and discovering my value to society through this kind of "culture shock," and I think what I gained from that experience certainly lives on today now that I'm a working adult. After graduation, I worked for Recruit and other companies before joining Google Japan. At Google, I had the opportunity to leverage my past work experience and put together a new team dealing with real estate on my own.
Google's mission is "to organize the world's information." In terms of the real estate industry, I always felt that most of the information that was there wasn't framed for a user's point of view – not just in Japan, but globally. That's where I got the idea that Google, with its world-beating technology and vast collections of data, could provide information to users in a truly useful capacity.

At Google, "to change the world" actually sounds like a realistic endeavor.
By being in this environment that's full of potential to change the world, I started to think less about my career, and more about what I want to do. It's said that there are currently seven million unoccupied homes in Japan. So that brings us to the question: how can we solve this problem? How can we put these unoccupied homes to use? Well, by pairing together information about unoccupied homes with Google's technology, such as Street View, we can bring that information much, much closer to the user. I'm surrounded by outstanding team members, and every day, we get all kinds of ideas, but those ideas always start with people. The users who take advantage of the service are at the heart of our ideas.

I think that one feature of Rikkyo University alumni is that once they go out into the world, they're fast thinkers. In global firms, Google included, you have to work alongside people with diverse perspectives. My hope for Rikkyo University is that they will continue to produce talented people who can think on their own, be flexible with different environments and people, and communicate in their own words.

(From the RIKKYO VISION 2024 leaflet. Posts and titles accurate as of 2014 interview.)
PROFILE
Tomoyoshi Shiraishi
Google Japan Inc.
2002: Graduates from College of Law and Politics.

After graduation, Shiraishi worked for Recruit, a major systems integrator before joining Google. He has actively demonstrated his talents there, including the launch of a new team to innovate in the field of real estate information.