Models, photographs, literature: the seeds of creativity quickened during my time at Rikkyo
Hiroshi Sugimoto, contemporary artist
Nov 08, 2017
OVERVIEW
Hiroshi Sugimoto works in contemporary art both in Japan and abroad. His photographs, art, shrine architecture, and joruri ballad productions have surprised and enchanted art fans across the world with his ever-changing modes of expression. Here, at the "site of his first memories," he talks about his youth at Rikkyo, where his personal foundations were built, his view of Japan after leaping into the larger world, and his "compilation."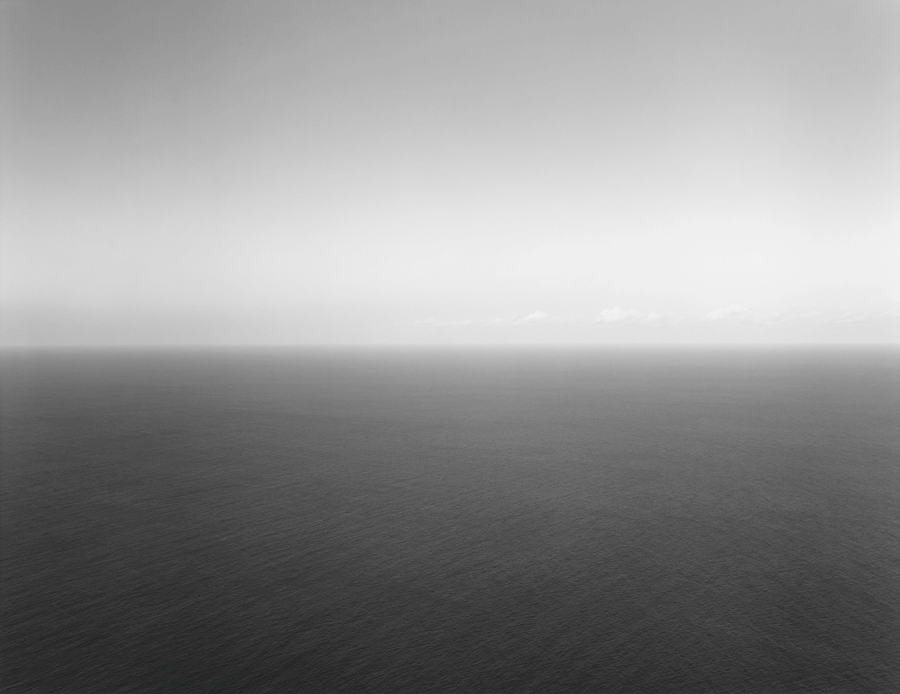 Hiroshi Sugimoto, Sea of Japan, Oki 1987. Gelatin silver print. (C)Hiroshi Sugimoto / Courtesy of Gallery Koyanagi
–––You first entered the gates of Rikkyo in junior high school.
At the time, I was living in Nishi-Sugamo, and I would cycle to school. The place in Higashi-Ikebukuro where Sunshine City is now standing was still occupied by the Sugamo Prison, and I sped past its tall walls and fences on my way to school.

My class teacher, Shuntaro Ito, left a very strong impression on me. He told me to read Hermann Hesse's Beneath the Wheel, you see, and through his influence, I became a bookworm. The high school was in Niiza, so on my way to school on the Tobu Tojo Line, I read a great deal of work by authors like Tolstoy or Dostoevsky.

Meanwhile, for my extracurricular activities, I was in the model rail club. I was very much a train buff. When it comes to making the models, you have to closely observe the real thing. So, to get references, I started taking pictures with a camera given to me by my father. There was even a time when I went down to the railroad track at Tokyo Station when the new express trains came out, rubbing shoulders with all the journalists, and I managed to capture the moment that they broke open the confetti ball. Not very modest of me to say, but the composition was perfect. (laughs) You wouldn't be able to pull that off now, I think!
–––What was high school and university like?
Horizon viewed from the edge of the Summer Solstice Light-Worship 100-Meter Gallery at Enoura Observatory ©Odawara Art Foundation
The high school had just moved its campus to Niiza, so everything was fresh and new. That said, the area was just surrounded by forest. I can't say why, but I became very enthusiastic about studying then, and I was thinking that I wanted to study science in university. But then in my third year of high school, I had a lesson where I learned about historical materialism and developed an interest in Marxian economics, which led me to choosing the College of Economics.

In university, I devoured works of Western thought and philosophy by Kant, Hegel, and Feuerbach through the influence of my seminar adviser Professor Takahito Sakai, a researcher of the history of Japanese economic thought. His lectures started with the question of what the problems were, and after discussion of various different angles, we came back to the original problem that was raised. My manner of speaking is based on the way that Professor Sakai introduced his logical arguments. I think his influence became one of the cornerstones of my foundations as a person today.
–––What about your memories outside of your studies?
I was in a society for the study of advertising, and even won the first-place prize in a competition held by the six Tokyo universities with a piece of advertising I'd created for an imaginary client. Come to think of it, I came across that very poster the other day. That really took me back. I also participated in the sociological society that was part of the advertising society. That was a hard-line group of people who criticized society through advertising from a Marxist perspective, and sometimes I even went with them to Beheiren (Citizen's League for Peace in Vietnam ) protests.

I was in university during the late '60s, which was a major turning point for society. Young people were listening to the Beatles, growing their hair, and wearing jeans, and there was a fervid atmosphere of criticizing the social structure created by the adults. I was strongly influenced by that era myself, and I really knew that I was living in interesting times.

That's why I thought that I couldn't become an ordinary company man. I also didn't want to inherit my parents' company, and just wanted to get out of Japan, so I went to the United States.
–––And you entered the Art Center College of Design in California.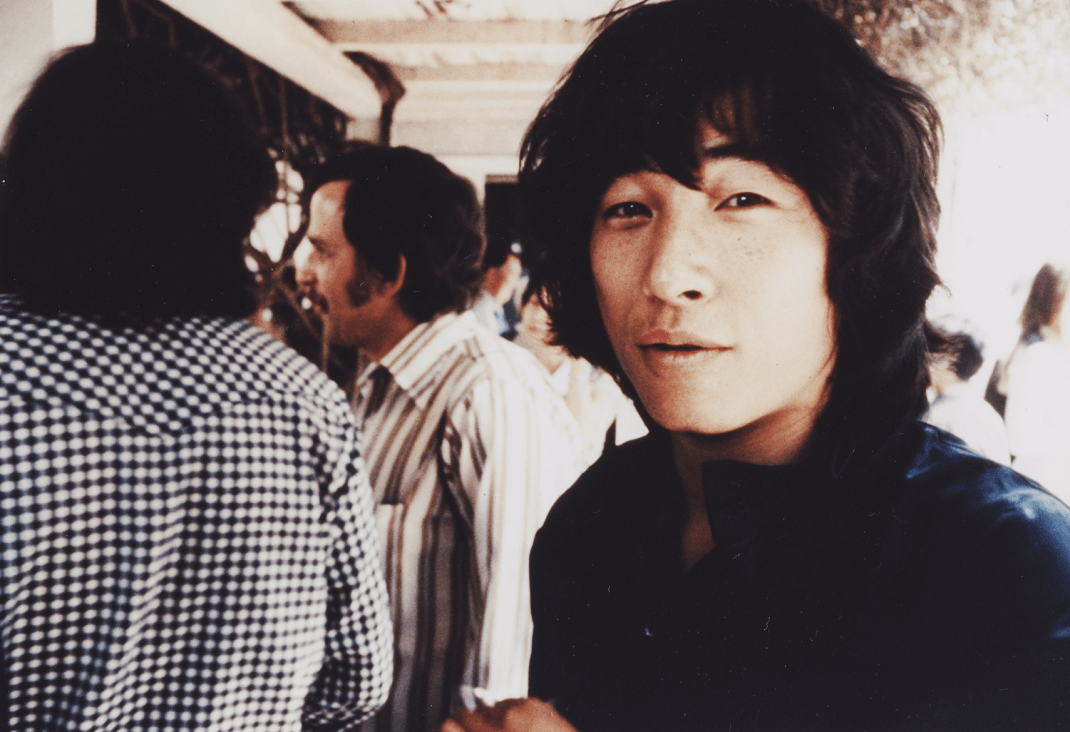 Studying photography at the Art Center College of Design
Back then, California was alive with counter-culture, the culture that was rising among the youth. I wanted to experience whatever was going on there. I needed a visa to go, and becoming a student was a fast way. And that's how I decided to go to Art Center. They recognized the technical prowess of the photo I'd sent them in advance, and I skipped through to the third year.

Eventually, it was time to graduate, and I finally had to start working. I thought that if I was going to make a living from photographs, I was stuck with commercial photography, so I went to New York looking for work. That was when I first came into contact with the world of contemporary art. I was stunned. I saw things like Dan Flavin's fluorescent lights by themselves, and the boxes placed by Donald Judd, and thought "What, is that all you have to do?" (laughs)

In the world of contemporary art, people who are a little strange from a social perspective are respected for the effort they put in. In fact, I thought my own sensibilities were a bit strange back then. My way of looking at things and the way they looked to me were weird – different from other people's. I thought that in Marxian economic terms, the only way to materialize this sick mentality was through modern art!  (laughs) I was convinced: this was the place where I would live, where even people like me could live in a world like this.

My talents were in photographs, so I decided to use my photographic techniques to join the world of contemporary art. Back then, all the photographic works were intentionally blurred. It was frustrating, as if no one was looking for quality. I needed something with outstanding photographic quality, with a concept that would shock people... The answer I found was dioramas. Remember how I said I was into models as a kid? (laughs) I decided to try making dioramas, and take the pictures so painstakingly that they almost didn't look like dioramas at all. That's where my "Dioramas" series came from.
–––What did it take to gain recognition as an artist?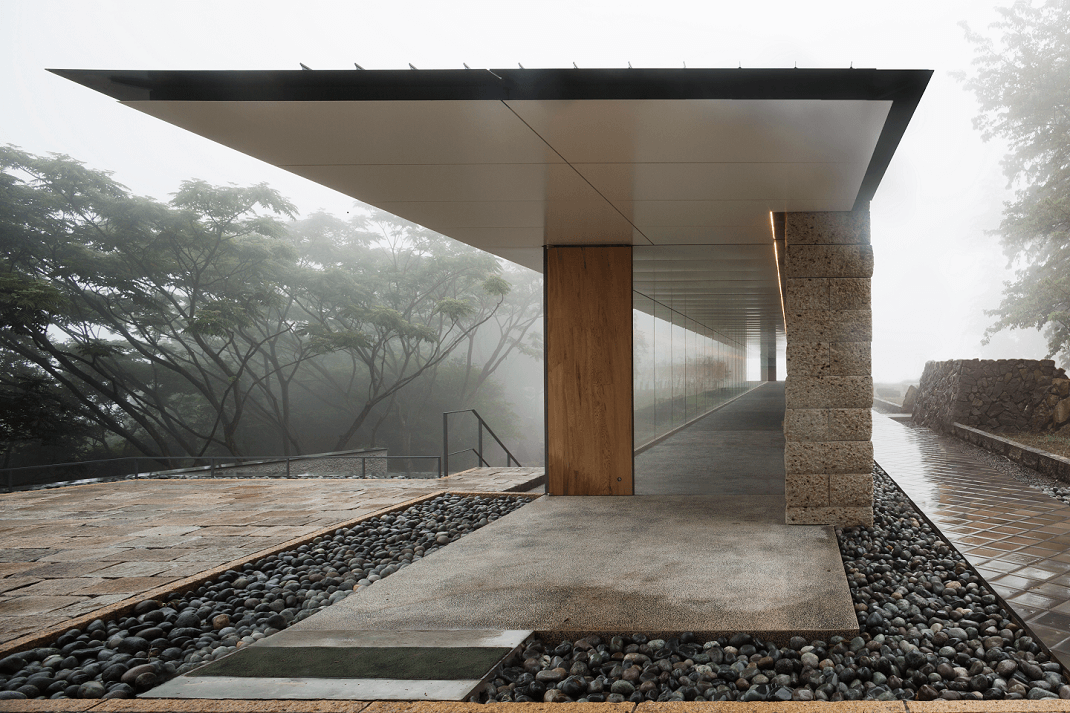 The opening exhibition of the Summer Solstice Light-Worship 100-Meter Gallery at Enoura Observatory featured Sugimoto's representative "Seascapes" series. (c) Odawara Art Foundation
Normally, you start with recognition at small galleries, gradually moving up to bigger places... but what I thought I'd do was the opposite. I'd go straight for the top, and if it didn't work out, I'd start going downward. In other words, my strategy was to go for broke. (laughs)

In New York, you could say that the pinnacle of contemporary art is MoMA, the Museum of Modern Art. I knew that they had a system called portfolio review in which a pro would look at your work, so I handed my work over, and a week later, I was told that John Szarkowski, the legendary photographer himself, wanted to meet me. I was amazed. So then, MoMA bought my work. I didn't make much, but MoMA wrote me a letter of introduction, and it made a huge difference as I was able to apply for all kinds of grants. For three to four years, I lived like a bounty hunter for grants. (laughs) Still, that wasn't enough to get by. To start making a living, I opened an antique art dealership that handled Japanese antiques and folk crafts.
–––Afterward, you produced the "Theatres" and "Seascapes" series of photographs, produced traditional bunraku theater in Europe, and even rebuilt shrines as works of art. Your work spans a considerable range. What ties together all these wildly different forms of expression?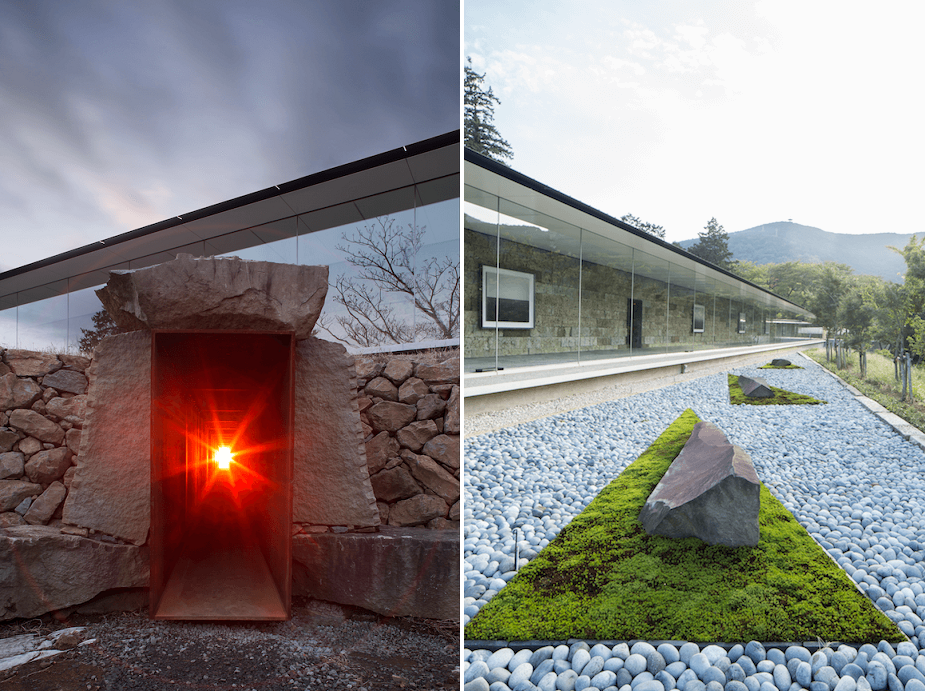 Left: "Winter Solstice Light-Worship Tunnel," designed in alignment with the axis of sunrise on the winter solstice. Right: Komatsu stone arrangement. Both at Enoura Observatory, (c) Odawara Art Foundation.
It might look to most like there's no connection, but to me, they're consistent. It's not so much that my interests jump around, but more that the same things manifest themselves in different forms. One thing I can say is that the different experiences I've had so far live in new forms of expression, and they're connected. And because I never experienced specialized study of these things, I can truly imagine things freely in a way that a specialist can't.

For example, having a private exhibition in some famous gallery like the Metropolitan Museum of Art makes me see that it is hard to use the spaces created by famous architects. (laughs) I cultivated an understanding of architecture based on how I wouldn't do certain things, or how I would do certain things differently instead. Also, when you're creating an exhibition space, you have to draw up a plan. When I was a starving artist in New York, I'd work on spaces together with other artists kind of like a team of carpenters, so I learned how to draw up plans that way.

While I was an antiques dealer, I studied Japanese art, and read piles of books of classical literature as well. Because I knew the history, it seemed strange to me that joruri and kabuki were being performed in the venues with bright lights. On one hand, they're saying these are the classics, but the Edo period that Chikamatsu Monzaemon was writing in wasn't like that, right? The aesthetic sense is fundamentally different, right? It's doubts like that which led me to producing joruri based on my own understanding.
–––In October 2017, the Odawara Art Foundation opened the Enoura Observatory, a veritable compilation of all your diverse activities to date.
On a wide stretch of sloping land looking over the Sagami Bay, we have a 100-meter gallery building, a stone stage and a stage made from optical glass, a tea room, a garden, a temple gate from the Muromachi period, a meeting hall, and more. These have been designed so that you can experience the turning points of the seasons – the winter solstice, the summer solstice, the vernal equinox, and the autumnal equinox – in an attempt, as the "Observatory" name suggests, to go back to observation of the heavens: the pinnacle of humanity and art. For the stages, we're planning all kinds of programs, like drama productions and Noh theater, which will be performed as one with nature.

Until now, I have made a living from art. So I thought that now, I want to give back to art. We've only just opened the Observatory, but I plan to keep on creating here. And not by myself: I hope to create something together with artists and performers from across the country and from around the world. I even hope to add a hotel, restaurant, and cafe, and make it a site for art tourism. I'll come up with menus for the restaurant and cafe too. (laughs)
–––Why did you choose Odawara?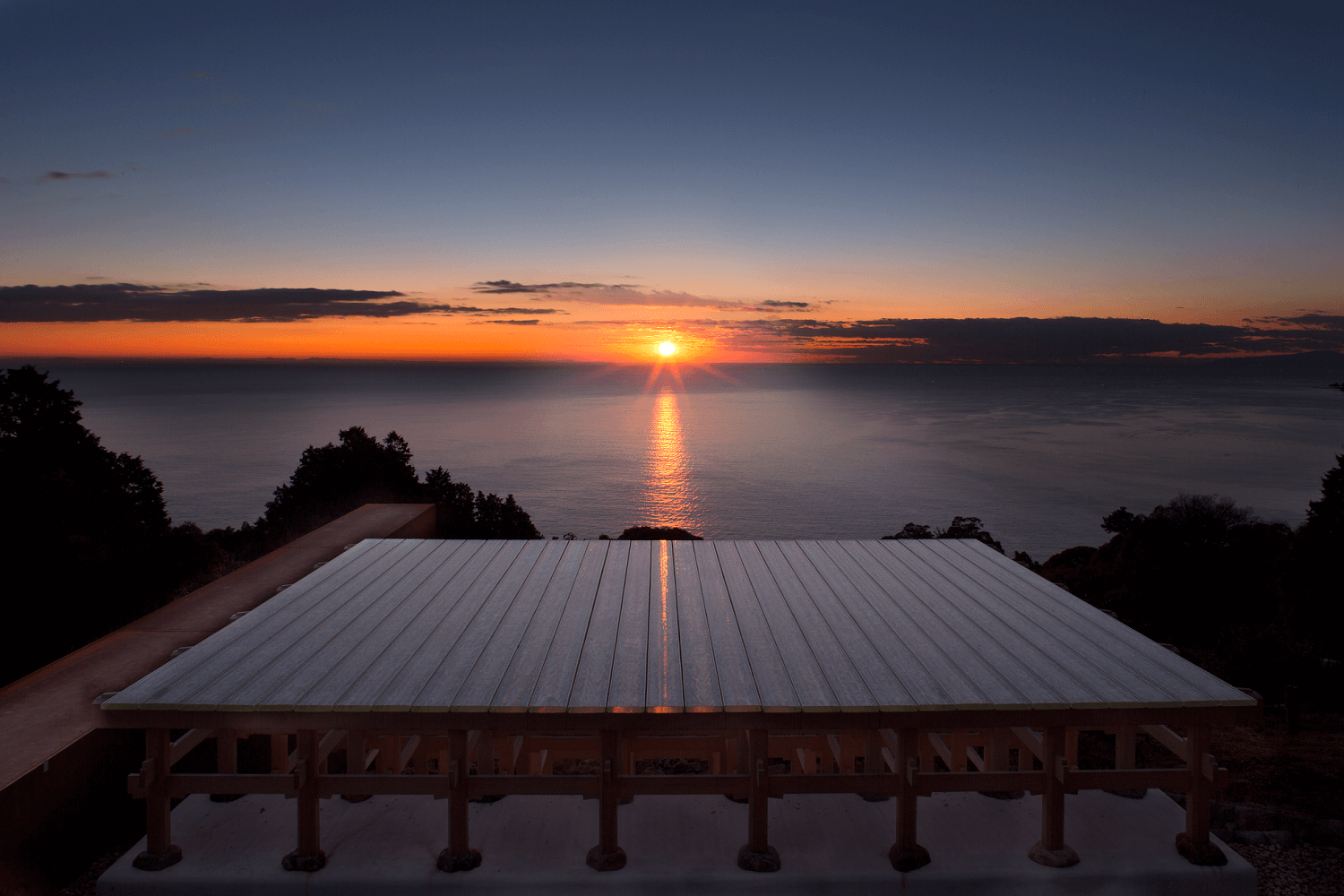 "Optical Glass Stage," designed in alignment with "Winter Solstice Light-Worship Tunnel" at Enoura Observatory ©Odawara Art Foundation
I think it must have been when I was three or four, and we were going to Odawara from Atami on the old Tokaido Main Line. The train went through a concrete tunnel with windows that was nicknamed "the glasses tunnel." You could catch glimpses of the sea flicking by through the windows as the train sped past, just like a time-lapse video. And then, at the end of the tunnel, you could see the whole open sea right in front of you.

That's my earliest memory. When I'd started searching for land and came here, I knew right then that this was the place. It felt like my destiny. Like my life started here, and this is where I'll die. I didn't think that was so bad. (laughs) This is the only place between Tokyo and the Kyoto/Osaka area that's still surrounded by nature like this. That's another reason why I chose this part of Odawara.
–––Do you have a message for current university students?
When I went abroad, I realized how unique the Japanese and their culture are. And I also realized that they have wonderful qualities and potential. But you won't notice this by staying in Japan. I was the same, and I know that by going abroad, you'll notice that everyone will be aware that you are Japanese, and you'll start thinking more deeply about Japan.

I'm told that young people these days are more introverted, and don't want to go abroad much. But it's good to go see and experience the world outside while you're young. I think the Japanese have to make themselves independent of Japan. To make that happen, why not try taking a few steps away from the comfort of home – a few steps away from Japan?
PROFILE
Hiroshi Sugimoto
Contemporary artist and founder of the Odawara Art Foundation

1963: Graduates from Rikkyo Junior High School. 1966: Graduates from Rikkyo High School. 1970: Graduates from Rikkyo University's Department of Business, College of Economics. 1970: Enters the Art Center College of Design in Los Angeles, United States to study photography. 1974: Moves to New York after graduation. 1975: Runs a photography studio. 2008: Establishes the architectural firm New Material Research Laboratory. 2009: Establishes the Odawara Art Foundation. Sugimoto's activities span a wide range of areas, such as photography, sculpture, installation, theater, architecture, landscaping, writing, and cuisine.
Awarded the Medal of Honor with Purple Ribbon (Japan, 2010), Officier de l'Ordre des Arts et des Lettres (France, 2013), Person of Cultural Merit (Japan, 2017), and numerous other awards and honors.

Note: Article contents are accurate as of the time of interview, and may not be up to date with the latest information.
* Photographs (c) Odawara Art Foundation