Various Forms of Learning Assistance
Learning Assistance
Group Study Space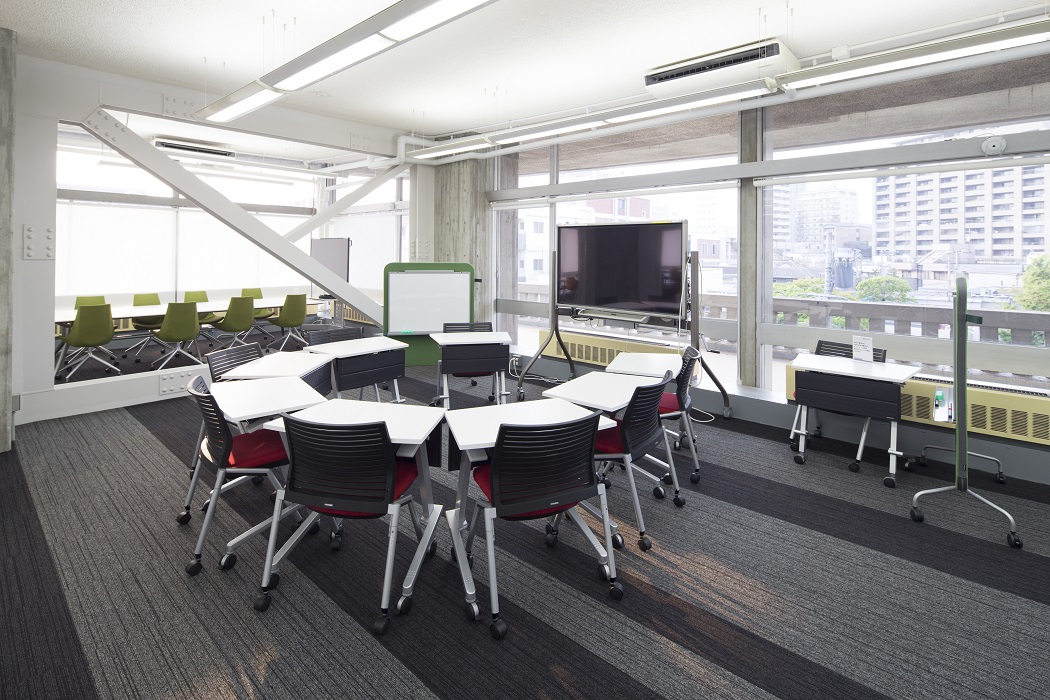 Mather Learning Commons(Ikebukuro Campus)
We have provided a Learning Square and full complement of Group Study Rooms in order to allow for group studies, such as discussions and joint work, which have increased in prominence in recent years.
These are spaces where students can carry out creative, active learning, taking part in group discussions, presentations, debates, and more. These areas are also equipped with a full set of multimedia facilities, such as wireless LAN and interactive displays, allowing for various individual or group activities.
Ikebukuro Campus
Ikebukuro Library: Learning Square, Group Study Rooms
Mather Library Memorial Hall: Mather Learning Commons
Niiza Campus
Niiza Library: SHIORI group study space
Support from the Library
Rikkyo University Library provides various kinds of study support. Here are some examples.

Library Usage Tutorials
This is a set of three sessions in which students gradually learn the information-gathering techniques necessary as a student in higher education. These tutorials include a library tour, basic practical skills of finding books and periodicals at Rikkyo University Library with exercises in which students find books and journal articles at actual bookshelves.

Online Database Training
This is a series of training given by lectures of online database provider demonstrating in detail about how to use databases such as those for overseas information sources.
For some of these lectures, hand-out materials from the sessions and videos depicting the session will be broadcast.

Learning Advisors
This is a learning support service on how to approach assignments including writing essays, reports, and thesis carried out by graduate students - mostly doctoral students - at the Ikebukuro Library and Niiza Library. Learning Advisors who have a wealth of learning and research experience will give advice on how to efficiently utilize the library resources for assignments. Leaning Advisors welcome Rikkyo students who have questions and concerns about where to start writing essays or how to gather information for assignments.
Learning Tools to Support Study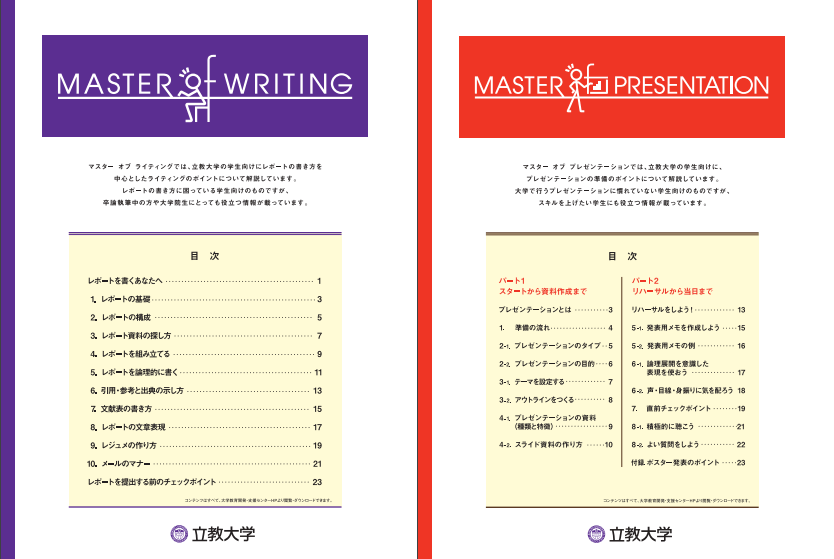 We provide tools to support your studies at the University.

Master of Writing (written in Japanese)
Master of Writing is a pamphlet that sums up the ins and outs of writing, with a focus on the essentials for writing reports which apply across all academic fields.

Master of Presentation (written in Japanese)
Master of Presentation is a pamphlet containing information about the process of preparing presentations given in class, and some key points. It is written in Japanese.

Rikkyo English Online(REO)
You can use this learning tool to study English online, wherever or whenever.