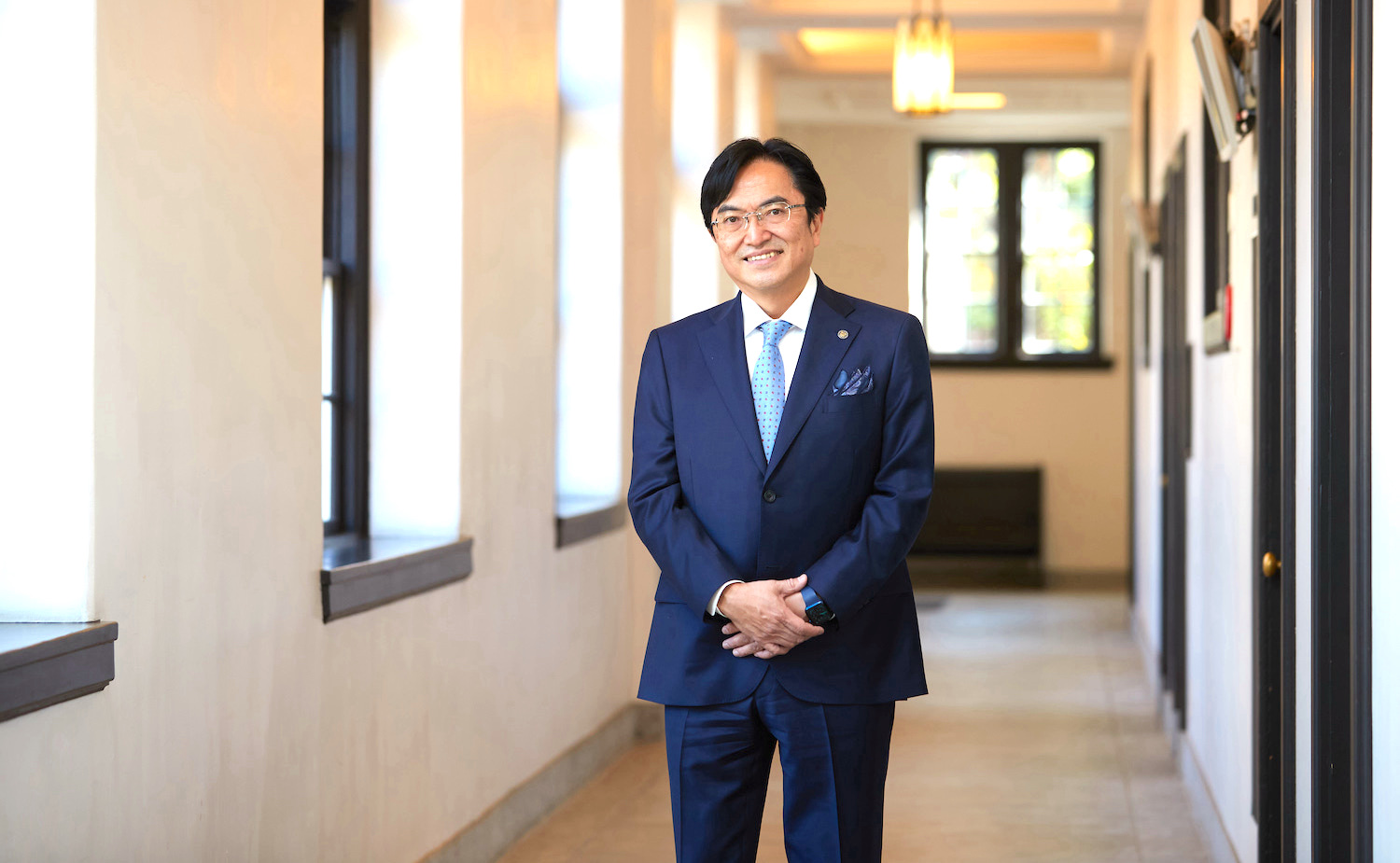 The history of Rikkyo University goes back to the "Rikkyo School," which was established in 1874 by Bishop Channing Moore Williams, a missionary of the American Episcopal Church. In a period when Christianity was severely oppressed, I am sure it must have been an immense hardship to establish a private school to teach Bible studies and English. However, Bishop Williams was convinced that teaching was his mission and chose the path of education even though the demand was so little. Even today, after more than 145 years, his attitude has not been lost. Rikkyo University exists not merely to provide education to meet the demands of society, but to return to society the edifice of knowledge that human beings have accumulated, with the mission to produce graduates who search for universal truth and work for a better world.

Liberal Arts, the core of Rikkyo's educational policy, should not be understood as a mere general education. It is the sort of education that values the pursuit of ideals which have yet to be achieved in the long history of humanity. In other words, it is the education that discusses dreams and makes them visible. I think that Rikkyo University has to be a "risky" place in a sense, in order to embody the authentic liberal arts education inherited from the Western tradition. We must continue our quest for the truth without the fear of criticizing and being criticized. We must be skeptical toward common sense, theories, and authority; we must analyze and relativize them, critically examining original sources and their broader relations. From time to time, you may encounter obstacles and your ideas may be rejected. During these times, I want you to challenge yourself to reconstitute your ideas, no matter how difficult it may be, and to gain the skills to analyze, communicate, and improve upon the world around you.

Rikkyo University is preparing to reaffirm its roots and strengthen its distinctive practices, in which Rikkyo's spirit of foundation and philosophy of education has been reflected. Especially in light of reforms such as the enrichment of the introduction phase education and leadership education, the development of the university-wide Rikkyo minor program, and the reinvigoration of service learning, student volunteering, and community engagement, I am confident that we will be able to provide the best environment for the exploration of truth.

Since 2020, there is no doubt that the coronavirus pandemic has had a serious impact on people. Under these circumstances, I would like you to consider the world in the face of hardship and think about the future. It is my sincere hope that all the students may grow up to construct a new world through their studies at Rikkyo University.

Renta Nishihara
President
Rikkyo University
President's Biography
Name
Rt. Revd. Dr Renta Nishihara
Current Position
President, Rikkyo University
Professor, Department of Christian Studies, College of Arts, Rikkyo University
Executive Board Member, Rikkyo Educational Corporation (Rikkyo Schools)
Academic Qualification
B.A. in Technology, Kyoto University (1987)
B.D. in Theology, Central Theological College (1994)
M.Th. in Theology , Rikkyo University (1995)
Ph.D. in Theology, Kwansei Gakuin University (2013)
Previous Positions
February, 2008- March, 2021
 Present Vice Chancellor of Rikkyo Educational Corporation
April, 2002- Present
 Board member of the Colleges and Universities of the Anglican Communion (CUAC)
April, 2010- March, 2015
 Rikkyo University Vice President
April, 2015- March, 2017
 Dean at the College of Arts and Dean at the Graduate School of Arts, Rikkyo University
June, 2018- Present
 Chairperson of the Association of Christian Schools in Japan
April, 2018- March, 2019
 Dean at the Graduate School of Christian Studies, Rikkyo University
April, 2019- March, 2021
 Dean at the College of Arts and Dean at the Graduate School of Arts, Rikkyo University
October, 2020- Present
 Bishop of the Diocese of Chubu, the Anglican Church in Japan (NSKK)
Association with Academic Societies
The Japan Society of Christian Studies
Publications
Books
Other Voices, Other Worlds -Sexuality and the Church's Understanding of Authority- (ed. Terry Brown, Darton, Longman & Todd: London,2006).
A Miraculous Story- Tahei Watanabe's Yosegaki Flag (Rikkyo Booklet, Rikkyo Gakuin, 2012).
Blackwell Companion to the Anglican Communion (The Anglican Church in Japan (The Nippon Sei Ko Kai; NSKK)) (Virginia Theological Seminary, Blackwell: Oxford, 2013).
Vice Presidents
Vice President for International Advancement
Vice President
Keiko Hamazaki
Mao Minoura
Kouji Oishi