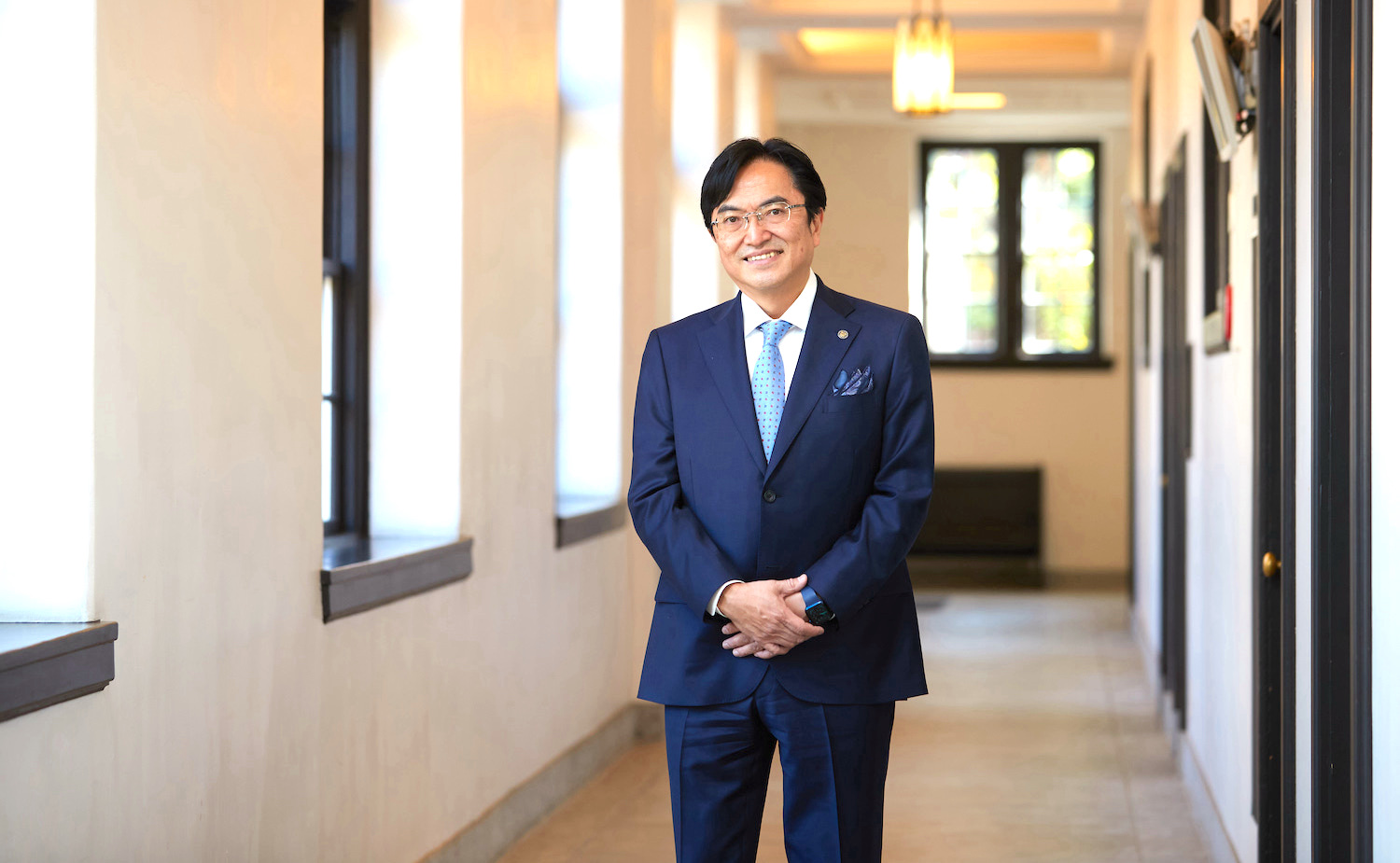 Yangchoon Kwak
The story of Rikkyo University began with the founding in 1874 of the Rikkyo School, which taught Bible and English studies. At the time, the general trend in Japan was towards utilitarian thinking, and there was a pronounced focus on striving for material prosperity. The Rikkyo School embodied an awareness of the dangers posed by some of the trends that were affecting Japan during this period, and sought to take traditional Western liberal arts education as a model for the cultivation of people who, combining richness of spirit with leadership skills, would be able to make a meaningful personal contribution to the world. Rikkyo University has continued to follow this path right down to the present day.

While the modern era's globalisation has helped to make life more convenient for people and fostered more diversi¬fied lifestyles, it has also led to excessively intense competition. Our hope is that people who study at Rikkyo University will go on to become the kind of people who never hesitate to stretch out their hands to help others.

By cultivating this kind of person, we believe that we are opening a path towards the emergence of new kinds of relationships, and of a society in which people live in harmony with one another. I am fi¬rmly convinced that today, more than 140 years after our institution was ¬first founded, we are once again entering an era in which Rikkyo University's leadership education has an important role to play in the world.

You are now at a period in your lives which is full of "dynamism and imagination ". I hope that you will take full advantage of the environment at Rikkyo University to have a meaningful and fulfi¬lling student life.
President's Biography
Current Position
President, Rikkyo University
Professor, Department of Economics, College of Economics, Rikkyo University
Executive Board Member, Rikkyo Educational Corporation
Academic Qualification
B.A. in Economics, Hosei University (1983)
M.A. in Economics , Rikkyo University(1990)
Previous Positions
April, 2009-March, 2011
Dean, College of Economics and Politics, Rikkyo University
April, 2011-March, 2013
Director of the Academy Rikkyo University
April, 2013-March, 2015
Dean, College of Economics and Politics, Rikkyo University
Association with Academic Societies
The Japan Society of International Economics
JAPAN SCHOLARLY ASSOCIATION FOR ASIAN MANAGEMENT
Political Economy & Economic History Society
JAPAN ACADEMY FOR INTERNATIONAL TRADE AND BUSINESS
International Academic Society for Asian Community
Peace Studies Association of Japan
Society for Environmental Economics and Policy Studies
Japan Society of Political Economy
Publications
Books
"Identity of the National Strategy Special Zone", shueishasinsho,2016. "The trap of ruined country which approach immediately", Sankosha, 2012. "Modern Asian economics", Horitubunkasha, 2011."Development Economics", Horitubunkasha, 2010. "The actual appearance of the Korean economy", tugeshobosinsha, 1999. "Asina Economics", Chuokeizaisha, 1998.
Vice Presidents
Vice President and Director, Organization for Global Initiatives
Vice President
Hideko Oyama
Masamichi Nozawa
Tetsuya Matsuo