The Rikkyo University baseball team has etched its name into the history books by winning the Tokyo Big 6 Baseball League for the first time since 1999, and then winning the Japan National Collegiate Baseball Championship for the first time in 59 years. Following is a review of the team's path to collegiate baseball glory in 2017.Rikkyo conquers Tokyo Big 6 league for first time in 18 years
The spring 2017 edition of the intercollegiate league featuring six prominent Tokyo universities started on April 8. In the first game against Hosei University, Rikkyo snatched a dramatic draw thanks to a home run with two out in the bottom of the ninth inning. After this tie, Rikkyo won the next two games against Hosei to win the opening three-game series. The following series against Keio University required a fourth game to break the deadlock after a draw and one win each. Keio won the decider, but Rikkyo then went on to win its series against Tokyo University and Waseda University.Winning the first two games of the season's final series against Meiji University would have sealed Rikkyo's Big 6 title without relying on other results to go its way. However, a loss in the opening game dashed these hopes. Nevertheless, Rikkyo showed an undimmed commitment to chasing victory by winning the second game. In the series decider, Rikkyo staged a remarkable comeback after falling behind by a run in the top of the 12th inning, only to snatch victory with a two-run, game-ending hit in the bottom of the frame. This win gave Rikkyo the advantage in the race to the title, but it still required Waseda to beat Keio in at least one game of the season-ending series to ensure Rikkyo's first crown in 18 years.On May 28, Waseda defeated Keio in the second game, a result that guaranteed Rikkyo's 13th Big 6 championship. Third baseman Yuya Kasamatsu was chosen by fans as the league's most valuable player."I'm relieved that we finally opened a door that hadn't been opened for 18 years," manager Tomonari Mizoguchi said at a press conference held at Jingu Stadium that evening. "We played as hard as we could for every game and didn't get ahead of ourselves. Each player in the team worked together for each league game."Captain Takahiro Kumagai echoed his manager's sentiments."We built a great team spirit during training, and I think every player in the team combined to make our team stronger than it was last year, which helped us to this victory," said Kumagai, a fourth-year student in the College of Community and Human Services.The Emperor's Cup was presented to the team at the league's closing ceremony on May 29. After the ceremony, a commemorative photo of the entire team was taken and the coach and players were tossed in the air in celebration by the elated attendees.Rikkyo clinches national collegiate championship for first time in 59 years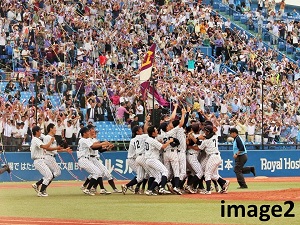 Victory in the Tokyo Big 6 League earned Rikkyo a berth at the 66th Japan National Collegiate Baseball Championship as the league's representative for the first time in 51 years. The championship started on June 5.Rikkyo's first game came in the second round against Fuji University, which was representing the North Tohoku Universities Baseball League. After falling behind 2-0, Rikkyo's offense hit its straps in the bottom of the seventh inning with a six-run burst that set up the victory. Rikkyo made another sluggish start against Tenri University (Hanshin Baseball League) in the third round and trailed 0-3 after seven innings. However, Rikkyo scored two runs in the eighth inning and one in the ninth to send the match into extra innings. A run in the 10th inning iced Rikkyo's come-from-behind victory.The semifinal against Hokkaido Tokai University (Sapporo Universities Baseball league) was a tight match. Rikkyo scored an early run and then two pitchers combined for a 1-0 shutout that sent Rikkyo into the final against International Budo University (Chiba Prefecture University Baseball League) at Jingu Stadium.Although Rikkyo conceded a run in the top of the first inning in the final, they stormed to a 5-1 lead in the bottom of that frame on the back of a clutch hit and a three-run homer. Rikkyo steadily increased its lead from the middle stages of the game and eventually finished with a superb 9-2 victory to win the title. Third baseman Kosuke Ohigashi was named the tournament's most valuable player, and Hayate Nakagawa was named best pitcher.After the final, manager Tomonari Mizoguchi expressed delight at the team's achievement."I'm thrilled that I was given a victory toss in front of so many people who came to support us. Before the game, I told the players to play as well as they did in each other game. That produced a good result, so I'm really happy," Mizoguchi said.Captain Takahiro Kumagai also heaped praise on the players."We really felt how difficult it is to win on the national stage, but this victory will give us all confidence. Although there was some pressure to win our first title in 59 years, I'm happy that we could earn our place in Rikkyo's history," Kumagai said.Victory parade and church service mark baseball success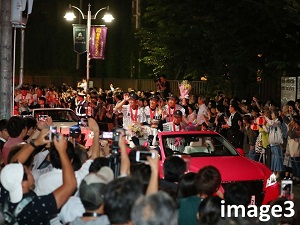 To commemorate Rikkyo University's success at the Japan National Collegiate Baseball Championship, a victory parade followed by a church service to give thanks for the triumph and a review session was held on June 12, the day after the final. A parade committee run by students organized the event.Lanterns and flags were among the merchandise sold before the parade. These goods were more popular than expected and some sold out before the parade began at 6:30 p.m.After a ceremony was held at a stage in Ikebukuro Nishiguchi Park, the parade started from the area in front of the Tobu Department Store at the West Exit of Ikebukuro Station. The flag of the baseball club's cheerleading squad was carried at the head of the parade, which took an hour to make its way past the major intersection in front of the Marui shopping complex, down Rikkyo-dori avenue and reach Rikkyo's Ikebukuro Campus. More than 5,000 local residents, fans, alumni, current students and teachers lined the route to celebrate the baseball team's triumph.Following the parade, a church service and a review session was held at the university's Tucker Hall. About 2,000 people attended this event, which was broadcast in a viewing area outside for those unable to enter the hall. The church service began with a hymn and a reading from the bible, before the baseball team presented the victory trophy and other items. A prayer expressing gratitude for the team's victory was offered for the university, its sports and athletics associations, and Rikkyo Gakuin, an educational corporation. University Chaplain Shoji Igarashi said the benediction, a hymn was sung and then the review session began. Kazuo Maeda, head of the baseball team and a professor in the Department of Education, gave a report on the victory, Rikkyo University President Tomoya Yoshioka and others offered messages of congratulations, and the cheerleading squad presented bouquets of flowers to the team. Following this, Maeda, manager Tomonari Mizoguchi (who graduated from Rikkyo's College of Economics in 1991) and captain Takahiro Kumagai, on behalf of the team, gave messages of thanks. After the cheerleading squad sang a club song, all attendees sang the university song and brought the day's events to an end on a high note with hopes that the team can win this year's autumn Big 6 league.Rikkyo University sincerely thanks its alumni, current students and residents living near our campus for supporting the parade. We hope you will continue to warmly support our baseball team.

image1:Rikkyo players celebrate beating Meiji University on May 22. (Copyright: St. Paul's Sports Press)
image2:Rikkyo players celebrate after winning the title. (Copyright: St. Paul's Sports Press)
image3:Cars carrying Rikkyo baseball players drive during a parade down Rikkyo-dori avenue in Tokyo.